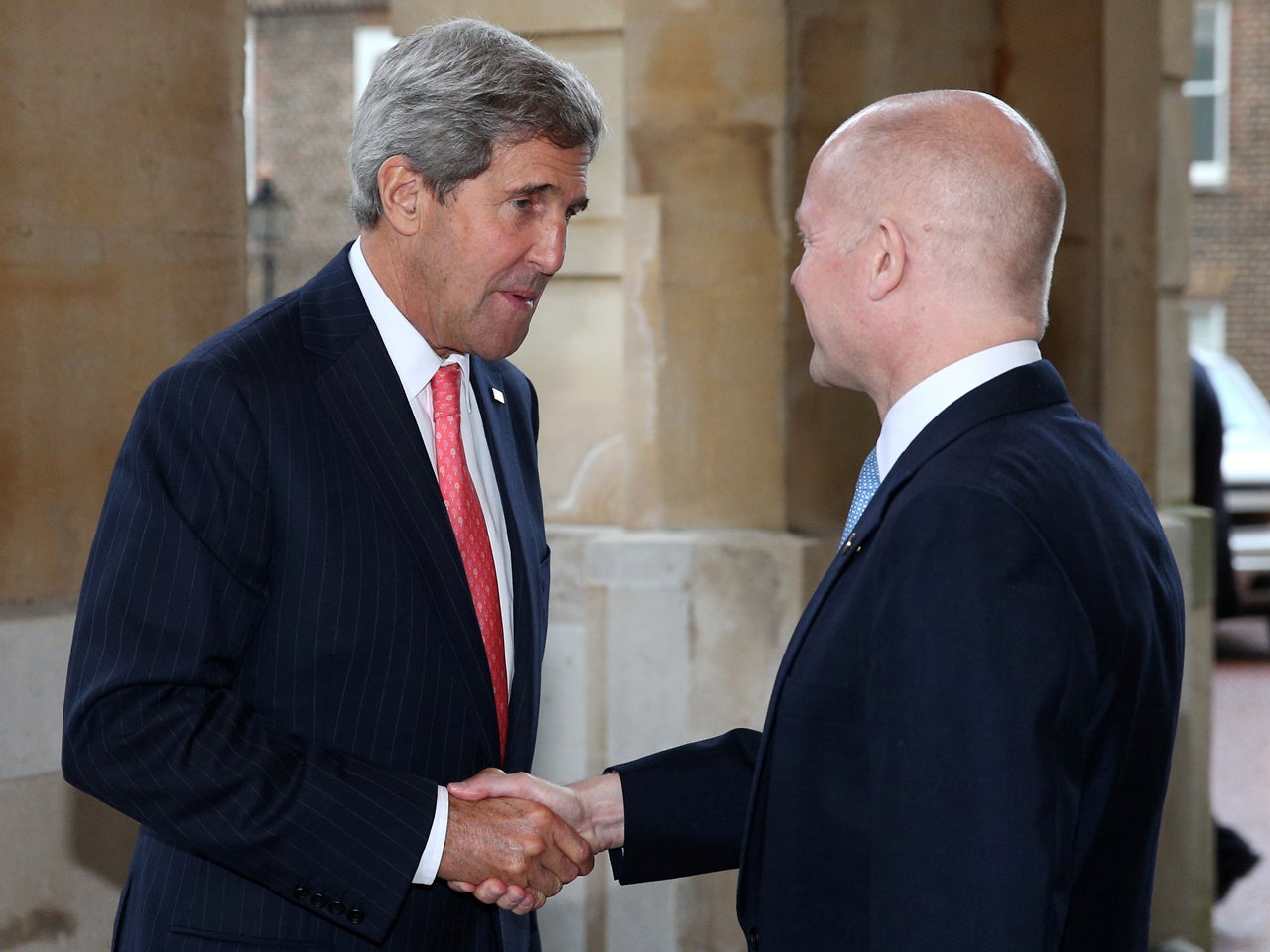 Sec. Kerry: Syria opposition could still join talks
LONDON U.S. Secretary of State John Kerry says Syria's moderate opposition officials are still weighing whether to enter negotiations with President Bashar Assad to create a new government and end the nation's bloody civil war.
Kerry spoke after meeting Tuesday with opposition leader Ahmad al-Jarba, and said he was hopeful that negotiations could begin as early as next month.
"I don't know anybody, including the Russians, and others in the region who are not part of the support group, who believe there is a military solution to this conflict," Kerry said.
But Kerry said al-Jarba's coalition would decide within the week whether it was ready to meet with Assad's government on ways to move forward after two and a half years of war that has killed more than 100,000.
Both Kerry and al-Jarba were in London meeting with diplomats from 11 Western and Mideast nations who are trying to reach a settlement.
The United States and Russia said in May they would convene a "Geneva 2" conference to try to end a conflict that has killed well over 100,000 people and forced millions from their homes, but it faces huge obstacles and no firm date has been set, despite hints otherwise from the Arab League.
British Foreign Secretary William Hague emphasized Western leaders' support for Syria's moderate opposition.
Hague stressed Tuesday that efforts are being made to bring all sides to a negotiating table in Geneva - but stopped short of saying Syria's opposition coalition has agreed to attend talks.
Hague said the focus is on securing a transitional government for Syria. But he made clear that Syrian President Bashar Assad would play no role in any such transitional government - which is a key demand of the Syrian opposition.
He said the opposition has the full support of Britain, the U.S. and the other leaders gathered in London and urged the opposition to commit itself fully to talks.
Thanks for reading CBS NEWS.
Create your free account or log in
for more features.