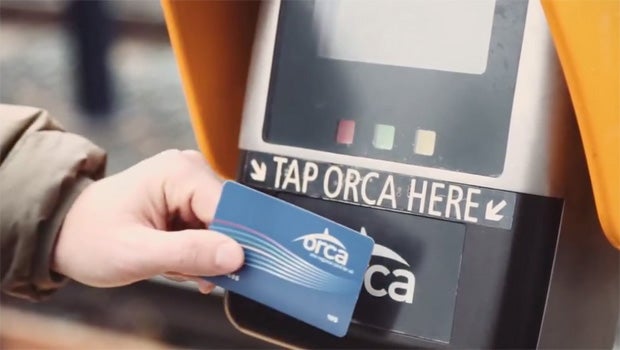 ​Seattle bows public transit fares based on income
Seattle launched a new public transit fare program on Sunday based not on distance traveled but on household income.
On March 1, as King County Metro and Sound Transit raised fares on ORCA transit cards by 25 cents, an expanded program of reduced fares was introduced for those whose household income is below 200 percent of the federal poverty level ($23,340 for a single person, or $47,700 for a family of four).
The new ORCA LIFT program offers half-price fares on buses, light rail, water taxis and streetcars.
It's only the second major city system, after San Francisco, to offer a reduced-fare based on household income.
Advocates, such as the Seattle-based Transit Riders Union, have called for reduced fares for low-income riders, charging that, as bus fares have increased over time, stagnant wages mean that minimum-wage earners are required to work longer just to make up the cost of commuting.
In a Facebook post last month, King County Executive Dow Constantine described ORCA LIFT as "an example of how we're turning King County's commitment to building equity into action. This program creates opportunities by helping people get to that job interview, to that higher-paying job, or to that college class."
Key to spreading the word on the availability of ORCA LIFT cards are social service agencies and health clinics -- the same network of groups that helped sign up uninsured participants for Obamacare.
While many communities offer reduced fares to residents on seniors, students, government employees or military personnel, some cities have experimented with income-based transit fare reductions or subsidies.
In Cincinnati, the Everybody Rides Metro foundation was created to subsidize, on a temporary basis, low-income riders requiring public transit access to job interviews, training, exams or other conditions of employment until they attain self-sufficiency. Working with social service agencies, Everybody Rides Metro assists more than 35,000 residents of Greater Cincinnati annually, for a total of approximately 330,000 rides.
And in 2005 San Francisco launched its Muni LifeLine Fast Pass for low-income residents, good for travel on buses and cable cars (but not BART trains). However, according to The New York Times, ridership in the program remains tiny for a major city -- fewer than 20,000.
CBS Station KPIX reports that San Francisco's Municipal Transportation Agency recently enacted a fare waiver for riders with disabilities and for low- to moderate-income seniors.
Thanks for reading CBS NEWS.
Create your free account or log in
for more features.