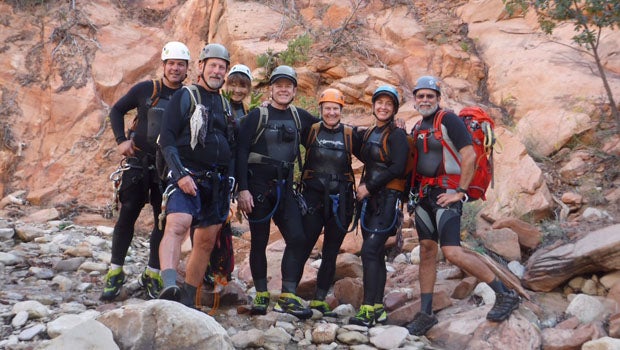 Last missing hiker found dead in Zion National Park flooding
ZION NATIONAL PARK, Utah ---The death toll from flash floods that ripped through southern Utah reached 19 on Thursday after searchers found the final body from a group of seven hikers that were trapped in a narrow canyon in Zion National Park.
Washington County sheriff's Detective Nate Abbott confirmed the death Thursday as crews dropped into Keyhole Canyon.
The bodies of three men and one woman were found Tuesday, and two other bodies were found Wednesday.
The group of seven people in their 40s and 50s from California and Nevada set out Monday, before park officials closed canyons due to flooding.
They were identified Thursday as Mark MacKenzie, 56, of Valencia, Calif.; Linda Arthur, 57, of Camarillo, Calif.; Steve Arthur, 58, of Camarillo, Calif.; Gary Favela, 51, of Rancho Cucamonga, Calif.; Ton Teichner, 55, of Mesquite, Nev.; Muku Reynolds, 59, of Chino, Calif.; and Robin Brum, 53, of Camarillo, Calif.
Park rangers say the group was told about the danger of flash flooding before they entered the canyon, but there was no way to warn them once the fast-moving waters began to rise. Rangers say they don't judge visitors' technical ability and let them decide whether to go.
The flood marked one of the deadliest weather-related disasters at a national park in recent history, park service officials said. It evoked memories of a 1997 incident near Page, Arizona, where 11 hikers died after a wall of water from a rainstorm miles upstream thundered through Lower Antelope Canyon, a narrow, twisting series of corkscrew-curved walls located on Navajo land.
The Ventura County Sheriff's Office in California said late Wednesday that one of its sergeants, Steve Arthur, died in the flooding and was positively identified, reports CBS Salt Lake City affiliate KUTV. The department also said Arthur's wife, Linda, was with him and was still missing.
"Steve was known for his tireless efforts working with local youth both on and off duty and possessed a huge compassion for humanity," the sheriff's office said in a statement. "Steve is survived by his three adult children and seven grandchildren."
Outdoor enthusiasts are attracted to slot canyons by what Allen calls "eye candy" created by nature. Water flows through cracks in the earth and gradually erodes the sandstone underneath, leaving caverns narrow enough for hikers to touch the sides when they stretch out their arms.
Adventure-seekers also get a rush from the combination of rock climbing, swimming, hiking and cave exploration, all in a setting totally different from the surrounding desert, Allen said.
The Keyhole Canyon at Zion in southern Utah where the hikers were killed is what canyoneers call a "rap and swim" canyon, full of a series of drops where hikers rappel down into pools of water, Allen said. It's considered an entry-level canyon for people who have some experience but are still new to the sport.
Zion spokeswoman Aly Baltrus said some members of the group were new to canyoneering, but they took a class to prepare.
Park rangers regularly warn hikers that flash flooding during monsoon season can turn southern Utah's beautiful canyons into deadly channels of fast-moving water and debris. But dozens of adventure-seekers go anyway.
This group was already in the canyon when a flash flood warning led park officials to announce they were closing their canyons. By that time, park officials say, there was no way to alert them to the violent floodwaters coming their way.
"Ninety percent of Zion is wilderness," park ranger Therese Picard said. "It is not possible to contact everyone."
The deadly events at Zion happened at the same time flash floods tore through a small community on the Utah-Arizona border just south of the park, leaving at least 12 people dead who were in two cars swept downstream.
One of the children who survived told an official he escaped by cutting through an air bag, climbing out a window and jumping off the roof of a vehicle.
Utah Lt. Gov. Spencer Cox, who traveled to the community of Hildale, told The Associated Press that the boy appeared traumatized when he met with him briefly Tuesday.
Cox says the boy he spoke with "was still very shaken, as you can imagine, because it was a little surreal to him and everyone."
Cox says the boy's mother and several siblings died in the flooding.
Three survived, including the boy, and one child remains missing.
Thanks for reading CBS NEWS.
Create your free account or log in
for more features.