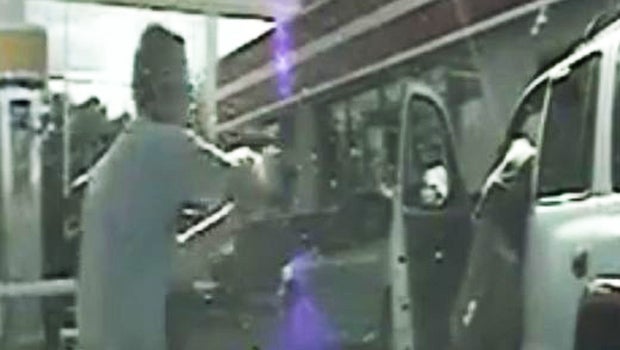 ​S.C. trooper charged in shooting of unarmed man
COLUMBIA, S.C. - A former state trooper faces a felony charge in the shooting of an unarmed man during a traffic stop in Columbia earlier this month.
The State Law Enforcement Division said in a news release that 31-year-old Sean Groubert was charged Wednesday with assault and battery of a high and aggravated nature.
He faces up to 20 years in prison if convicted.
Authorities say Groubert stopped the victim for a seatbelt violation on Sept. 4. Levar Jones, 35, got out of his car, and investigators say the trooper shot him as he reached back into his vehicle.
Prosecutors released video of the traffic stop that shows the trooper pulling up behind Jones, who had stopped at a Columbia gas station. Groubert asked Jones - who had already steppe dout of his car - for his license, then fired shots as Jones reaches back into his vehicle.
Jones was hit by one bullet in the hip. He screamed, "What did I do? . . . I just got my license, you said get my license."
Groubert said he shot the man because he was reaching back into his car.
Jones is recovering at home after being hospitalized for the injury.
CBS affiliate WLTX reports that South Carolina Department of Public Safety Director Leroy Smith fired Groubert Sept. 19 after observing the video and reviewing a report from the State Law Enforcement Division.
In dismissing Groubert, Smith called the facts of the case "disturbing."
The charges filed Wednesday were brought by the Fifth Circuit Solicitor's office, which also reviewed SLED's findings.
After seeing the video in court, Groubert's attorney, former Fifth Circuit Solicitor Barney Geise, says that his client is not guilty and is looking forward to his day in court, reports WLTX.
Thanks for reading CBS NEWS.
Create your free account or log in
for more features.