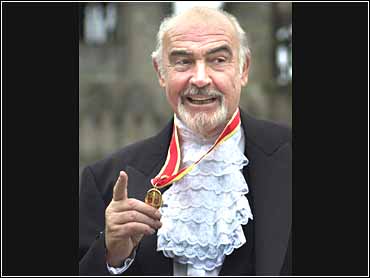 The man many consider the definitive James Bond officially became Sir Sean Connery Wednesday, in a royal ceremony in Edinburgh, reports CBS News Correspondent Kimberly Dozier.
Decked out in full Scottish regalia, Sean Connery was formally knighted Wednesday by Queen Elizabeth II in a ceremony at the Palace of Holyroodhouse.
"It's one of the proudest days of my life," the star of seven James Bond films told reporters, accompanied by his wife, Micheline, and brother, Neil.
The Queen knighted the 69-year-old actor in honor of his international fame as the English spy 007, although his Scottish accent appeared occasionally in such movie hits as Dr. No, From Russia With Love, and Goldfinger. He won an Oscar and a Golden Globe in 1987 for The Untouchables, in which he played as veteran Chicago cop Jimmy Malone. He was nominated for a Best Supporting Actor Academy Award and a Golden Globe in Indiana Jones and the Last Crusade (1989), in which he played Jones' father.
Connery, 69, knelt while the queen touched his shoulders lightly with a sword and then rose and bowed as she placed a small red sash bearing his medal around his neck.
During the brief conversation that ensued, Connery said, "She just asked how often I come up here."
But the knighthood hasn't budged Sir Sean's commitment to an independent Scotland - one of his three tattoos reads "Scotland Forever." He acquired them when he enlisted in the British Navy at the age of 16.
Connery also has worked as a milkman, coffin polisher, and nude model at the Edinburgh Art College. He dropped out of school at the age of 15. He was born August 25, 1930, as "Thomas Connery."
Some of his early featured film roles include Disney's Darby O'Gill and the Little People in 1959 and, the same year as Dr. No.
The knighthood was first announced in the Queen's New Year's List, but made official in Wednesday's ceremony.
He is also the recipient of a Kennedy Center Honor for lifetime contribution to arts and culture, presented by President Clinton in December 1999. He presently lives in Marbella, Spain, near a golf course where he plays daily.
Asked by a reporter Wednesday if he would be coming back to Scotland, he broke into a grin and said, "I haven't gone yet."
©2000 CBS Worldwide Inc. All Rights Reserved. This material may not be published, broadcast, rewritten, or redistributed. The Associated Press contributed to this report
Thanks for reading CBS NEWS.
Create your free account or log in
for more features.