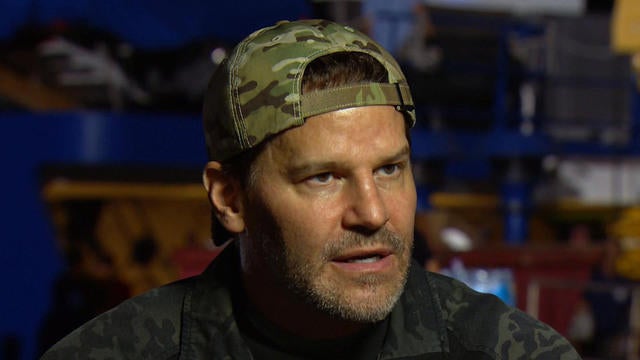 Military drama "SEAL Team" gets help from real-life special forces
In the new series "SEAL Team," the military's elite are put to the test as they tackle dangerous undercover missions abroad and life at home. The CBS drama follows the personal and professional lives of a group of Navy SEALs as they train for, plan and carry out risky operations around the globe.
CBS News correspondent Carter Evans went behind the scenes to see how former members of the military's special operations forces helped guide the cast and crew.
"SEAL Team" is the latest project for actor David Boreanaz. He spent nearly a decade playing a vampire in the popular series "Buffy the Vampire Slayer" and its spinoff, "Angel." Most recently he starred as an FBI agent in the long-running TV hit "Bones."
"It's tough when you look at these SEALs and understand what they do. I didn't fully understand what these guys did and when I signed on I became more aware," Boreanaz said.
To tell the story of one of the military's most covert units the show partnered up with real-life former members of the special forces.
"The majority of our time has been spent in the writers' room crafting stories," said former Navy SEAL Mark Semos. He and former U.S. Army special operations soldier Tyler Grey offered their guidance on and off screen.
"What we're trying to do as a group is make something that's not real, obviously, but make something that's authentic and that feels authentic," Grey said.
We visited the cast as they prepared to shoot a scene in which the SEALs try to rescue a group of hostages on a boat captured by terrorists.
The show also explores life outside the operations – something Grey, a nine-year military veteran, knows all too well.
"Even when I'm in a scene, it's like the skill set I've worked on for so long – like, where do you go with that, where do you go?" Grey said. "Now I get to use it. A big problem that a lot of people have is finding an outlet for it and this is my outlet."
"We're all trying to find balance. We're all trying to find heroes. If we can show that these heroes can be heroes but they're humans, they're people just like the rest of us, that's what we want to do," Boreanaz said.

"SEAL Team" airs Wednesdays at 9 p.m./8 p.m. CT, on CBS.
Thanks for reading CBS NEWS.
Create your free account or log in
for more features.