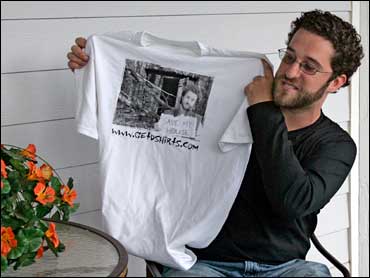 Screech Can't Be Saved By The Bell
It will take more than a bell to save Dustin Diamond this time around.
Diamond, best known as geeky Screech Powers on the 1989-1993 teen comedy series "Saved by the Bell," is selling T-shirts with his photo on them to try to raise $250,000 so he doesn't lose his gray, two-story house under a foreclosure order.
"If the public didn't care, I as an entertainer wouldn't have been a success," he said.
Diamond, 29, is trying to sell nearly 30,000 shirts — at $15 or $20 (autographed) each — to supplement the income he makes as a standup comic so he doesn't have to move from his Port Washington home, about 25 miles north of Milwaukee.
The T-shirt has a photo of Diamond holding a sign that says, "Save My House." The back of the shirt reads, "I paid $15.00 to save Screeech's house." The third "e" was added to get around copyright laws, he said.
He's selling the shirts on his Web site: www.getdshirts.com.
The foreclosure order was filed last month in Ozaukee County Circuit Court.
How did Diamond go from Hollywood to foreclosure?
The active run of the show happened before Diamond turned 18, and he said problems with his parents' spending his money and substantial tax miscalculations left him in debt as a young adult. His acting roles have since been sporadic.
On a 2001 bankruptcy filing from California, he listed his employer as NBC and his take-home income as about $5,300 a month.
A pending small-claims suit in Ozaukee County alleges that Diamond and girlfriend Jennifer Misner owe $800 in landscaping bills, which Diamond claimed in a court filing came from a contract signed in 2004 without his knowledge by an ex-girlfriend. He wrote they went through "a very ugly breakup" that November.
In 2005, Misner lost their baby, which left the couple with high medical bills.
Diamond appeared on Howard Stern's satellite radio show Tuesday to plead his case. "I'm doing great with my comedy, but this is definitely a low point," he said. "Real life comes in and affects you."
Diamond doesn't have a listed phone number, and e-mails to the address on his Web site and at an alternative address were not immediately returned Thursday.
Thanks for reading CBS NEWS.
Create your free account or log in
for more features.