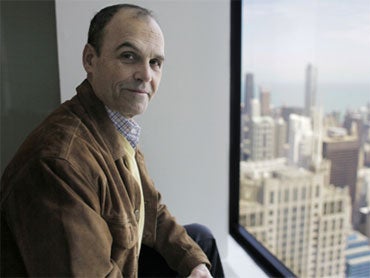 Scott Turow Revisits "Presumed Innocent"
Scott Turow always said he wasn't going to write a sequel to his blockbuster book turned Hollywood movie "Presumed Innocent," but turns out he isn't quite done with Rusty Sabich.
After more than 20 years, the Chicago author and attorney continues Sabich's story with Tuesday's release of "Innocent." The book opens with Sabich sitting on a bed, his wife Barbara's dead body beneath the covers. And so the next chapter in Sabich's saga begins, again accused of murdering a woman in his life.
"Presumed Innocent" was published in 1987, selling million of copies as it told the story of Sabich as he was framed and put on trial for the murder of a mistress. It was made into a 1990 film starring Harrison Ford and made Turow instantly famous. He has sold more than 25 million books, which have been translated into more than 25 languages.
There was no concern about recapturing Sabich's voice, Turow says, but approaching the sequel and revisiting the character's world wasn't without pressure. In fact, he says, it was originally like "writing with a vulture on your shoulder."
"It frankly comes down to being intimidated by your own success," Turow says during an interview in a conference room at his law firm in Chicago's Willis Tower. "I think self-imitation is about the worst thing that can happen to a writer.
"I didn't want to do that. Then the question was, well, how ... do you write something that's going to sit on the same shelf beside this book that was such a vast success? And ultimately the answer is you just have to forget about that. If this really seems compelling to you, as a story, then you just have to write it and people will figure it out."
The story of "Innocent" to which Turow refers started with a Post-it note. The author was at home and scribbled out the line: "A man is sitting on a bed in which the dead body of a woman lies." He later looked at the piece of paper and thought, "Rusty Sabich is sitting on the bed."
"The bottom line is, whatever my reluctance, the true answer as to why I did it is because I thought of a story," Turow says.
His other books include "The Burden of Proof," "Reversible Errors" and "Pleading Guilty." Sabich was a minor character, promoted to chief judge, in "Limitations," serialized by The New York Times in 2006.
The book also represents a switch in publishers for Turow, who had spent the past two decades publishing hardcovers with Farrar, Straus & Giroux and paperbacks with Grand Central (formerly Warner Books). "Innocent" is to be released by Grand Central Publishing, a division of the Hachette Book Group (USA).
The 61-year-old Turow began his legal career as an assistant federal prosecutor in Chicago. He now focuses on white-collar criminal defense, pro bono work and has served on various public bodies, including as a previous chairman of the Illinois Executive Ethics Commission. In 2000, he was one of 14 members appointed by then-Illinois Gov. George Ryan to a panel charged with studying capital punishment after Ryan put a moratorium on the death penalty in the state.
In 1974, he received a master's degree in creative writing from Stanford University, and he graduated from Harvard Law School four years later. His writing career started with 1977's "One L" - his account of his first year at law school - before it exploded with "Presumed Innocent."
"'Presumed Innocent' changed my life and I went from being a guy writing on the morning commuter train - and I finished the book in an unfinished basement in my house in Wilmette - I went from that to somebody who was a best-selling author around the world," he says.
This time around, when Turow tackled Sabich's story on the commuter train it was with a laptop, not writing long hand on a spiral notebook. (He says a handwritten section of the "Presumed Innocent" manuscript exists in one of his daughter's Strawberry Shortcake spiral notebooks.)
Mystery book shop owners across the country say fans of legal thrillers and crime fiction are looking forward to "Innocent."
"I would think it's fair to say that with 'Presumed Innocent,' he's the one who set the bar for courtroom thrillers and everyone else who has come since has to match up against him," said J.B. Dickey, owner of Seattle Mystery Bookshop.
Turow says he knows he has a good story to tell in "Innocent," which is filled with his dramatic courtroom style punctuated by judicial specifics and legal back-and-forth. He says it seems readers find Sabich an enigmatic, engaging character.
"I think readers realize that he's being honest but clearly doesn't fully know himself," Turow says. "And I think that it's that quality, that he's successful, he's smart, he speaks from the heart and yet he does not fully understand himself, which God knows is a human condition."
By Caryn Rousseau
Thanks for reading CBS NEWS.
Create your free account or log in
for more features.