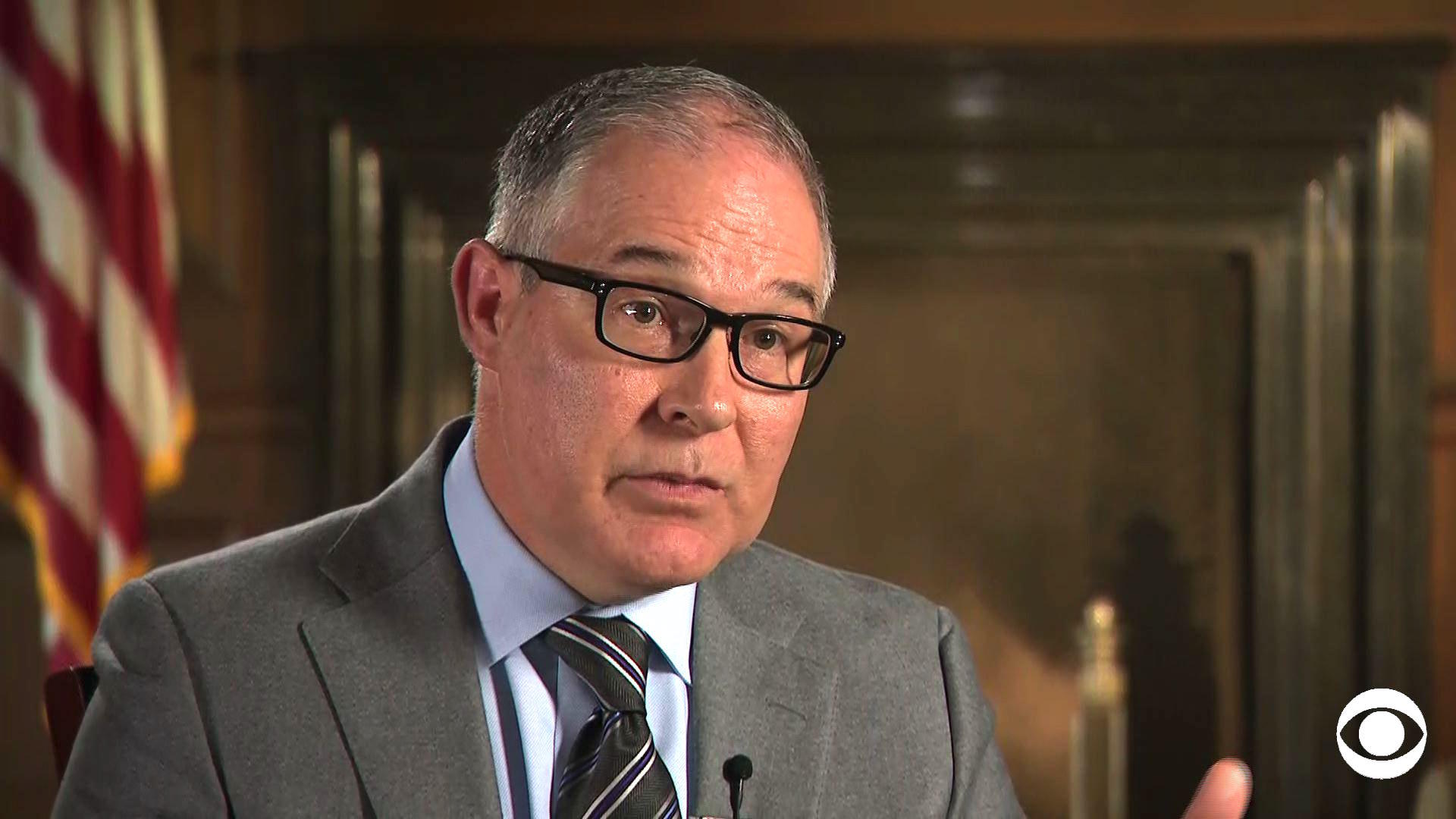 EPA chief Scott Pruitt: Industry is necessary partner
Environmental Protection Agency Administrator Scott Pruitt told CBS News that a partnership with "industry" is necessary in order for the agency to protect the environment.
"This paradigm that says we have to choose industry over the environment or the environment over industry is the old way of thinking," Pruitt told CBS News' chief White House correspondent Major Garrett in an interview Wednesday.
"Now that serves political ends but it doesn't serve the environment because I will tell you this: to achieve what we want to achieve in environmental protection, environmental stewardship, we need the partnership of industry," he added.
Pruitt, who has been accused by critics of being too cozy with special interest groups and executives and advocates of the fossil fuel industry, defended these relationships as necessary for environmental stewardship. The former Oklahoma Attorney General, cited his experience as a prosecutor, and called it "wrong-headed" to assume that all industries are bad actors.
"We should be about stewardship and we should be about partnership," Pruitt said. "Now, I will tell you as a former attorney general, I've led a grand jury. I've prosecuted bad actors. And I will tell you, if we have companies, industries, citizens who violate the law, we are going to prosecute them and we are going to hold them accountable. But we should not start from the premise that all people are that way or that all industries are that way. That is just simply wrong-headed. And it doesn't achieve good outcomes."
Pruitt has also come under fire for appointing executives from the coal, gas and chemical industries to senior staff positions at the EPA. He has swiftly sought to reverse, delay and block more regulations than any other administrator in the history of the agency, including the Obama-era Clean Power Plan and Clean Water Rule.
"We had many regulations that this agency had adopted historical that had created confusion, and did not serve advancing protection of the environment," Pruitt argued.
Pruitt confirmed reports that he has eased the EPA's safety review process for assessing the risk of new chemicals being produced by manufacturers to the environmental and humans under the Toxic Substances Control Act. He told CBS News that the agency will no longer require manufacturers to sign consent orders that restrict the use of potentially hazardous chemicals in the future. Pruitt claimed that the EPA's new approach is "absolutely" safer than the old approach.
"What I've said about consent orders and consent decrees is that we shouldn't regulate through litigation," Pruitt argued. "If there are industries or companies out there that don't do what the law requires, we're going to issue consent orders and enforcement actions against them, and already have, to hold them accountable."
"From our perspective, when I speak to clarity in regulations, I believe most companies, most states, most citizens want to comply with the law," Pruitt added.
In December, a federal appeals court ordered the EPA to revise the antiquated lead paint hazard standards after the Trump administration had requested a six year delay to review the rule. Pruitt would not say whether or not the EPA planned to appeal the ruling or take it to the Supreme Court, and deferred the decision to the Justice Department. The rule has not been updated in nearly 17 years.
"The legal process is something that Justice will be the decider upon the procedural approach to that," Pruitt said. "But I can tell you this: it's important for this agency to get that rule and get it done."
"Indeed the EPA itself has acknowledge that 'lead poisoning is the number one environmental health threat to children ages 6 and younger, and that the current standards are insufficient," the ruling by the U.S. Court of Appeals for the Ninth Circuit reads.
Pruitt added that he wanted to "declare a war on lead" and also eradicate lead from drinking water within 10 years, primarily through an infrastructure package.
Addressing some controversial staff appointments that have presented a conflict of interest, like Nancy Beck -- a former senior director in the American Chemistry Council who is now deputy assistant administrator in the office of Chemical Safety and Pollution Protection at the EPA -- Pruitt said he rejected the premise that "we can't be both about stewardship and also economic development and growth."
Pruitt has also appointed other staffers who have publicly questioned sound scientific data, like Michael Honeycutt, chairman of the EPA's Science Advisory Board who once said in an interview that lowering the ozone "might have a negative health benefit." Pruitt dismissed his comments.
"Ozone is something that we most definitely have to regulate," he said. "It's a very important thing to regulate."
Thanks for reading CBS NEWS.
Create your free account or log in
for more features.