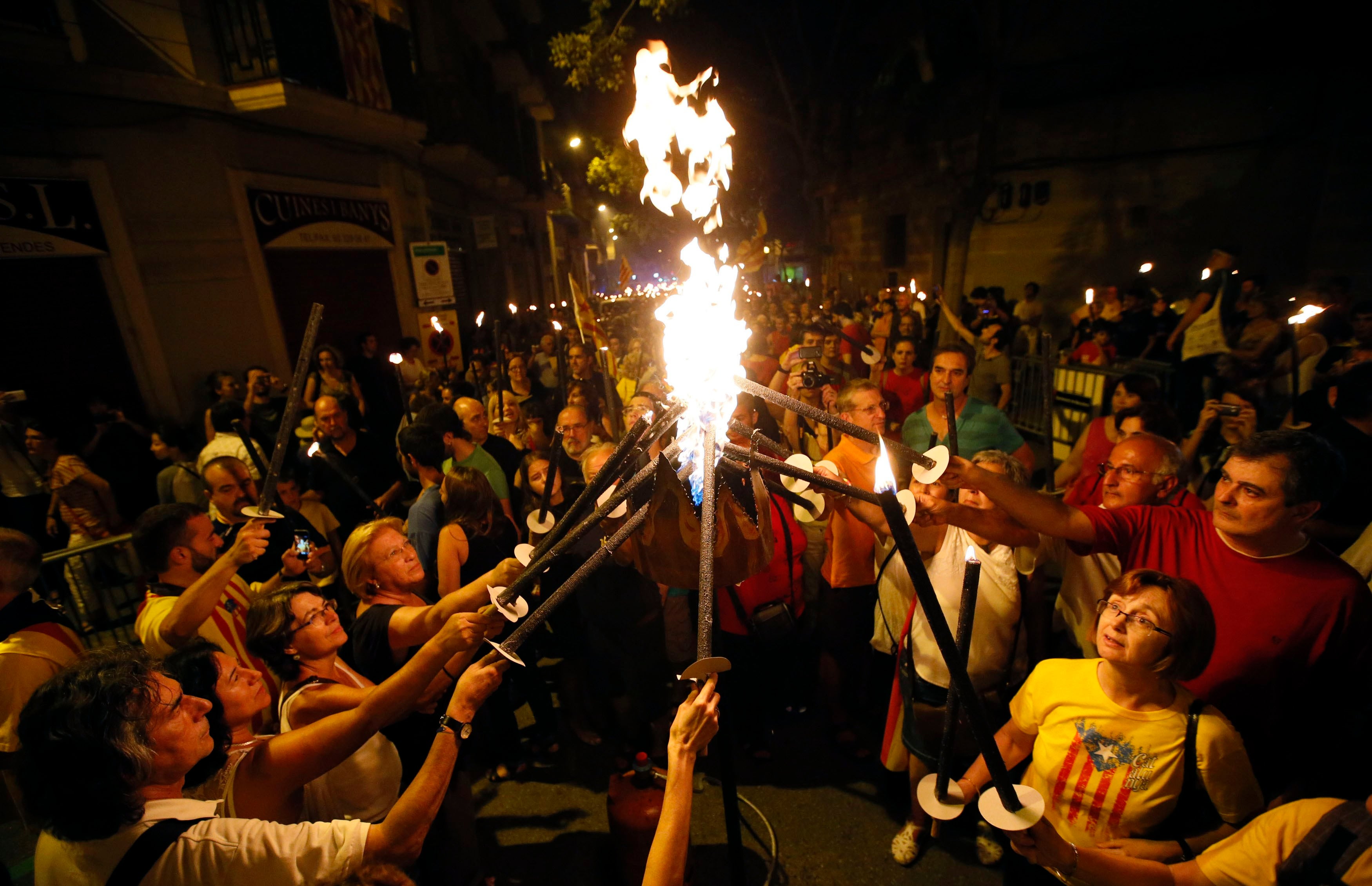 Scotland's independent streak ignites northern Spain
BARCELONA, Spain -- A week before Scotland votes on whether to break away from the U.K., separatists in northeastern Spain were urging hundreds of thousands to protest Thursday across Catalonia to demand a secession sentiment vote that the Spanish government insists would be illegal.
Several hours before the protests began, Catalonia regional leader Artur Mas said his government is not wavering from plans to hold the referendum on Nov. 9 in the region of 7.6 million people, even though experts say any attempt is sure to be blocked by Spain's Constitutional Court.
A recent poll suggesting that Scotland's Yes independence camp could possibly win their Sept. 18 vote has captivated Catalan separatists, as well as pro-independence Basques in northern Spain; Corsicans who want to break away from France; and Flemish speakers in Belgium demanding more autonomy, independence or union with the Netherlands.
"The dynamics at this point are with the 'Yes' side, and if the 'Yes' side actually wins it creates a strong precedent," said Hugh O'Donnell, a professor of cultural politics at Glasgow Caledonian University. "I think the political ramifications are to send a signal to other separatists that change is possible."
Unlike the Scottish ballot, a vote in Catalonia would not result in secession. Mas' proposed referendum would ask Catalans whether they favor secession and if the answer is yes he says that would give him political ammunition to try to negotiate a process leading to independence.
Spanish Prime Minister Mariano Rajoy has vowed to block the vote because Spain's constitution does not allow referendums that don't include all Spaniards. Mas told reporters in Catalonia's capital of Barcelona it would be a mistake to try to prevent it.
"It is surprising, because the Catalan issue is one of the biggest issues the Spanish government is facing," Mas said. "It is an error to try and solve this through legal means. Political problems are solved through politics, not with legal threats."
If Madrid refuses to allow an independence vote, a go-ahead by Mas could put him in perilous legal terrain.
When the northern Basque region, where separatist sentiment has also raged, failed to obtain permission for a similar referendum in 2005, Spain said Basque leaders could face jail if they went ahead and held the vote.
But Catalonia's referendum and the vote in Scotland have strong support from the Basque pro-independence coalition Bildu, which won 25 percent of the Basque region's vote in the 2012 regional election. It sent a delegation to Barcelona for Thursday's protest and will send another to Scotland to observe the Sept. 18 independence vote.
"Catalonia and Scotland have again put the issue of the peoples' right to decide on the political stage, showing that this is an open question in Europe," said Pello Urizar, leader of one party in the Bildu coalition. "Our future depends on breaking ties" with Spain.
Thanks for reading CBS NEWS.
Create your free account or log in
for more features.