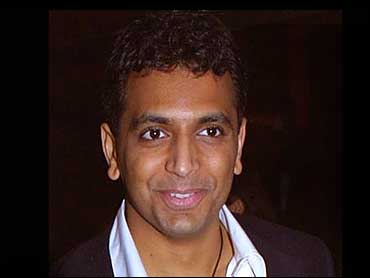 Sci Fi Channel Admits Hoax
The Sci Fi Channel has admitted that it lied in claiming it was at odds with filmmaker M. Night Shyamalan and was making an unauthorized biography about his "buried secret."
The hoax was part of a "guerilla marketing campaign" that went too far, network president Bonnie Hammer said.
The network announced in December that the reclusive Shyamalan, maker of "The Sixth Sense" and "Signs," had agreed to participate in a documentary about his life to run in connection with this summer's release of his new movie, "The Village."
Sci Fi said last month, however, that Shyamalan had soured on the documentary when the questions got too personal. Documentarians Nathaniel Kahn and Callum Greene pressed on and made a three-hour film, "The Buried Secret of M. Night Shyamalan," without his cooperation, the network said.
The Associated Press wrote about the documentary last month, and other media also ran accounts. In an interview, Greene described how Shyamalan's "cooperation dried up." A network spokesman told the AP that Sci Fi was confident it had legal grounds to air the film and would probably never work with Shyamalan again.
In a news release, Sci Fi said Shyamalan had attempted to shut down production of the "disturbing expose."
It was all a lie, and there is no buried secret, Hammer said.
The documentary, which aired Sunday, said a mysterious drowning of a child in a lake near Shyamalan's boyhood home in the Philadelphia area had profoundly affected his life and fueled his interest in the supernatural. That's not true either, Hammer said.
"We created a fictional special that was part-fact and part-fiction, and Night was part of the creation from the beginning," the network chief said.
Moviegoers walk away from Shyamalan's films not knowing what was real or not, and "we wanted to do the same thing in a special about his life," she said.
Sci Fi did not send a complete copy of the film to television critics, but sent a half-hour tape of highlights this week that, in some spots, hinted it might be a mockumentary.
Actor Adrien Brody, a star of "The Village," is interviewed in the documentary saying that he was sworn to secrecy about everything in the movie. Asked if he had short or long hair in the film, he refused to answer.
"Perhaps we might have taken the guerilla campaign one step too far," Hammer said. "We thought it would create controversy and it probably went one step too far."
Hammer said she had been in on the hoax from the beginning and took responsibility for duping the public. Sci Fi, which is available in some 83 million homes, has recently been taken over by corporate parent NBC Universal.
"This marketing strategy is not consistent with our policy at NBC," said Rebecca Marks, NBC entertainment spokeswoman. "We would never intend to offend the public or the press and value our relationship with both."
Greene, a producer of "Lost in Translation," shares an agent with Shyamalan.

Thanks for reading CBS NEWS.
Create your free account or log in
for more features.