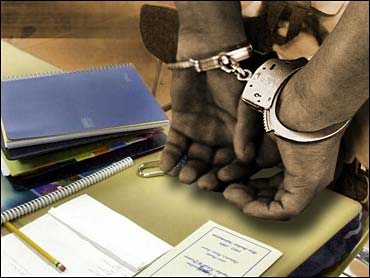 Schools warn new Missouri law to make some student fights felonies
ST. LOUIS – A new Missouri law set to go into effect Jan. 1, 2017 has school districts warning students and parents that a school yard fight or bullying could now expose kids to felony charges.
According to a notice sent by the Hazelwood School District, the new law turns third degree assault – defined as causing injury to another person – into a class E felony.
The St. Louis Post-Dispatch reports that if the victim suffers "emotional distress" from harassment – reportedly considered a form of bullying – the perpetrator could also be charged with a felony. According to the paper, this new law stems from legislation passed in 2014.
This law, warns the Hazelwood letter, "may have a drastic impact on how incidents are handled in area school districts."
Dr. Joseph Davis, the superintendent of the Ferguson-Florissant District, issued a video announcement imploring his students and their parents not to "take matters into their own hands," but to find a "trusted adult" if a problem arises.
"This change in the law means that if a child injures another student in school, on school grounds on the bus or at the bus stop, that student could be charged with a felony, depending on the circumstances," states Davis.
He continues: "A simple fight may follow you for the rest of your life...You have the power to decide you have a good future full of hope and promise or a future with a criminal record that follows you and limits your options."
A spokesman for St. Louis Public Schools said that his district would be meeting with attorneys to discuss how they will – or won't – adjust their practices after the holiday break, but that he didn't believe much would change.
"We are very cognizant of the school-to-prison pipeline," said Patrick Wallace. "We want to support children, not punish them at any opportunity that arises."
Wallace, who said his district does not have law enforcement officers inside schools and this year stopped suspending children below third grade, told Crimesider that he wasn't certain how the new law would affect practice yet, but guessed that they would continue to follow their current discipline model and only call police "if we think they should be involved."
"I can't see us reporting a 6-year-old," he said.
But Dr. Davis' warning makes one thing clear: "If you choose to fight, starting Jan. 1, the stakes are higher."
Thanks for reading CBS NEWS.
Create your free account or log in
for more features.