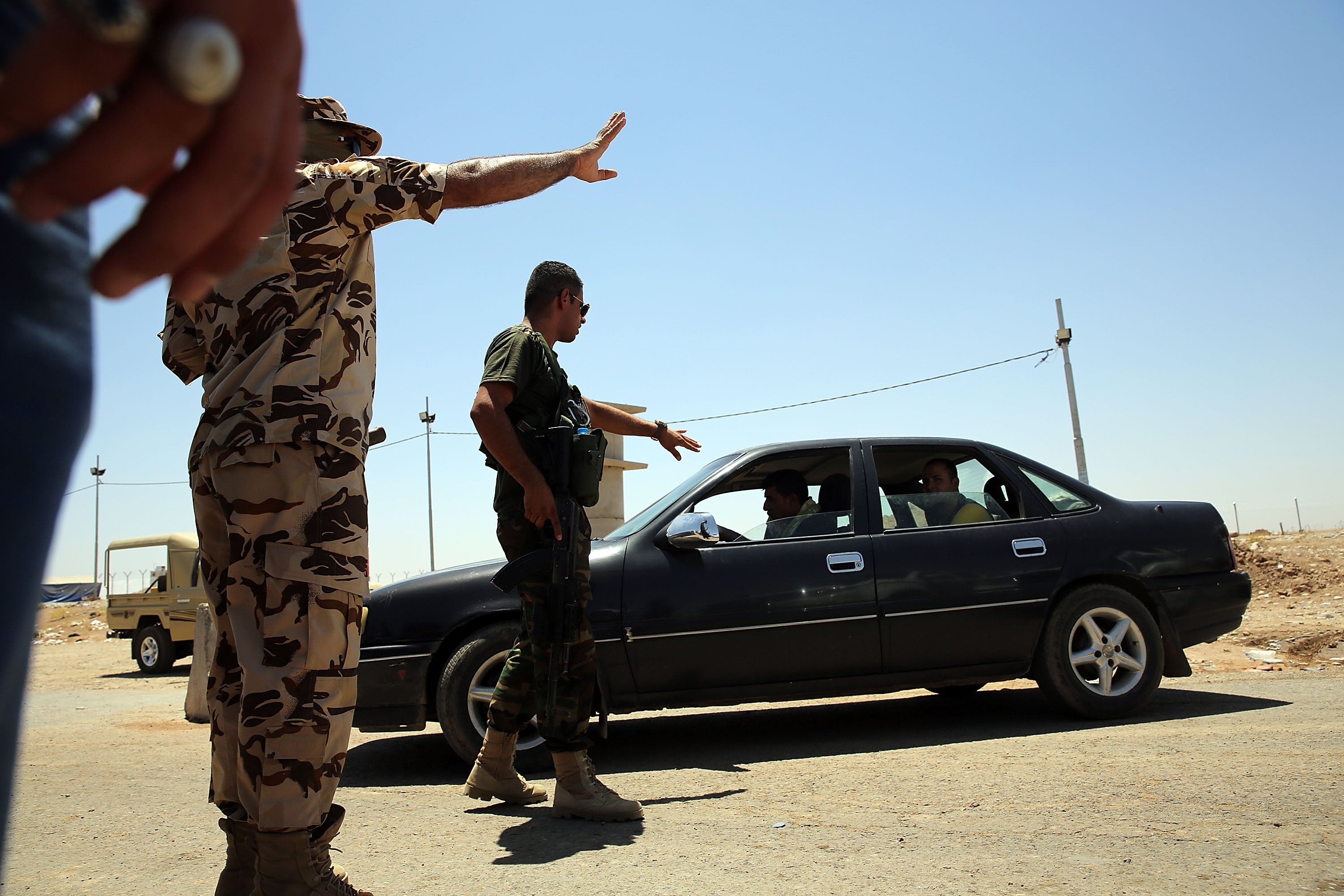 Saudi Arabia bolsters border as Iraq breaks apart
BAGHDAD -- Saudi Arabian state television announced Thursday the deployment of 30,000 troops to its border with Iraq, saying Iraqi soldiers had abandoned the area.
It was the latest effort by Saudi King Abdullah to show he was doing everything possible to protect the kingdom from "terrorist threats."
The Iraqi military denied its troops had been pulled back from the border.
Relations between the two countries have become increasingly strained since the worst of the fighting broke out in Iraq last month.
In their rampage across western and northern Iraq, Sunni militants from the Islamic State of Syria and Iraq (ISIS) -- which recently renamed itself simply the "Islamic State" in a bid to emphasize its land holdings -- have erased Iraq's border with Syria.
But Saudi Arabia does not share a border with Syria, and it's unlikely the Sunni Muslim insurgent group in Iraq would see any good reason to take aim at the Sunni Kingdom of Saudi Arabia to the south.
In fact, many prominent Iraqis we've spoken to accuse oil-rich Saudi patrons of bankrolling the Sunni extremists who are tearing their country apart.
It is a claim the Saudis have dismissed, instead trumpeting the country's $500 million dollar pledge of humanitarian aid for the thousands of Iraqis displaced by the fighting.
The tensions along the two nations' shared border -- real or perceived -- underline the escalating sectarian divide which lies, to a large degree, behind the violence in Iraq and Syria.
Put simply, Iraq is splitting apart, and there's not much anybody can do about it.
Today the president of Iraq's northern autonomous Kurdish region, Massoud Barzani, took the first step for his people toward full independence from Iraq, asking his parliament to begin the process of organizing a referendum.
In an interview this week, he said the breakup of Iraq was already a done deal.
"Iraq is effectively partitioned now," he told the BBC. "Should we stay in this tragic situation that Iraq is living?"
Losing the oil-rich Kurdish north would be a major blow to Iraqi Prime Minister Nouri al-Maliki, who's said any attempt at Kurdish independence would be illegal under Iraqi law.
While ISIS and its Sunni allies battle and Shiite militias and government forces for control of some central and southern areas, in the north, Kurdish troops known as Peshmerga have been reinforcing their defenses and raising their own flag outside the oil hub of Kirkuk.
Iraqi state forces melted away from Kirkuk as ISIS advanced, and the Peshmerga quickly took over the city. And they have no intention of giving any of that territory back.
The Iraqi military has begun to fight back, and officials claim they've driven ISIS militants and their allies out of the northern city of Tikrit.
Even that claim is dubious, but retaking Mosul -- Iraq's second largest city -- is a different story entirely.
Western and Iraqi officials have told CBS News that any attempt to push ISIS out of Mosul would likely take "at least six months, maybe more," and would require the formation a whole new Iraqi army division with the power, and the stomach, to do it.
Thanks for reading CBS NEWS.
Create your free account or log in
for more features.