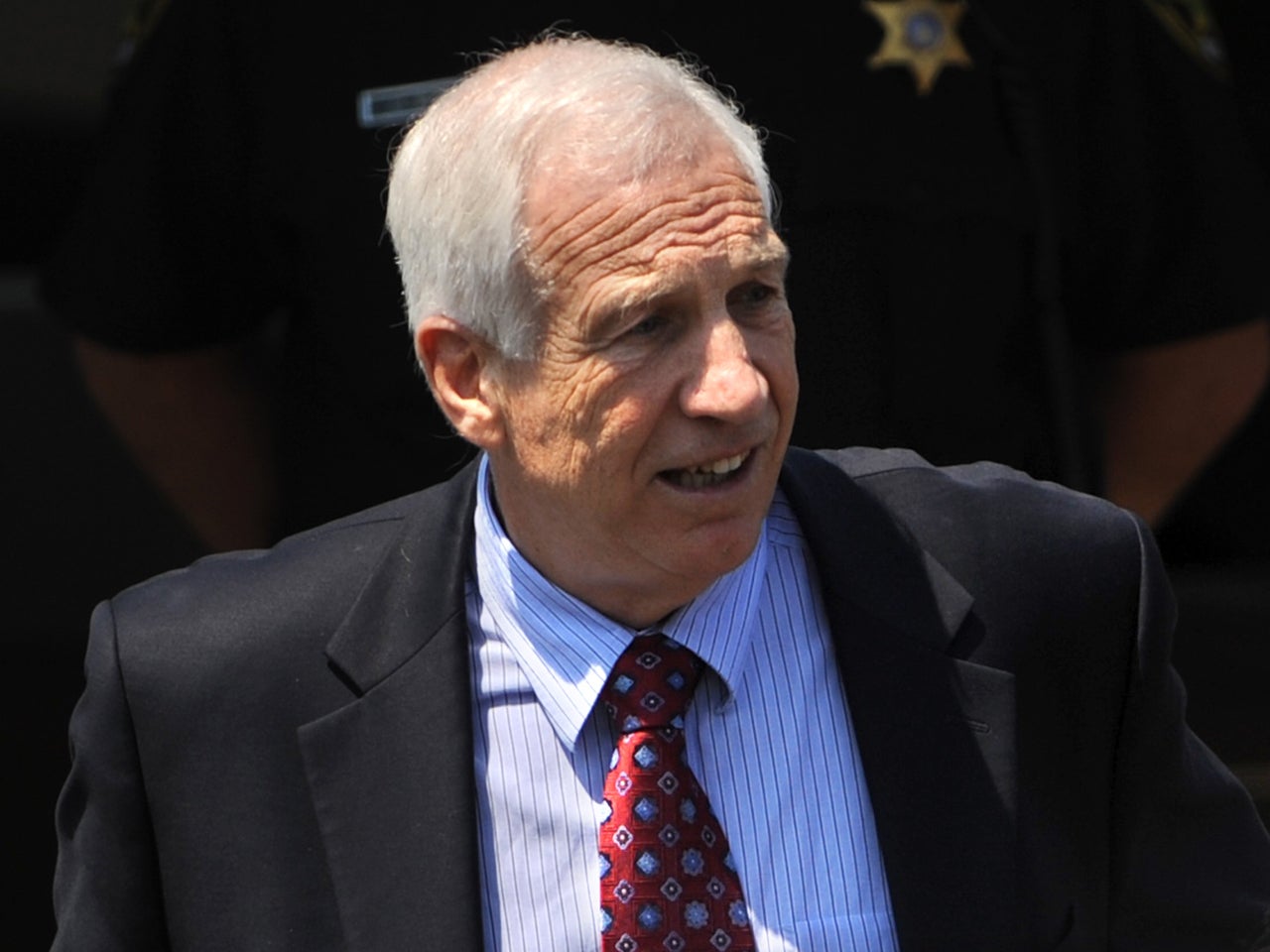 Sandusky's son says his father abused him; case goes to jury
Updated 9:57 PM ET
(CBS/AP) BELLEFONTE, Pa. - Jerry Sandusky was either a "predatory pedophile" who lured young boys to Penn State with gifts and access to big-time football, or a victim of now-grown men who lied to get a payout, attorneys argued Thursday as the former coach's child sex abuse case went to a jury.
As jurors deliberated into the evening, one of Sandusky's adopted sons came forward for the first time to say that his father had abused him. Matt Sandusky, 33, was prepared to testify for prosecutors at the trial, his attorneys said in a statement. The statement didn't specify what the alleged abuse was.
"During the trial, Matt Sandusky contacted us and requested our advice and assistance in arranging a meeting with prosecutors to disclose for the first time in this case that he is a victim of Jerry Sandusky's abuse," Andrew Shubin and Justine Andronici wrote in a statement. "At Matt's request, we immediately arranged a meeting between him and the prosecutors and investigators.
"This has been an extremely painful experience for Matt and he has asked us to convey his request that the media respect his privacy. There will be no further comment."
Jury deliberating in Sandusky sex abuse case
Complete coverage of the Jerry Sandusky trial on CBSNews.com
The statement was issued after jurors in the ex-coach's child sex abuse trial began deliberating 48 charges against him. The jurors are sequestered during deliberations.
Lawyers for Matt and Jerry Sandusky and prosecutors did not immediately respond to requests for comment.
Matt Sandusky went to live with Sandusky and his wife, Dottie, as a foster child and was adopted by them as an adult.
Earlier in the evening, the panel asked the judge if they could rehear testimony from two witnesses: Mike McQueary, a onetime graduate assistant who reported seeing Sandusky assault a boy in a campus shower, and Dr. Jonathan Dranov, who testified that McQueary gave him a different account of what he saw.
They'll have a chance to listen again to that testimony, and restart deliberations, Friday.
Shortly after the former coach's arrest in November, Matt Sandusky's ex-wife went to court to keep her former father-in-law away from their three young children. Jill Jones successfully obtained a restraining order forbidding the children from sleeping over at their grandparents' home.
At around the same time, details emerged that Matt Sandusky had attempted suicide just four months after first going to live with the couple in 1995. He had come into the home through The Second Mile charity, which Jerry Sandusky founded, and was first a foster child before being legally adopted.
During testimony last week, an accuser known as Victim 4 said Matt Sandusky was living at the Sandusky home at the time he stayed there overnight.
When asked by prosecutors whether Jerry Sandusky ever engaged him in a soap battle in the showers, he recounted the time when he and Matt Sandusky had been playing racket ball. After they were done, he said, they went back to a locker room. Matt got undressed and got into the shower and then Victim 4 and Sandusky followed him in there, he testified.
"Me and Jerry came in. He started pumping his hand full of soap," he said.
At that point, Matt shut off his shower and left and went to another locker room to shower, the witness said.
Asked by prosecutors about Matt's facial expression when the soap battles started, he replied: "Nervous."
Prosecutors said Sandusky was "a serial, predatory pedophile" who used gifts and the pageantry of Penn State's vaunted football program to lure and abuse vulnerable boys who came from troubled homes.
"What you should do is come out and say to the defendant that he molested and abused and give them back their souls," Senior Deputy Attorney General Joseph McGettigan III. "I give them to you. Acknowledge and give them justice."
Standing behind Sandusky, McGettigan implored the jury to convict him
"He molested and abused and hurt these children horribly," McGettigan said. "He knows he did it, and you know he did it.
"Find him guilty of everything."
Defense attorney Joseph Amendola argued that the 68-year-old Sandusky was targeted by investigators who coached accusers into making false claims about a generous man whose charity gave them much-needed love.
"They went after him, and I submit to you they were going to get him hell or high water, even if they had to coach witnesses," Amendola said in a sometimes angry closing argument.
Prosecutors said Sandusky met his victims through The Second Mile, a charity he founded for at-risk youth.
Eight young men testified that they were abused by Sandusky, and jurors also heard about two other alleged victims through other witnesses, including another former coach.
Sandusky has repeatedly denied the allegations, but he didn't testify during the trial.
But Amendola said the accusers' stories didn't make sense, since they also included frequent visits to Sandusky's home, trips to football games and other activities.
"Folks, you have to use your common sense," Amendola said. "Jerry Sandusky took these kids everywhere. Is that what a pedophile does? ... Does he parade these kids around?"
McGettigan countered with Sandusky's own words in a November interview with NBC's Bob Costas, in which he struggled to give direct answers to questions.
Asked if he was sexually attracted to boys, Sandusky said: "Sexually attracted, you know, I, I enjoy young people. I, I love to be around them. ... No, I'm not sexually attracted to young boys."
"I would think that the automatic response, if someone asks you if you're a criminal, a pedophile, a child molester, or anything along those lines, would be: `You're crazy. No. Are you nuts?"' McGettigan said.
Earlier Thursday, the judge in the case threw out three of the 51 child sex abuse charges against Sandusky.
If convicted, Sandusky could spend the rest of his life in state prison.
Additional reporting by CBS News' Paula Reid in Bellefonte, Pa.
Thanks for reading CBS NEWS.
Create your free account or log in
for more features.