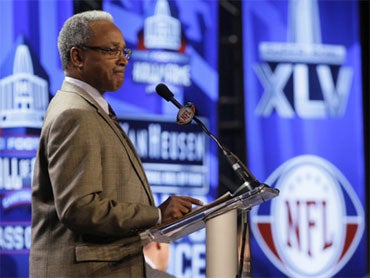 Sanders, Faulk Make Pro Football Hall of Fame
DALLAS - Deion Sanders and Marshall Faulk led a class of seven voted into the Pro Football Hall of Fame on Saturday.
Joining them were Shannon Sharpe, Richard Dent, Ed Sabol, Les Richter and Chris Hanburger.
Sanders, the outstanding cornerback/kick returner and sometime wide receiver known as "Prime Time" with five teams, is a two-time Super Bowl winner and was the Defensive Player of the Year in 1994.
Faulk won a Super Bowl with the 1999 Rams, was the 1994 Offensive Rookie of the Year, 2000 NFL MVP and a three-time Offensive Player of the Year (1999-2001). Faulk is the 10th leading career rusher with 12,279 yards.
Sharpe starred for Denver and Baltimore for 14 seasons and won three Super Bowls in a four-year span, two with Denver, one with Baltimore. He held league records for a tight end in receptions, yards and touchdowns when he retired in 2001.
Bears defensive end Dent was the MVP of the 1986 Super Bowl and finished with 137½ career sacks. He was the top pass rusher on one of the NFL's greatest defensive units. Dent became a starter in 1984, beginning a 10-year period in which he made 10 or more sacks in eight of 10 seasons.
"It was a long time coming, I am very happy," Dent said. "If you can do your thing the way (Walter Payton) did his, you can be in the Hall of Fame. I am so thankful for this."
Dent also won a Super Bowl in 1994 with the 49ers.
Richter played linebacker for the Los Angeles Rams from 1954-62. They traded 11 players for him and waited two years while he was in the military before he suited up. He made the wait worthwhile , going to eight straight Pro Bowls. He also was a center and kicker.
Richter died last June.
Hanburger spent all 14 pro seasons with the Redskins and played in nine Pro Bowls. He played from 1965-78 and was called "The Hangman." He was known for using clothesline tackles that eventually were outlawed.
"It's wonderful. I am just overwhelmed. It's such a tremendous honor to be nominated, let alone get in," Hanburger said. "Have to think of all the men who played before me and all the men I played with."
Sabol founded NFL Films and was selected as a contributor.
The finalists who did not get in were Curtis Martin, Dermontti Dawson, Cortez Kennedy, Andre Reid and Willie Roaf.
Induction ceremonies are Aug. 6 in Canton, Ohio.
Thanks for reading CBS NEWS.
Create your free account or log in
for more features.