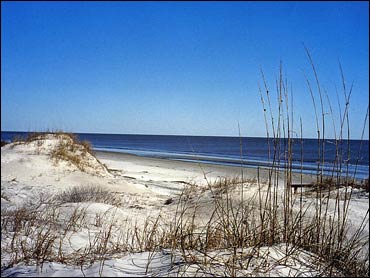 Sand More Dangerous Than Sharks, Docs Say
Waves and sharks aren't the only dangers at the beach. More than two dozen young people have been killed over the last decade when sand holes collapsed on them, report father-and-son doctors who have made warning of the risk their personal campaign.
Since 1985, at least 20 children and young adults in the United States have died in beach or backyard sand submersions. And at least eight others died in Australia, New Zealand and the United Kingdom, according to a letter from the doctors published in this week's issue of The New England Journal of Medicine.
Among them was Matthew Gauruder, who died from a collapse at an after-prom beach party in Westerly, R.I., in May 2001. The 17-year-old was playing football with friends when he jumped for a pass and fell backward into an eight-foot-deep hole someone had dug earlier.
Would-be rescuers made the problem worse by caving in more sand as they tried to approach him. People at the scene said he may have been buried 15 minutes, said his mother, Mavis.
"People have no conception of how dangerous this is," she said, in an interview this week.
Sand hole collapses occur horrifyingly fast, said Dr. Bradley Maron of Harvard Medical School, the report's lead author.
"Typically, victims became completely submerged in the sand when the walls of the hole unexpectedly collapsed, leaving virtually no evidence of the hole or location of the victim," wrote Maron, an internal medicine resident.
Maron, a former lifeguard, became interested in the topic in the summer of 1998. He was vacationing with his family on Martha's Vineyard when he and his father, Minnesota cardiologist Dr. Barry Maron, saw a lifeguard responding to a collapse that engulfed an 8-year-old girl.
The girl survived, thanks to a dramatic rescue. But it left a big impression on Maron, who's spent years tracking — and writing about — similar incidents.
"It's been almost like a vendetta for him," said Dennis Arnold, who runs the beach patrol in the Martha's Vineyard community of Edgartown and was Maron's boss that summer.
People naturally worry about splashier threats, like shark attacks. However, the Marons' research found there were 16 sand hole or tunnel deaths in the U.S. from 1990-2006 compared with 12 fatal shark attacks for the same period, according to University of Florida statistics.
And Bradley Maron thinks the sand-related deaths are less well-documented than shark attacks.
The father and son based their report largely on news media accounts and Internet searches. Most of the incidents were from the last 10 years, when Internet reports were available.
Overall, they counted 31 recreational sand hole deaths since 1985 in the United States, United Kingdom, Australia and New Zealand. They counted another 21 incidents in which a person was rescued from a collapse, in several cases by bystanders who performed CPR.
The victims, mostly boys, ranged in age from 3 to 21 years, with the average age about 12.
Unattended construction sites have long posed dangers, and one incident in the Marons' compilation — involving three girls who died in East Milton, Fla., in 1998 — occurred in a rain-soaked clay pit, when an embankment collapsed. Those deaths, if added to the others, bring the U.S. death tally to 23.
Maron and others advise the public not to let young kids play in sand unattended, and not to get in a hole deeper than your knees.
On Martha's Vineyard, lifeguards are instructed to order children and adults out of any hole deeper than a child's waist, and to kick sand in to fill them, Arnold said.
Occasionally, some parents protest. "They'll say 'You're ruining my kids day!' I say 'I don't care,"' Arnold said.
Mavis Gauruder, who lives in Fort Mill, S.C., said she's tried to issue similar warnings, like the time she came upon a father digging a hole with a garden shovel for his young son.
She went up to the pair and warned them of the dangers. The man seemed unmoved, so she finally told him she'd had a tragedy in her family involving a hole collapse.
"I asked them to fill in the hole. They did, but they looked at me like I was interfering," she said.
Thanks for reading CBS NEWS.
Create your free account or log in
for more features.