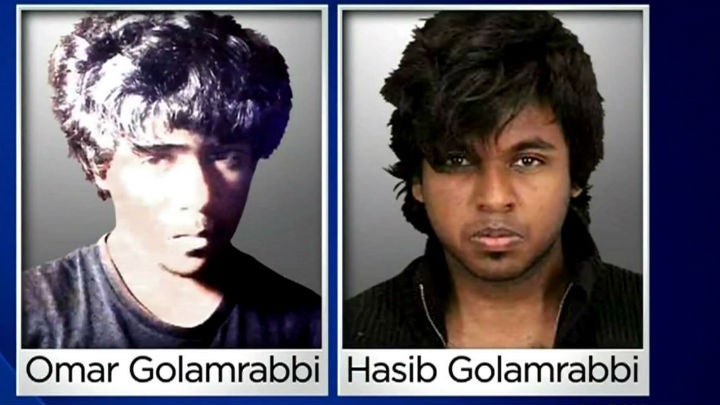 Police: Brothers tell different stories of parents' killings
SAN JOSE, Calif. -- The older of two sons charged with murdering their parents at their home in California said he shot his father multiple times, but he did not shoot his mother, according to police.
Hasib Golamrabbi, 22, also said a stranger who assaulted him told him to shoot his father, San Jose police Sgt. Patrick Guire said in court documents accompanying a criminal complaint filed Friday.
Guire said Golamrabbi's younger brother, Omar, told investigators that Hasib Golamrabbi killed both parents, and then asked him to check the garage where his father was killed to make sure no blood was seeping out before the two drove off to an anime convention in Oakland.
The younger brother did not mention a stranger, according to Guire. The police statement did not include a motive.
Omar Golamrabbi, 17, was charged as an adult, CBS San Francisco station KPIX reported.
The brothers were arraigned on two counts of murder each in the slayings of their parents, father Golam Rabbi and mother Shamima Rabbi. The parents had emigrated from Bangladesh decades ago.
Both brothers pleaded not guilty, Santa Clara County district attorney's office spokesman Sean Webby said.
The parents were shot to death on Saturday at their San Jose home.
Relatives spoke to the brothers on Sunday, requesting they come home because their parents were not responding to phone calls or knocks on the door, Guire said.
But then the brothers stopped answering their phones. Relatives went to the home and discovered the bodies, Guire said.
Hasib Golamrabbi told the San Francisco Chronicle in a jailhouse interview that he is eager to tell the real story but offered no other details. He emphasized that his brother is innocent.
"I want everyone to know what happened," he said, "but I can't say anything without a lawyer."
It was not immediately known who their attorneys were.
Omar Golamrabbi told police he closed the curtains after his brother killed their father, and his brother then killed their mother, Guire said.
Guire said police found writing on the walls of the home, one set of which was consistent with Omar Golamrabbi's writing that investigators found in a notebook.
"Sorry, my first kill was clumsy," read one note scribbled on a wall in black marker.
"Take care of your brother or he's next," another message said.
The double slaying and the arrest of the sons have horrified the tight-knit Muslim community.
The victims were popular fixtures at their mosque for three decades and had helped relatives emigrate from their native Bangladesh. Golam Rabbi was an engineer. His wife was an accountant.
"Everybody is praying that it's somebody else who did this and not the kids," said Abdul Jaka, a co-founder of the Evergreen Islamic Center, told KPIX. "They were a nice family."
Jason Wong, 16, an Evergreen Valley High School classmate of Omar Golamrabbi, said the junior was quiet and mostly kept to himself.
Wong said he saw the teen on campus on Monday, the day after his parents were found dead.
"I didn't think anything was wrong then because I didn't know his parents had died," Wong said. "But now it seems strange."
It was not clear how long the couple had been dead before relatives discovered the bodies, police spokesman Sgt. Enrique Garcia said. No further details were released about the slayings.
"This is one of those tragedies nobody ever wants to be in," mosque spokesman Faisal Yazadi said. "All we can do is pray."
Thanks for reading CBS NEWS.
Create your free account or log in
for more features.