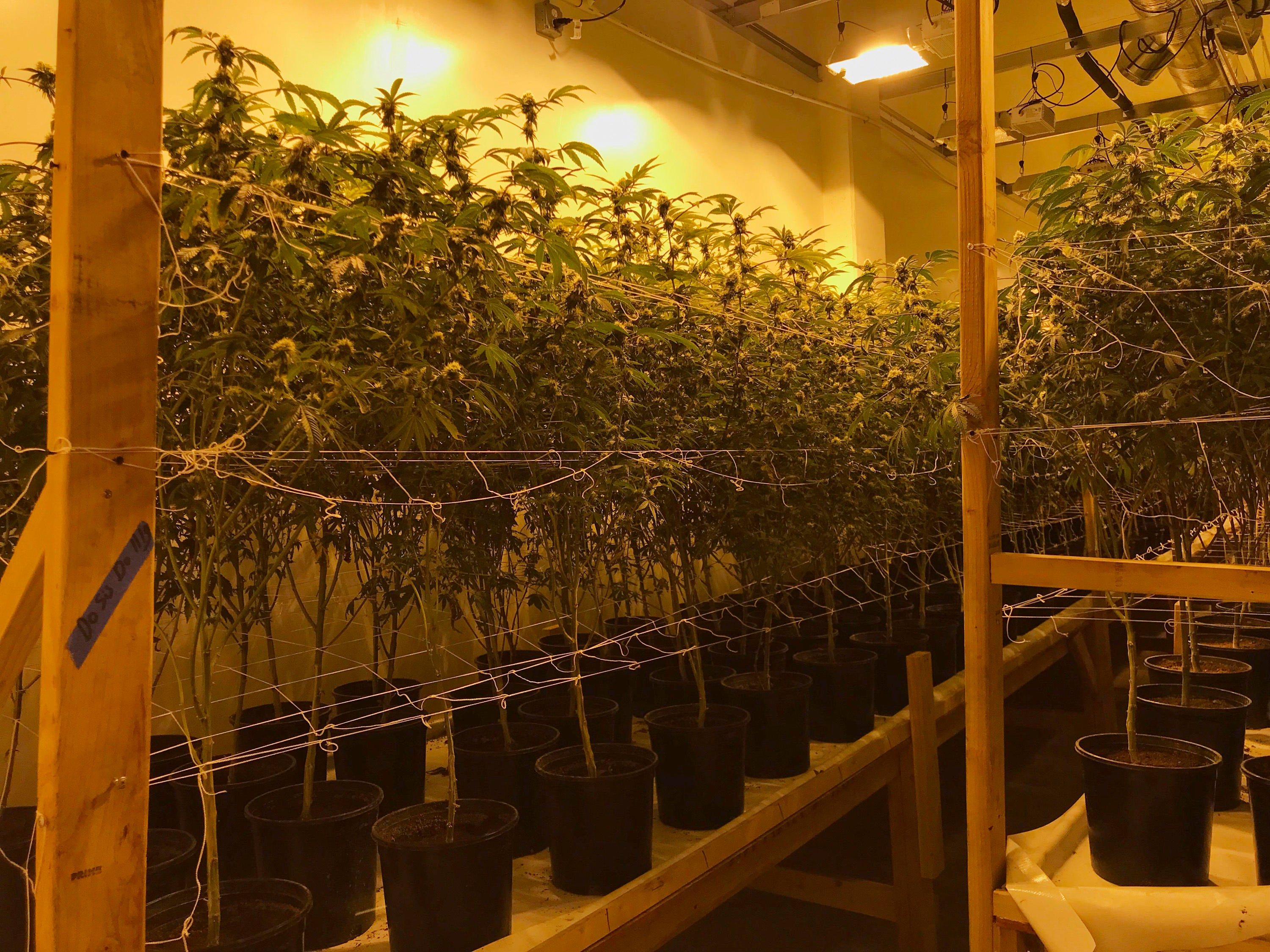 Police bust multimillion-dollar weed "fortress" in Southern California
LOS ANGELES -- Police in Southern California raided a weed "fortress" on Wednesday, seizing 35,000 marijuana plants and shutting down an operation they believe was bringing in millions of dollars a month.
San Bernardino Police say eight people were detained Wednesday when police and federal agents raided the warehouse that was converted into a multi-level grow house.
Investigators first turned their sights on the illegal grow operation about two months ago after receiving complaints from neighbors. They found the once-abandoned warehouse had been outfitted with a 12-foot metal rolling fence, "fortified doors," a large concrete wall around the parking lot and surveillance cameras.
Inside the four-story warehouse, police found thousands of plants stacked next to one another under heat lamps on wood tables and an advanced irrigation system. The electric bill for the property was about $67,000 per month, police said.
"In my 26 years, it was the biggest grow that I've ever seen," San Bernardino police Lt. Mike Madden said. "There were all different rooms for different processes and hydration, filtration and ventilation. It was pretty extensive."
CBS Los Angeles reports that police are investigating the owner, identified as 43-year-old Stephanie Smith. She was not arrested or charged with a crime. A telephone number for Smith could not be located in public records.
Police and federal investigators raided two other properties owned by Smith and seized 18,000 pounds of marijuana in total. Eight people who were working in the warehouse in downtown San Bernardino were detained by police, but no charges have been filed in the case, Madden said.
California voters have approved the legalization of marijuana, but growers must receive licenses and permits from local governments and the state. Recreational pot sales start in California on Jan. 1, joining the long-running medical cannabis industry.
"Marijuana has been legalized, but there are stringent requirements," Madden said. "It's not that you just get to set up shop where you want to set up."
The Los Angeles City Council voted Dec. 6 to license sales beginning next year. After months of debate and political snags, the council approved rules to usher in commercial sales and cultivation set to begin in less than a month under an initiative approved by state voters.
California is among 29 states where pot is legal, either for medical or recreational use. Medical marijuana has been legal in the state for two decades.
With the new year just weeks away -- and the holidays coming -- industry experts say it's not clear how many businesses, if any, will be ready to open their doors on Jan. 1 to hordes of anxious customers.
Under the Los Angeles regulations, residential neighborhoods would be largely off-limits to pot businesses, and buffer zones would be set up around schools, libraries and parks.
Thanks for reading CBS NEWS.
Create your free account or log in
for more features.