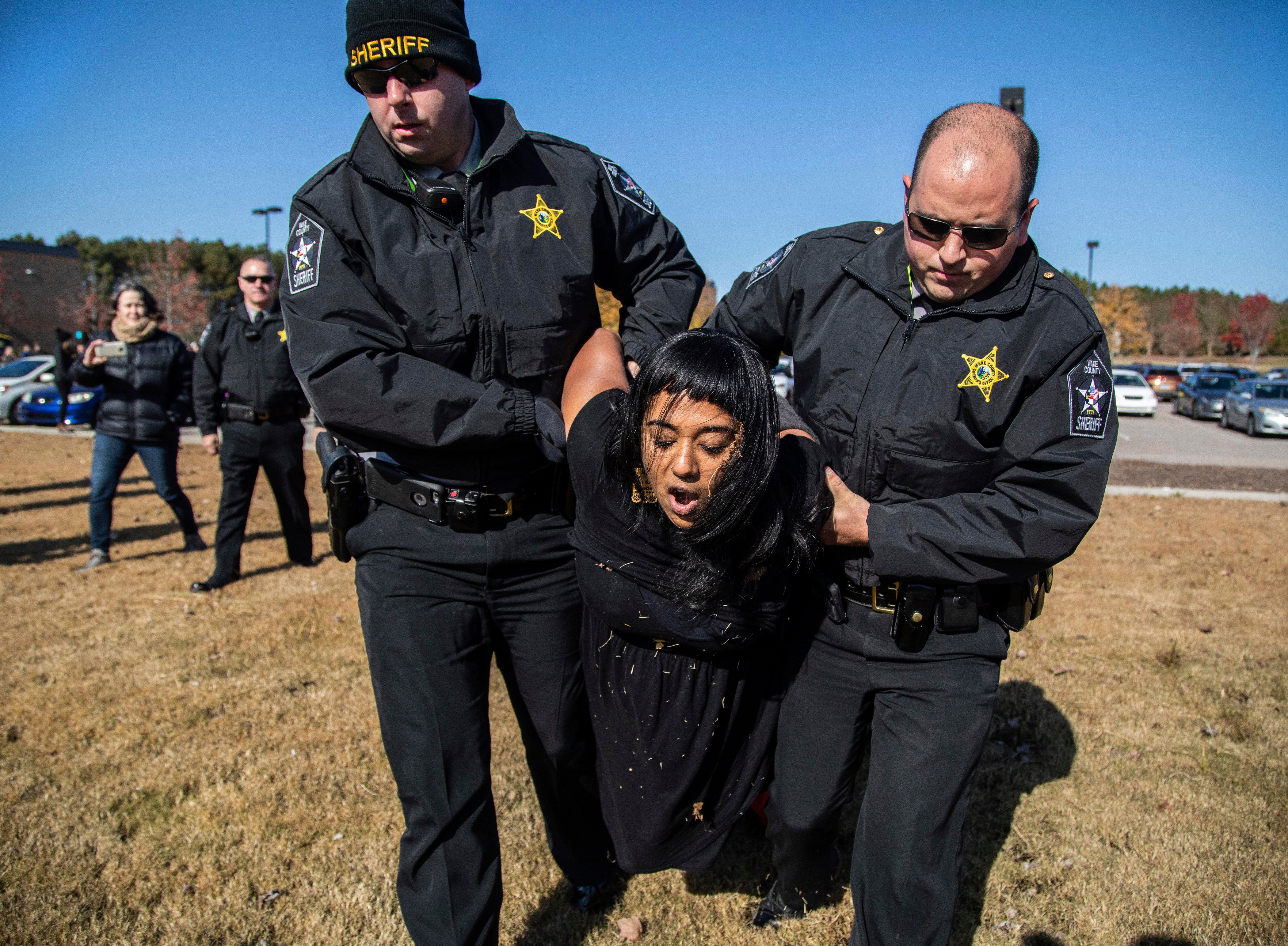 Dad who lived in North Carolina church for a year arrested by ICE, sparking protest
RALEIGH, N.C. -- An immigrant who sought refuge from deportation in a North Carolina church for 11 months was detained Friday at a scheduled appointment with immigration officials, prompting more than a dozen supporters to block a law enforcement van and wind up under arrest themselves. Mexican national Samuel Oliver-Bruno, 47, was detained at a Raleigh-area immigration office, according to a U.S. Immigration and Customs enforcement news release.
The advocacy group Alerta Migratoria NC said in a statement that Oliver-Bruno went to have fingerprints taken so he could apply to stay in North Carolina with his wife and son. He has been living in CityWell United Methodist Church in Durham since late 2017 to avoid the reach of immigration officers, who generally avoid making arrests at churches and other sensitive locations.
ICE said Oliver-Bruno, who has lived in North Carolina for two decades, had no legal basis to be in the U.S. and had exhausted his "extensive" appeals. Oliver-Bruno pleaded guilty in 2014 to using false documents to try to re-enter the U.S. in Texas after a trip outside the country, according to court documents.
Several dozen protesters came to the federal immigration office in Morrisville in hopes of dissuading authorities from arresting Oliver-Bruno. Alerta Migratoria said Oliver-Bruno was detained and put into a van after entering the office, and that supporters were arrested trying to block the van.
The Morrisville Police Department issued a statement saying it was called to the scene because the crowd, though peaceful, refused to allow immigration officers to drive away with Oliver-Bruno. The department said it tried to de-escalate the situation, but demonstrators ignored two orders to disperse before arrests were made.
Online booking records show at least 20 demonstrators were arrested at the immigration office on charges including failure to disperse and resisting officers.
CBS affiliate WNCN-TV reports that those arrested included Ernesto Barriguete.
"We did nothing else but singing and prayers, and singing and prayers, letting them know that we're in disagreement with what's going on," Barriguete said.
Alerta Migratoria said Oliver-Bruno had filed an application with U.S. Citizenship and Immigration Services seeking to avoid deportation. The group's statement said he was asked to come in for a biometric screening as part of the application, and he was aware he had to "risk getting detained."
Advocates say Oliver-Bruno's family had "recently faced threats" in his home state of Veracruz, Mexico, where drug cartels are active. They said he fears for his safety if he is deported.
USCIS spokesman Pamela Wilson said the agency generally can't discuss individual applications for deportation deferment.
WNCN reports that supporters of Oliver-Bruno said they plan to keep fighting for him and his family.
"It feels like even more of an injustice like I've been released, and he's actually still in detention," Noah Rubin-Blose said.
Thanks for reading CBS NEWS.
Create your free account or log in
for more features.