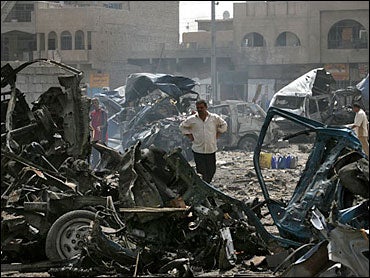 'Sammy the Bull' Pleads Guilty
Mafia turncoat Salvatore "Sammy the Bull" Gravano pleaded guilty Friday to charges that he masterminded an ecstasy ring that sold the drug from Arizona to New York.
He pleaded guilty to 10 counts including conspiracy to sell dangerous drugs, participating in a criminal syndicate, conducting an illegal enterprise, offering to sell or transport dangerous drugs, money laundering, use of wire or electronic communications in drug related transactions, plus misconduct involving weapons and drug possession. Gravano's sentencing is scheduled Sept. 28. Each of the sentences would be served at the same time, meaning Gravano faces a maximum of 23 years in prison.
Gravano's wife, Debra, and their children, Gerard and Karen, also pleaded guilty in the case before Judge Steven Sheldon of Maricopa County Superior Court.
Gerard Gravano pleaded guilty to two counts illegally conducting an enterprise and offering to sell and transport dangerous drugs. He faces about nine years in prison when he is sentenced Sept. 28.
Gravano's 48-year-old wife, Debra, pleading guilty to illegally conducting an enterprise. She faces five years' probation and a possible one-year jail term when sentenced Aug. 31.
Karen Gravano, 29, pleaded guilty to the use of wire or electronic communications and drug-related transactions. She faces three years of supervised probation when she is sentenced Aug. 31.
Neither of the women's attorneys would comment after the hearing.
Assistant Attorney General Donald Conrad also declined to comment.
Gravano, 55, and his son, 24, pleaded guilty in New York last month to federal conspiracy counts involving the drug case. U.S. prosecutors said both faced up to 15-and-a-half years in prison when sentenced on Sept. 11.
Gravano could serve his time for the New York convictions at the same time as his Arizona sentence. At the time of his New York hearing, Gerard Gravano's attorney said the federal pleas were a package deal that included Arizona charges and concurrent sentencing.
Salvatore Gravano and his family were the last of 48 defendants, most of them Arizona residents, who were indicted last year in connection with the drug ring. Some of the others were sentenced to prison; most received probation.
Investigators said Gravano was boss and bankroller for the ecstasy organization which allegedly distributed up to 30,000 pills a week. A similar New York ecstasy ring with ties to Israeli organized crime allegedly distributed 4 million ecstasy pills worth $100 million in the last three years.
Gravano moved to Arizona in the mid-1990s under the federal witness protection program after he testified against Gambino family boss John Gotti Sr. and other mobsters. He served five years in prison after admitting involvement in 19 murders and numerous other crimes.
He was living in suburban Tempe as Jimmy Moran while operating a Phoenix construction company. His wife operated an Italian restaurant in Scottsdal.
At the same time, the former underboss allegedly was helping his son and Michael Papa operate an ecstasy ring. Prosecutors said it had been failing to turn a profit and the elder Gravano was to help them get it out of the red.
© MMI The Associated Press. All Rights Reserved. This material may not be published, broadcast, rewritten, or redistributed
Thanks for reading CBS NEWS.
Create your free account or log in
for more features.