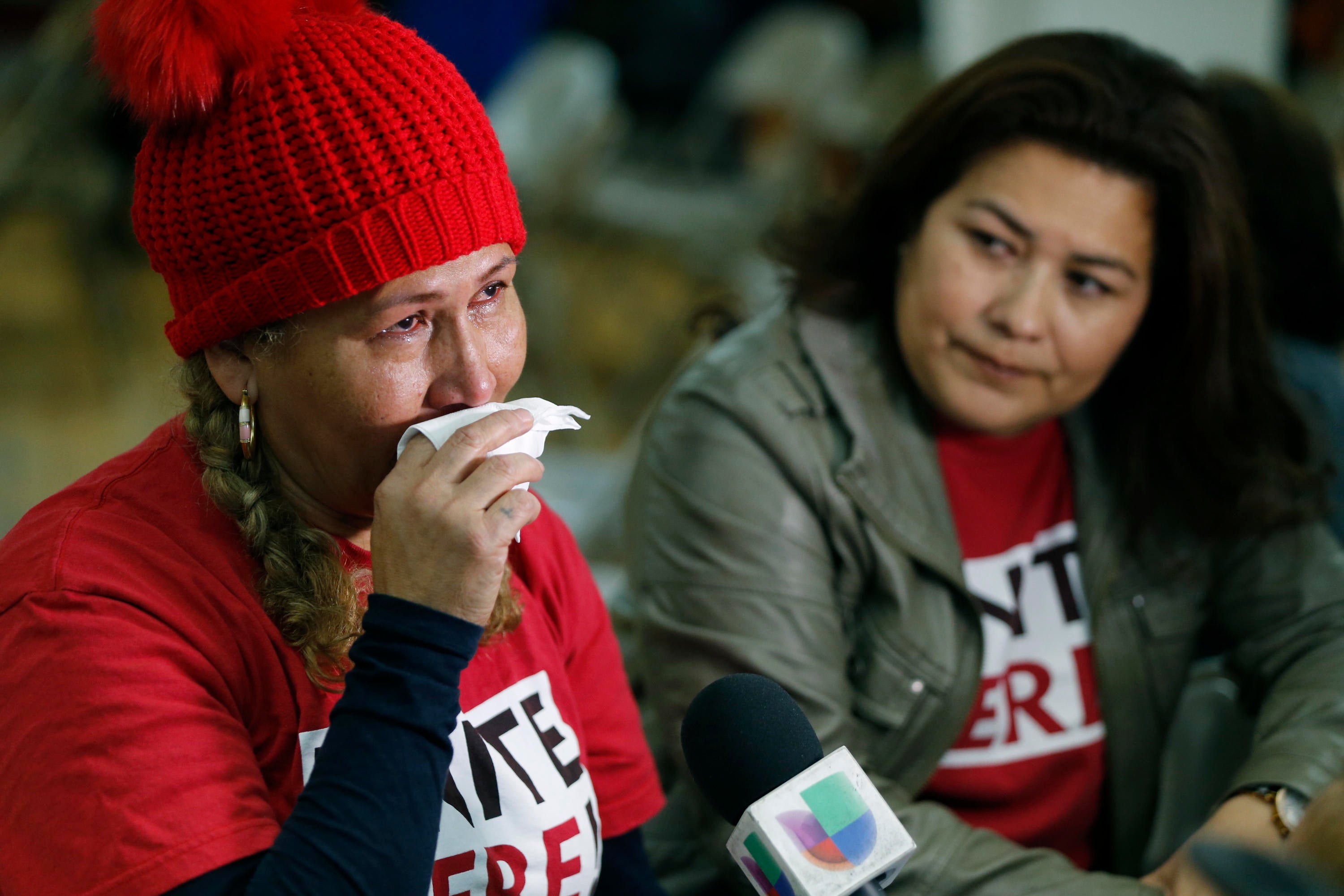 Salvadorans with U.S.-born children filled with dread after Trump move
WASHINGTON -- The Trump administration's decision to end special protections for nearly 200,0000 Salvadoran immigrants filled many Salvadoran families with anxiety and dread Monday, raising the possibility that they will be forced to abandon their roots in the U.S. and return to a violent homeland they have not known for years, even decades.
Homeland Security Secretary Kirstjen Nielsen gave Salvadorans with temporary protected status until Sept. 9, 2019, to leave the United States or face deportation. El Salvador becomes the fourth country since President Trump took office to lose protection under the program, which provides humanitarian relief for people whose countries are hit with natural disasters or other strife.
According to the Center for Migration Studies, Salvadorans receiving protection under the program have had 192,700 American-born children, raising the prospect of forcing American citizens to leave the country with their parents or stay behind.
The Trump administration's decision, while not surprising, was a severe blow to Salvadorans in New York, Houston, San Francisco and other major cities that have welcomed them since at least the 1980s.
Guillermo Mendoza, who came to the United States in 2000 when he was 19 years old, was anguished about what to do with his wife and two children who are U.S. citizens.
"What do I do? Do I leave the country and leave them here? That is a tough decision," said Mendoza, a safety manager at Shapiro & Duncan, a mechanical contractor company in Rockville, Maryland, near Washington.
Orlando Zepeda, who came to the U.S. in 1984 fleeing civil war in El Salvador, said the lack of surprise does not ease the sting for the 51-year-old Los Angeles-area man who works in building maintenance and has two American-born children.
"It's sad, because it's the same story of family separation from that time, and now history repeats itself with my children," Zepeda said in Spanish.
Many immigrants hope Congress can deliver a long-term reprieve by September 2019. If that fails, they face a grim choice: return to El Salvador voluntarily or live in the U.S. illegally under an administration that has dramatically increased deportation arrests.
Cristian Chavez Guevara, a 37-year-old Salvadoran immigrant in Houston who is raising two American stepchildren and a young cousin, said the decision would tear apart his family. He was unsure what to do.
"I have been building dreams for the future and raising hope for a better future not just for me but for my family," he said. "All of that came to a halt."
The action presents a serious challenge for El Salvador, a country of 6.2 million people whose economy counts on money sent by wage earners in the U.S. Over the past decade, growing numbers of Salvadorans - many coming as families or unaccompanied children - have entered the United States illegally through Mexico, fleeing violence and poverty.
In September 2016, the Obama administration extended protections for 18 months, saying El Salvador was still suffering the lingering effects of earthquakes in 2001 that killed more than 1,000 people. The administration said the country was temporarily unable to absorb such a large number of returning people.
Nielsen, who faced a Monday deadline on another extension, concluded that El Salvador has received significant international aid to recover from the earthquake, and homes, schools and hospitals there have been rebuilt.
"The substantial disruption of living conditions caused by the earthquake" no longer exists, the department said in a statement.
El Salvador President Salvador Sanchez Ceren spoke by phone Friday with Nielsen to renew his plea to extend status for 190,000 Salvadorans and allow more time for Congress to deliver a long-term fix for them to stay in the U.S. The country's top diplomat, Foreign Minister Hugo Martinez, said Monday's decision underscored a need for Congress to act.
The 18-month delay was small comfort for Teresa Salmerón, a Salvadoran woman who has relatives working in the United States.
"What are they going to do here? There is no work here," she said. "I live on the money they send home."
Democratic leaders and immigrant advocacy groups sharply criticized the move. House Democratic Leader Nancy Pelosi called it "a heartbreaking blow to nearly a quarter of a million hard-working Salvadorans who are American in every way."
Rep. Bennie Thompson, ranking Democrat on the House Homeland Security Committee, said it was "just the latest in a string of heartless, xenophobic actions from the Trump administration."
However, NumbersUSA, a group advocating immigration restrictions, called it an important step for the humanitarian program's credibility.
"The past practice of allowing foreign nationals to remain in the United States long after an initial emergency in their home countries has ended has undermined the integrity of the program and essentially made the 'temporary' protected status a front operation for backdoor permanent immigration," said Roy Beck, the group's president.
The decision comes amid intensifying talks between the White House and Congress on an immigration package that may include protections for hundreds of thousands of young immigrants who came to the country as children and were temporarily shielded from deportation under an Obama-era program. Trump said in September that he was ending Deferred Action for Childhood Arrivals, or DACA, but gave Congress until March to act.
The U.S. created temporary protected status in 1990 to provide safe havens for people from countries affected by earthquakes, floods, hurricanes, war and other disasters. It currently shields nearly 320,000 people from 10 countries, more than half from El Salvador.
The benefit, which includes work authorization, can be renewed up to 18 months at a time by the Homeland Security secretary.
In November, Nielsen's predecessor, acting Secretary Elaine Duke, ended the protection for Haitians, requiring about 50,000 to leave or adjust their legal status by July 22, 2019, and for Nicaraguans, giving about 2,500 until Jan. 5, 2019. She delayed a decision affecting more than 50,000 Hondurans, leaving that decision to Nielsen.
Last year, the Trump administration extended status for South Sudan and ended it for Sudan. Other countries covered are Nepal, Somalia, Syria and Yemen.
Thanks for reading CBS NEWS.
Create your free account or log in
for more features.