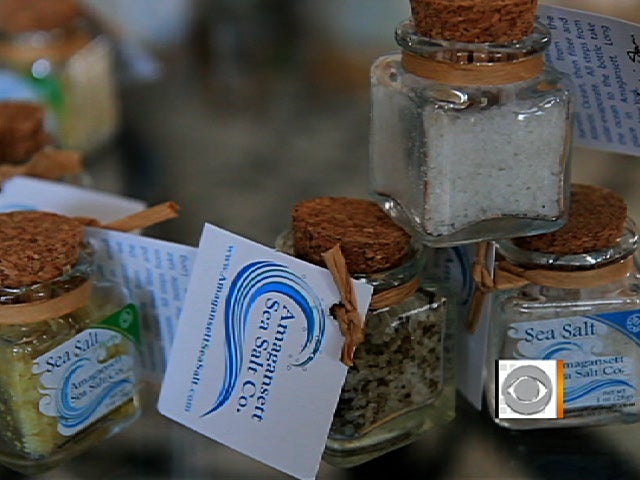 Salty twist on farm-to-table concept
Most of us have heard of the "farm-to-table" food movement, but for one couple on New York's Long Island, a more appropriate phrase might be -- sea-to-table. And, as "Early Show" contributor Katie Lee found out, we're not talking about fish.
Fruits and vegetables may come to mind when you think about local food, but what about salt? For Steven and Natalie Judelson, finding a local source was just as important. So they headed to the beach.
Every Saturday, Steven Judelson can be found at farmers' markets across Long Island selling his "crop."
"It's entirely natural, we don't add things to it," he explains.
He's not your average farmer: His tractor is a jeep, his overalls are waders, and instead of rich soil, his bounty comes from the sea.
Why salt?
"Salt was something that we had been doing for just a long time," he says.
Both former attorneys, the Judelsons now produce natural sea salt in their Amagansett, N.Y. home full time.
"We really started getting into the whole local food movement and started thinking about why we're not making a fantastic product like that out, here with how clean the ocean water is, so we decided to get serious about it a year and a half ago," Natalie Judelson said.
Her husband begins by collecting five-gallon buckets of saltwater from the ocean.
The heavy lifting is followed by a lot of waiting around. "So we'll go from the ocean water, that we've then filtered, and we'll then put them into food grade plastic trays, where they'll sit for, in this case, probably about three weeks," Steven Judelson explained.
The trays are left outdoors in a special structure that Steven Judelson invented. Eventually, the water evaporates until nothing is left but salt.
He explained what happens next: "From here, we actually need to start picking through it to remove any visitors or things we don't want in it. And from here, it will be ground, or crushed I'll call it, and then it will become this. And from this size, it's ready to go into the containers."
From sea to table, the entire process takes about four weeks.
The feedback, the couple says, has been great. "Tastes like a wipe-out," Natalie Judelson said. "People really say 'Wow, it tastes like the ocean.'"
Joeseph Realmuto is the executive chef of Nick and Toni's, an Italian restaurant with locations in East Hampton and Manhattan. He's also an Amagansett sea salt connoisseur.
"I was really, really amazed at how he walks out into the ocean with waders and sets it out into the sun and lets it evaporate and the flavor -- you know, there's no chemicals, there's nothing. It hasn't been processed it's not refined," Realmuto said.
Steven Judelson said the experience has been validating. "Someone who really knows what they're doing is buying this not as a gimmick, but that this is a salt that really, really tastes good."
The Judelsons' sea salt is used in many New York restaurants. And while they admit their small business is growing fast, their plan is to always keep things local. "We're not interested in becoming a factory, that was what excited us so much about doing this in the first place, was keeping it by hand and all natural," Natalie Judelson says.
"It's been really gratifying hearing a whole range of people saying 'Wow, this stuff tastes really good, feels really good,' as well as liking the whole concept of it," her husband added.
Thanks for reading CBS NEWS.
Create your free account or log in
for more features.