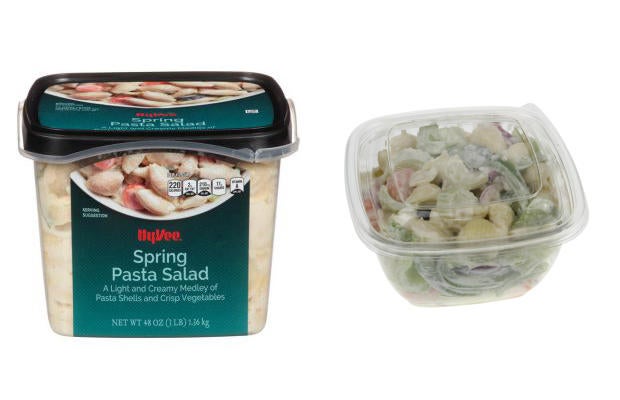 79 people sickened from salmonella tied to Hy-Vee pasta salad, CDC says
A total of at least 79 people from nine states have been sickened in a salmonella outbreak tied to recalled Hy-Vee Spring Pasta Salad, the Centers for Disease Control and Prevention reports. Eighteen of the affected people have been hospitalized. No deaths have been reported.
According to the CDC, the recalled pasta salad was sold in all Hy-Vee grocery stores in Illinois, Iowa, Kansas, Minnesota, Missouri, Nebraska, South Dakota, and Wisconsin. One person became ill in Tennessee who had traveled to a state where Hy-Vee grocery stores are located.
The affected products were sold sold in 1-pound (16 oz.) and 3-pound (48 oz.) plastic containers or may have been scooped at the deli counter into clear plastic containers. The Spring Pasta Salad includes shell pasta, carrots, celery, cucumbers, green pepper, onion, and mayonnaise.
The expiration dates for the recalled pasta salad range from June 22, 2018 to August 3, 2018.
Symptoms of salmonella
Symptoms of a salmonella infection include diarrhea, fever, and abdominal cramps, which typically develop between 12 and 72 hours after infection. The illness usually lasts about four to seven days, with most healthy individuals recovering without the need for treatment.
However, some cases turn so severe that patients need to be hospitalized. The infection can spread from the intestines to the bloodstream and other parts of the body. These cases can turn deadly if not promptly treated with antibiotics.
Infants, older adults, and people with a weakened immune system are at an increased risk of serious complications from salmonella infection.
What to do with recalled items
The CDC urges consumers not to eat the recalled Hy-Vee Spring Pasta Salad, even if some of it was already eaten and no one got sick. Return the product to the store for a refund or throw it away.
If you purchased any of the recalled pasta salad and stored it in another container, throw the pasta salad away and make sure you thoroughly wash the container with warm, soapy water before using it again to remove harmful germs that could contaminate other food.
If you think you got sick from eating recalled Hy-Vee Spring Pasta Salad, contact your doctor.
Thanks for reading CBS NEWS.
Create your free account or log in
for more features.