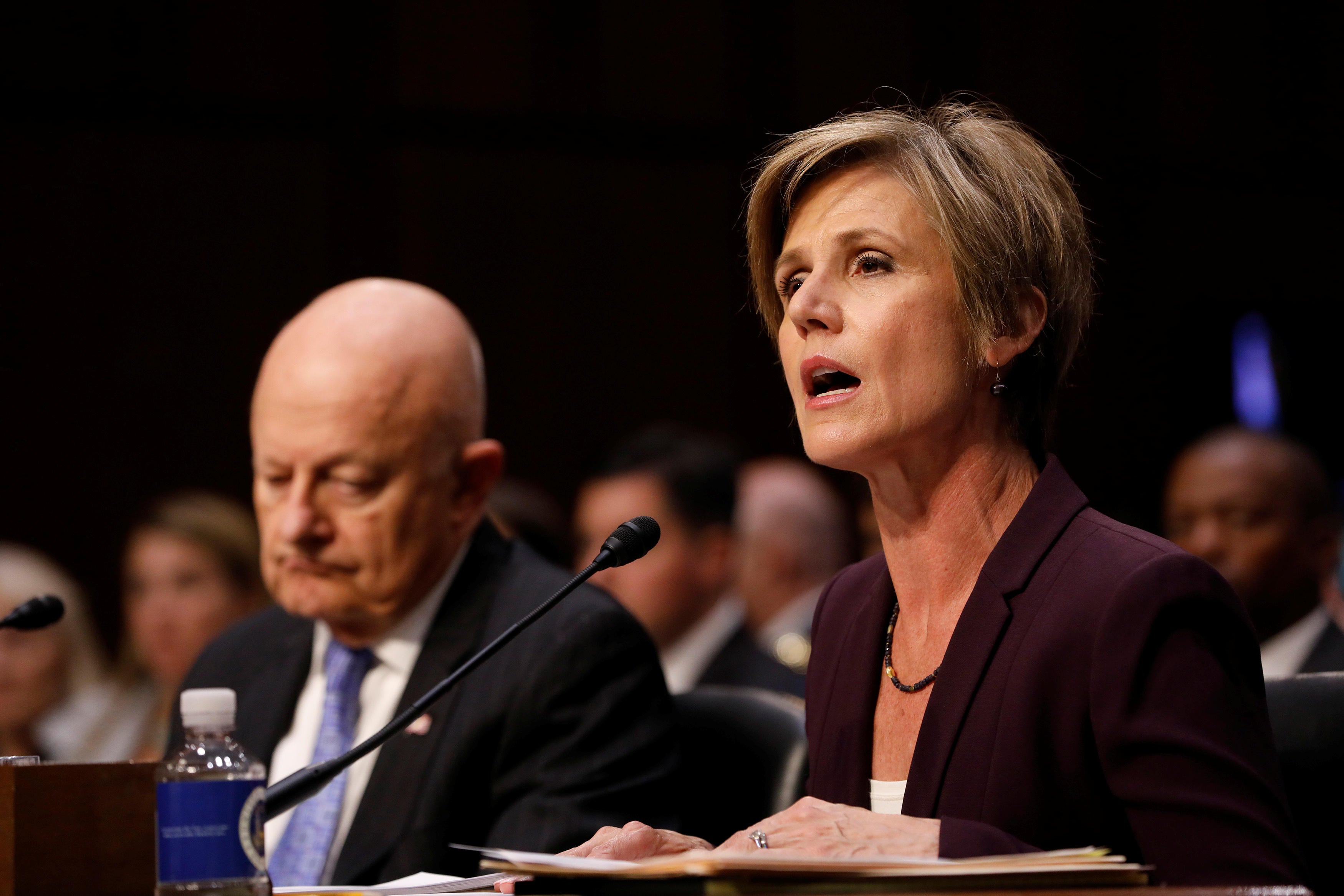 Yates tells Senate she warned White House Flynn could be blackmailed
Former acting Attorney General Sally Yates, speaking publicly for the first time about concerns she brought to the Trump White House on Russia, told Congress on Monday she warned that National Security Adviser Michael Flynn "essentially could be blackmailed" because he apparently had lied to his bosses about his contacts with the Russian ambassador.
The statements from Yates, an Obama administration holdover, offered by far the most detailed account of the chain of events that led to Flynn's ouster from government in the first weeks of the Trump administration.
Yates, appearing before a Senate panel investigating Russian interference in the 2016 presidential election, described discussions with Trump White House Counsel Don McGahn in late January in which she warned that Flynn apparently had misled the administration about his communications with Sergey Kislyak, the Russian ambassador.
White House officials had insisted that Flynn had not discussed U.S.-imposed sanctions with Kislyak during the presidential transition period, but asked Flynn to resign after news reports indicated he had misled them about the nature of the calls.
"We felt like it was critical that we get this information to the White House, in part because the vice president was making false statements to the public and because we believed that Gen. Flynn was possibly compromised," Yates said.
"We knew that was not a good situation, which is why we wanted to let the White House know about it."
Yates was joined by former Director of National Intelligence James Clapper who suggested to lawmakers that the U.S. must do more to educate the electorate as to what Russia's objective is and the tactics they used to interfere in the election.
Clapper said any further interference "will be against all parties" and that "more can be done in the way of sanctions" for any government who attempts to interfere.
See our live blog below of the hearing from earlier.
---
By Rebecca Shabad, Emily Tillett/CBS News
5:40 p.m. The hearing comes to a close as Sen. Graham says that there appears to be a "bipartisan consensus" that Russians did interfere in the elections and asks for further information to be provided by Clapper on specific cases of "un-masking" in the future.
5:32 p.m. Clapper suggests greater counter-messaging efforts against the Russians to "give them some of their own medicine" should be implemented, but that it "should not be tagged onto the intelligence community" but rather as a separate entity.
5:27 p.m. When asked what more can be done to deter interference, Yates says of the Russians "they're coming back and we must do more to harden our election systems to ensure folks out there that when they look at news feeds it may not be real news." Yates adds that "we must do more to deter the Russians and it wouldn't hurt to prosecute a few folks."
Clapper echoes Yates comments saying that the "most important thing is to educate the electorate as to what the Russian's objective is and the tactics and procedures they employed and continue to employ." Clapper says any further interference "will be against all parties" and that "more can be done in the way of sanctions" for any government to attempt to interfere.
5:15 p.m. Sen. Graham asks Clapper if he found any of Mr. Trump's business interests gave him concern, Clapper replies "not in the course of the preparation of the intelligence communities assessment, adding that "it wasn't enough to include" in the overall report.
Yates tells Graham that someone had to have information from the Flynn conversations and gave it to the Washington Post, but said it was neither herself or Clapper that supplied the information.
5:10 p.m. Clapper says that it "wasn't good practice" that Flynn was still able to participate in high-level conversations with various leaders after Yates had provided information on Flynn's security concerns to the White House.
Sen. Mazie Hirono, D-Hawaii, asks if Mr. Trump's previous tweets calling for Flynn's immunity should have any influence on the FBI investigation into Russian interference, Clapper replies, "it shouldn't and I'm confident it won't."
5:01 p.m. Sen. Richard Blumenthal, D-Connecticut, urges a special prosecutor be involved in the investigation of any Russian interference. Yates says Flynn faces criminal penalties if he did in fact lie to the FBI during his interview on his dealings with the Russian government.
Blumenthal reiterates the need for a special prosecutor in the investigation "because officials at highest level are all potentially witnesses and even potentially targets." Yates would not say if she agreed with Blumenthal that a special prosecutor should be assigned to the investigation.
4:53 p.m. Sen. Al Franken, D-Minnesota, asks Clapper if he had appeared ever appeared on the Russian propaganda network RT, Clapper laughs and replies "not wittingly."
Franken surmises that Flynn perhaps wasn't immediately fired because there were others within the administration who met secretly with Russians and never revealed it until they were caught, Franken asks Yates for a comment and Yates replies "I'm not going to touch that."
4:48 p.m. Sen. Patrick Leahy, D-Vermont, asks Yates about concerns about any Trump officials' vulnerability to blackmail, she said she did and expressed those feelings to the White House.
Clapper tells Leahy Russia was "absolutely" responsible for any interference saying "the evidence was overwhelming that Russians did this." Clapper adds that Mr. Trump's claims China could have had a hand in any interference only helped Russia.
4:40 p.m. Clapper tells Kennedy that Russia's interference is "nothing new" and that the "this is unprecedented in terms of its aggressiveness and multi-faceted campaign."
Yates says that she's never provided classified information to reporters, Clapper echoes her statements.
4:37 p.m. "Who appointed you to the U.S. Supreme Court?", asked Sen. John Kennedy, R-Louisiana, of Yates in regards to her opinions that she felt Trump's travel ban was "unconstitutional."
4:31 p.m. Sen. Chris Coons, D-Delaware asked Yates about news reports that sanctions were not discussed in conversations with Flynn and the Russian ambassador, Yates said that she can't confirm those conversations did or did not occur.
4:23 p.m. Clapper said he agrees with CIA Director Mike Pompeo's characterization that WikiLeaks acts as a non-nation intelligence service.
4:12 p.m. During an exchange with Sen. Amy Klobuchar, D-Minnesota, Yates said that the Department of Justice wasn't consulted on the initial travel ban imposed by the Trump administration. She said she wasn't informed about it by the administration, but instead learned about it "through media reports."
4:07 p.m. Sen. Ted Cruz, R-Texas, asked Clapper if he had forwarded classified information to a non-government individual who wasn't authorized to see that information.
"Not to my recollection. No, sir," he said.
Yates said that she's not aware of any intercepted communications of the Trump campaign or any other 2016 presidential campaigns.
3:50 p.m. Sen. John Cornyn, R-Texas, is now asking Yates why she refused to defend the president's travel ban.
"All arguments have to be based on truth," she said. "We're not a law firm. We're the Department of Justice."
3:43 p.m. Feinstein asked Yates if Flynn had lied to Vice President Mike Pence.
"That's certainly how it appeared," Yates said.
3:40 p.m. During an exchange with Feinstein, Clapper said that the British review of Russian interference in the U.S. election, that was provided to U.S. is accurate, but he said that he couldn't reveal any details.
"It's quite sensitive," he said. Clapper said he doesn't know about the accuracy of The Guardian's story.
3:34 p.m. Yates said that leading up to the notification to the White House, it was a topic of discussion among officials at the Justice Department and national security community. She said she consulted with other career prosecutors about the situation involving Flynn.
3:30 p.m. Sen. Chuck Grassley, R-Iowa, asked both witnesses if they had ever served as anonymous sources to reporters. They both said they haven't.
They said they don't know whether the Justice Department has authorized a criminal investigation of the leaks.
Grassley asked if either of them had requested the unmasking of President Trump, his associates or any member of Congress.
"Yes, in one case I did," Clapper said, adding that he can't discuss the details in public.
"No," Yates said.
3:21 p.m. Yates said she went back to the White House and she said they talked through "four to five more issues." Asked why she didn't wait for a "302" about Flynn, Yates said this was a matter of "urgency" and that it was critical that the White House know that the vice president was unknowingly conveying false information.
Yates said she believes the FBI interviewed Flynn at the White House and she said she doesn't believe he was represented by counsel.
She said that one of the issues that McGahn raised with her at the second meeting was his concern that taking action might intefere with the FBI investigation. Yates said that she and another official told them that it wouldn't interfere with the probe.
"We wanted to tell the White House as quickly as possible," she said.
3:12 p.m. Yates said she met with White House counsel Don McGahn at a SCIF to discuss classified information. She said that there had been press accounts about Flynn's comments that the Justice Department knew to be untrue. She said that they walked through Flynn's "underlying conduct," but she said she can't reveal details because that's classified information.
Yates said she wanted to make it very clear to Vice President Mike Pence that he wasn't knowingly misleading the American public and that whatever he shared was based on what Flynn had told him.
Clapper and Yates said they don't know how the conversation that Flynn had with the Russian ambassador made it to The Washington Post.
Yates said that "the Russians knew about what Gen. Flynn had done." She said it emerged into a situation where she said essentially, Flynn, national security adviser at the time "could be blackmailed by the Russians."
Yates said she was asked whether Flynn should be fired, but she said that wasn't her place to say.
3:07 p.m. Graham asked Clapper if the claim that he made on "Meet the Press" a few months ago that the intelligence community concluded there was no evidence of collusion between the Trump campaign and Russian officials.
Graham then asked Yates if there was any evidence that would point toward collusion. Yates said that she couldn't answer that question because she said she would be revealing classified information.
Graham said he doesn't understand how Clapper could be unaware of a counter-intelligence investigation being led by the FBI.
3:04 p.m. Sen. Dianne Feinstein, D-California, the top Democrat on the full committee, said that it's a "foregone conclusion" of Russia's involvement in the election. She's now speaking about the timeline that led to Gen. Michael Flynn's resignation as President Trump's national security adviser.
"What role did Flynn play in high-level national security decisions?" Feinstein said about the transition period and after.
3:00 p.m. Yates is now delivering her opening statement. She said she worked for 27 years in the Department of Justice, working through five Democratic and Republican administrations. She said she served as deputy attorney general for a little over two years and then was asked by the Trump administration to serve as acting attorney general.
"The efforts by a foreign adversary to interfere with and undermine our democratic processes—and those of our allies—pose a serious threat to all Americans," she said.
She suggested that she might not be able to reveal certain information.
"I also want to note that in my answers today, I intend to be as fulsome and comprehensive as possible while respecting my legal and ethical boundaries," she said. "As the Subcommittee understands, many of the topics of interest today concern classified information that I cannot address in this public setting, either directly or indirectly. My duty to protect classified information applies just as much to me as a former official as it did when I led the Department."
"In addition, I'm no longer at the Department of Justice, and I'm not authorized generally to discuss deliberations within DOJ or more broadly in the Executive Branch, particularly on matters that may be the subject of ongoing investigations," she said.
2:57 p.m. Clapper said that leaks are not the same thing as unmasking.
"An unmasking is a legitimate process that consists of a request and approval by proper authorities. A leak is an unauthorized disclosure of classified or sensitive information that is improper under any circumstance," he said.
2:53 p.m. Clapper is now explaining what unmasking means.
"It frequently happens that, in the course of conducting lawfully-authorized electronic surveillance on validated foreign intelligence targets, the collecting agency picks up communications involving U.S. persons," he said. "Under IC minimization procedures, the identities of these U.S. persons are typically "masked" in reports that go out to intelligence consumers, and are referred to as "U.S. Person 1", etc."
Clapper said that in some cases, to fully understand a communication, the person who's looking at the intelligence can request that the identity of the U.S. person "be revealed."
He said it is up to the agency that collected the intelligence "whether to approve the request and to provide the identity. And, if a U.S. person's identity is revealed, that identity is provided only to the person who properly requested it, not to a wider audience."
He said he never used the unmasking process for political purposes.
"On several occasions during my six-and-a-half years as DNI, I requested the identity of U.S. persons to be revealed," he said. "In each such instance, I made these requests so I could fully understand the context of the communication and the potential threat being posed. At no time did I ever submit a request for personal or political purposes, or to voyeuristically look at raw intelligence, nor am I aware of any instance of such abuse by anyone else."
2:48 p.m. In his opening statement, Clapper said that he will try to convey as much information as he can as a private citizen.
"Last year, the Intelligence Community conducted an exhaustive review of Russian interference into our presidential election process, resulting in a special Intelligence Community Assessment, or ICA," Clapper said. "I'm here today to provide whatever information I can – now as a private citizen – on how the Intelligence Community conducted its analysis, came up with its findings, and communicated them to the Obama administration, to the Trump transition team, to Congress, and – in an unclassified form – to the public. Additionally, I will briefly address four related topics that have emerged since the ICA was produced."
Clapper said that because of classification and executive priviledge strictures requested by the White House, "There are limits to what I can discuss."
He said that the intelligence community found that Russia used cyber operations "against both political parties."
In addition to hacking into the DNC and releasing information, he said, "Russia also collected on certain Republican party-affiliated targets, but did not release any Republican-related data."
2:38 p.m. Whitehouse, the top Democrat on the subcommittee, is delivering his opening statement. He said that the purpose of their probe is to ensure that public learns about what happened, that lawmakers can address unanswered questions and to know how to properly protect the government from future interference. Whitehouse said that the president and administration has failed to take responsibility and have dismissed facts as "fake news."
2:34 p.m. ET The hearing has begun and Graham is delivering his opening statement. Graham alluded to the intelligence community report from January that concluded that Russians hacked John Podesta's emails, that Russians launched a cyberattack against the Democratic National Committee and that they helped empower WikiLeaks, he said. Graham said that every American should be "concerned" about what the Russians did.
Thanks for reading CBS NEWS.
Create your free account or log in
for more features.