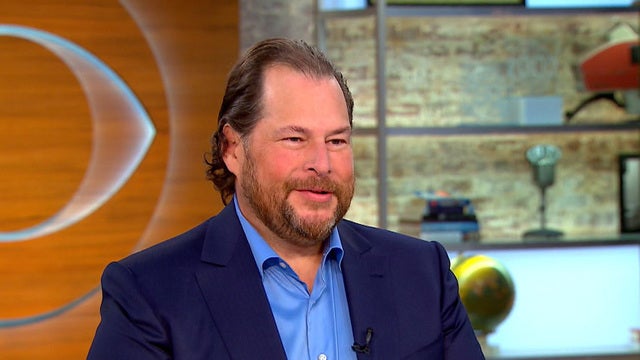 Salesforce CEO: Speaking out on social issues is the "right thing to do"
Marc Benioff runs cloud computing giant company Salesforce, which provides software that allows salespeople to keep track of their customers. But he's also using his company's success - it's worth nearly $57 billion - as a platform for social activism.
Benioff is fighting North Carolina's so-called "bathroom law" which prevents transgender individuals from using public bathrooms that do not match their biological gender.
"I'm doing this really on behalf of my employees... I'll get an email or someone will come into my office and say, 'I am being discriminated against and you have to do something for me,' so I will jump in and help them," Benioff told "CBS This Morning" Thursday.
Benioff's intervention in North Carolina comes after he showcased his influence on legislation in other states. Last year, the CEO slammed Indiana's governor over the so-called "religious freedom law" for discriminating against the LGBT community. Benioff canceled Salesforce events, threatened to pull investments and even offered to pay for workers to move out of the state. The law was amended a week later.
He then went on to fight a similar bill in Georgia, which was also vetoed after Benoiff and others threatened to take their business elsewhere.
Now there's some bad blood between Benioff and these states' leaders. North Carolina Lt. Gov. Dan Forest called the CEO a "corporate bully." Georgia State Senator Josh McKoon called Benoiff "the ringleader for big-business CEOs... who use economic threats to exercise more power over public policy than the voters who use the democratic process."
But for Benioff, his outspokenness is simply "the right thing to do," especially given the transformation taking place in the business world from being shareholder-based to being "all about the stakeholders."
"Employees are stakeholders, customers are stakeholders, partners, the environment is a stakeholder, our community, our homeless in San Francisco are stakeholders -- all for Salesforce. We have to look out for everyone," Benioff said.
Still, being vocal could be bad for business. A petition boycotting Target over its transgender bathroom policy -- allowing transgender people to use the bathroom and fitting rooms that match their gender identity -- has over 1.3 million signatures.
Benioff said he does choose his battles carefully, especially after receiving a call from one of Salesforce's directors, Gen. Colin Powell.
"He did call me and he said, 'look, the further you go up the tree, the more your backside is going to be exposed and you better be careful," Benioff said. "And so we have to be careful. We have to pick what we're going to do carefully we have to be thoughtful, we can't get into too many things, we have to be very specialized..."
Benioff credited this approach with the successes in Indiana and Georgia, and said he anticipates the same result in North Carolina.
Benioff has also targeted issues in his own company. When two female workers confronted him about unequal pay, he made a $3 million adjustment in salaries to address the problem.
On the business side, Salesforce also has some new deals. The company partnered with Amazon, selecting Amazon Web Services as its preferred public cloud infrastructure provider. Salesforce also announced it would buy software technology company Demandware for $2.8 billion.
Benioff expressed his excitement for the future of the tech industry, which he said is in the "fourth industrial revolution." He spoke particularly about what he described as the "biggest trend" in technology -- artificial intelligence. But other luminaries in the field -- including Stephen Hawking and Elon Musk -- have warned about the prospect that AI may evolve beyond human control.
"Well, I think we have to have a dialogue. We're going to have to have regulation, we're going to have to govern how this technology evolves," Benioff said. "That's a critical part of the fourth industrial revolution -- AI, genetic engineering -- there's a lot of new technologies in the fourth industrial revolution -- virtual reality, augmented reality. We're in an incredible age, this is amazing what's happening."
Thanks for reading CBS NEWS.
Create your free account or log in
for more features.