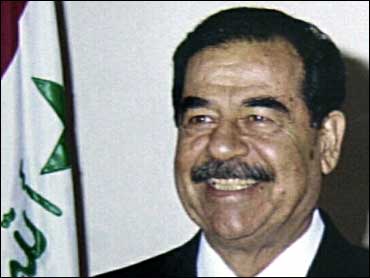 Saddam Hussein Wins One-Man Race
Iraq declared Saddam Hussein the winner Wednesday - by an 11 million-to-0 margin - in a war-shadowed referendum on his two-decade military rule, sending celebratory gunfire crackling from the streets and rooftops of Baghdad.
The 100 percent turnout, 100 percent 'yes' vote shows all Iraqis are poised to defend Saddam against American forces, the country's No. 2 man said.
"If they come, we will fight them in every village, and every house," said Izzat Ibrahim, vice chairman of Iraq's Revolutionary Command Council, announcing results on what Iraq billed as a people's referendum on keeping Saddam in power another seven years.
"Every home will be a front, and every farmer, every shepherd, every Iraqi, will play his role," Ibrahim said. "All Iraqis are armed now, and by God's will we will triumph."
The White House had dismissed the one-man race in advance.
"Obviously, it's not a very serious day, not a very serious vote and nobody places any credibility on it," press secretary Ari Fleischer said in Washington.
Baghdad crackled with automatic weapon fire at the results, announced live on state TV. Men climbed to rooftops or leaned out balconies, firing into the air. At least one drove the streets shooting, one hand on the trigger and another on the wheel.
"This referendum and the 100 percent shows that all Iraqis are ready to defend their country and their leader," said Khaled Yusef, hopping up and down among a cluster of men dancing on a street corner.
The celebration came on a day President Bush signed a congressional resolution authorizing military force, if necessary, to ensure Iraq has no chemical, biological or nuclear weapons program.
At the United Nations, U.N. Secretary-General Kofi Annan backed tougher ground rules for arms inspections in Iraq, and urged Baghdad to use this "last chance."
Iraqis were asked to vote 'yes' or 'no' Tuesday on whether Saddam should remain in office, typical of presidential votes in a region largely ruled by dictators.
Lawmakers were expected to go to Saddam late Wednesday or after to administer the oath of office for the new term. The 65-year-old Iraqi leader, mindful of security, has not appeared in public since December 2000.
State television showed file footage Wednesday of Iraqis dancing in the streets and children waving fists and shouting Saddam's name.
Spontaneous celebrations in the city of 5 million appeared few and small, however. The government had declared the day a holiday in advance. But many families stayed off the streets in the first hours, some apparently fearful of stray, albeit celebratory, bullets.
Opposition groups and others outside Iraq - or inside Iraq but beyond Saddam's reach - dismissed the vote.
"A joke," said a radio station in northern Iraq's Western-protected Kurdish region.
"Totally fabricated, and a complete fiasco," said Hamid al-Bayati, representative of the Iran-based Supreme Council for the Islamic Revolution in Iraq.
"Millions of Iraqis hate Saddam Hussein," al-Bayati said by telephone from London. He cited uprisings after the Gulf War, when rebels of Iraq's Shiite majority rose up in parts of the south.
Iraq has no tradition of democracy, having gone from a monarchy under British sway to coup-installed military rule in 1958. After rising to power in the ruling Baath Party, Saddam was named Iraqi president in a well-orchestrated transfer of power within the party in 1979.
The Baath Party got out the vote in neighborhood-by-neighborhood drives within Baghdad. Many in Tuesday's vote stuffed handfuls of ballots into boxes, casting votes for whole families at a time.
Authorities offered no explanation for how they counted paper ballots from cities and villages across Iraq overnight.
CBS News Correspondent Tom Fenton, reports voters going to the polls in Baghdad faced a simple choice - to vote "yes" or "no" - and everyone seemed to be voting "yes."
Whether that's because they love their leader - as many people said they did - or for other reasons, was hard to tell.
A United Nations human rights report says 500 people were jailed in the last referendum after they voted "no."
Some voters went to extremes to make it clear where they stood.
"I love Saddam more than myself," one man told CBS News, as he wrote "yes" on his ballot in blood - his own blood.
Ibrahim, announcing the vote, said all 11,445,638 eligible voters had cast ballots, and all for Saddam.
"Someone who does not know the Iraqi people will not believe this percentage, but it is real," Ibrahim said. "Whether it looks that way to someone or not. We don't have opposition in Iraq."
Iraqi officials said popular outrage at the U.S. threats to Saddam's regime made the turnout and percentage even higher than in 1995, when Saddam received a 99.96 percent 'yes' vote.
Iraqi media compared it to Bush's 2000 election victory, eked out in the Electoral College despite losing to Al Gore in the popular vote.
"The truth of the matter is that he (Bush) won by a fraction of the votes, and this fraction was engineered by sly lawyers' games," said the state-run Iraqi Daily. "Maybe this is one of the main reasons for his hysterical threats on the Iraqi choice!"
Iraq has been under U.N. Security Council sanctions since invading Kuwait in 1990. The sanctions are to stand until the United Nations is satisfied Iraq has destroyed biological and chemical weapons and stopped any programs for those and for nuclear weapons.
The United States wants a new Security Council resolution that would give U.N. weapons inspectors wide powers to uncover Iraq's arms and to wage war on Iraq if it resists full inspections.
Thanks for reading CBS NEWS.
Create your free account or log in
for more features.