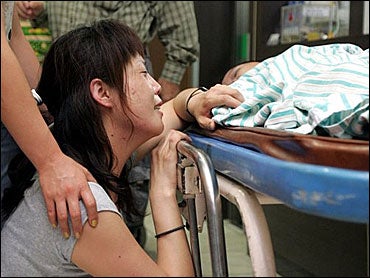 S. Korea Concert Stampede Kills 11
Concertgoers trying to enter a stadium Monday sparked a stampede, killing eight women and three boys, and injuring 72 others, officials said.
The accident occurred at about 5:40 p.m. (0840 GMT) in the city of Sangju, 165 miles southeast of Seoul, when 20,000 people were waiting to enter a stadium for a concert that had been organized by a television network, said Kim Sung-in, an official with the city government's disaster management division.
Kim said 11 people died when one of the gates opened to let the audience inside, and that the death toll could rise by another one or two.
Another city official said the dead were eight women aged from 54 to 76, along with three boys aged 7, 12 and 14. Another 72 people were injured, said the official, who refused to give his name.
"There were elderly people in the front, and when pushed from behind the elderly people in the first row fell, leading to a chain reaction of falling and being crushed," Kang Mi-kyung, an eyewitness, told South Korea's Yonhap news agency.
The stadium could accommodate 20,000 people, and the event was canceled after the stampede, Kim said.
The concert was for a program of old Korean pop songs popular among the elderly, part of a weekly show televised nationally on the MBC network.
MBC issued a statement expressing condolences to the victims and said it would investigate the accident along with city authorities.
The concert had been scheduled at the end of a three-day bicycle festival organized by the city government.
The city of 120,000 people claims to have the highest per-capita bicycle ownership in South Korea and was promoting bicycle use to help the environment, according to its Web site.
Monday was a holiday in South Korea marking National Founding Day, when according to legend the first Korean dynasty came to power more than 4,000 years ago.

Thanks for reading CBS NEWS.
Create your free account or log in
for more features.