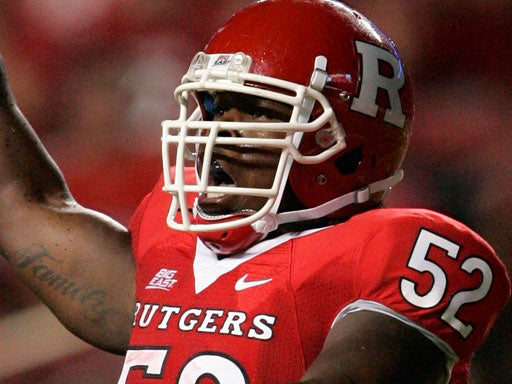 Rutgers Player Paralyzed (VIDEO): Next 72 Hours Critical for Eric LeGrand
(CBS/AP) It's a hit that's hard to watch. In the aftermath, Rutgers Junior Eric LeGrand lay on the football field, moving his head as if willing to move his body. But it didn't respond.
And, according to his doctors, has not responded since.
LeGrand, only 20, is now paralyzed below the neck. But at a press conference yesterday his doctors at Hackensack University Medical Center emphasized that the next 72 hours are critical for the fate of the promising young man from Avenel, N.J.
Doctors stabilized his spine in emergency surgery on Saturday and are now waiting for the swelling to subside to determine the extent of damage.
"It's not necessarily going to change how we treat that patient," said Roy Vingan, the hospital's neurosurgery trauma chief. "But more what we can tell the family of the prognosis of recovery."
Stories of recovering from spinal cord injuries can be both inspiring and devastating. Some, after years of therapy, are able to regain some motion. Others never move again and are at risk of life-threatening infections.
Christopher Reeves, the Superman actor who became a quadriplegic after a sporting accident, died in 2004 from an infection of his blood.
But that's only the gloomiest of many scenarios.
"Over time, there are people who can improve function, motor and sensory," says Dr. Dalton Dietrich, scientific director at the Miami Project to Cure Paralysis. "There is a possibility that some degree of recovery will occur."
Dietrich is not working on LeGrand's case, but has seen many like it.
People with devastating spinal cord injuries "are now aging like you and I," he says. "It's a bad situation, but there is hope. We don't tell anyone that you will never walk again."
Thanks for reading CBS NEWS.
Create your free account or log in
for more features.