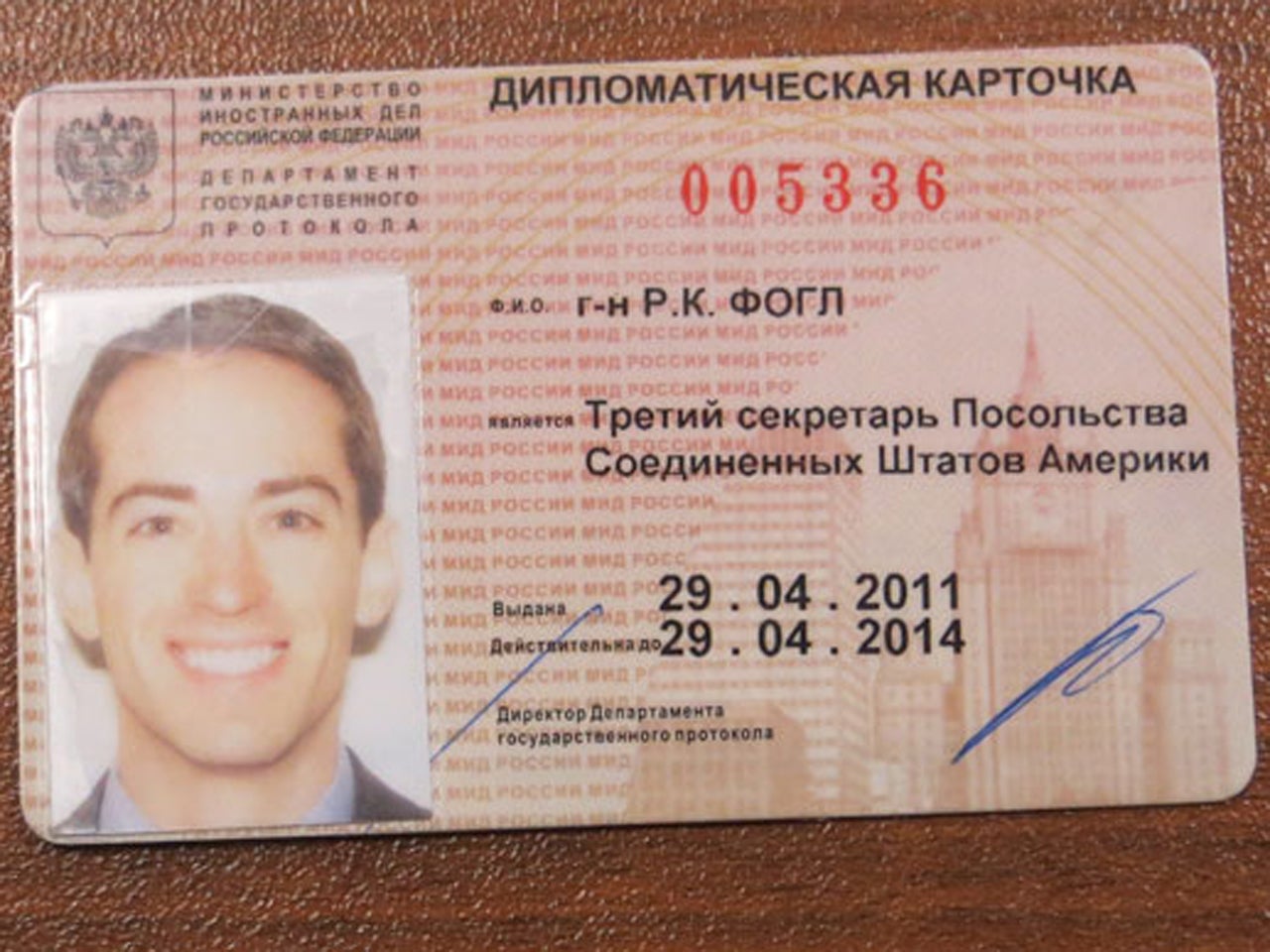 Russian authorities release audio of alleged Ryan Fogle phone call to back up CIA spy allegations
(CBS News) Russian authorities released audio of a phone call Friday which they claim to be further evidence that a U.S. Embassy worker accused of being a CIA spy attempted to recruit a Russian counterterrorism officer to work on behalf of the U.S., CBS News' Margaret Brennan reports.
The recording of a call purportedly made by Ryan Fogle reveals makes it sound as though he was in a rush to recruit the Russian agent. Russia's own FSB intelligence agency says the pair spoke over the phone the night before they met in a Moscow park.
"We should meet today. It'll be impossible to do it tomorrow, we can meet only today," the man Russian authorities identify as Fogle said, before adding, "You can earn up to $1 million per year and I'll give you $100,000 up front, but only if we meet right now. Yes or no?"
The FSB, which is the successor to the Soviet-era KGB, says Russian intelligence agents took Fogle into custody upon his arrival at the park.
A spy kit allegedly in Fogle's posession when he was detained prompted questions about a possible setup, due to its amateurish and even comical contents, including two shaggy wigs, a compass, and an outdated cell phone.
But the doubts over the alleged disguises may be misguided, according to Peter Earnest, who worked for the CIA's clandestine unit for 20 years.
"In the midst of operations, often a number of us, including myself, had the means of what we call a light disguise. It's something so that if you're seen in a fleeting moment -- maybe in a car with someone -- you're not recognized. And maybe something as simple as a wig, a mustache if you don't usually wear one. Maybe glasses, it just changes your look," he explained to Brennan.
Former CIA agent Michael Sellers was detained in Russia in 1986 with a similar wig and equally low-tech equipment. A video of Sellers' interrogation in Moscow was filmed for use in Soviet propaganda films in the years after the incident.
This week, Russian authorities said they were forced to go public after Washington ignored past warnings to stop recruiting agents. The FSB claims it caught and expelled another CIA operative in January, but remained quiet about the incident in the name of diplomacy.
The more recent detention and expulsion of Fogle continues to feed a media frenzy in Russia, but American officials have remained tight-lipped so far. The U.S. has acknowledged that Fogle was a member of staff at the U.S. Embassy in Moscow, but has not commented on his alleged involvement with the CIA.
Michael McFaul, the U.S. Ambassador to Russia, was summoned Wednesday by the Russian Foreign Ministry to discuss Fogle's arrest and removal from Russia. He left after a half-hour meeting without making any comment to reporters gathered outside.
Thanks for reading CBS NEWS.
Create your free account or log in
for more features.