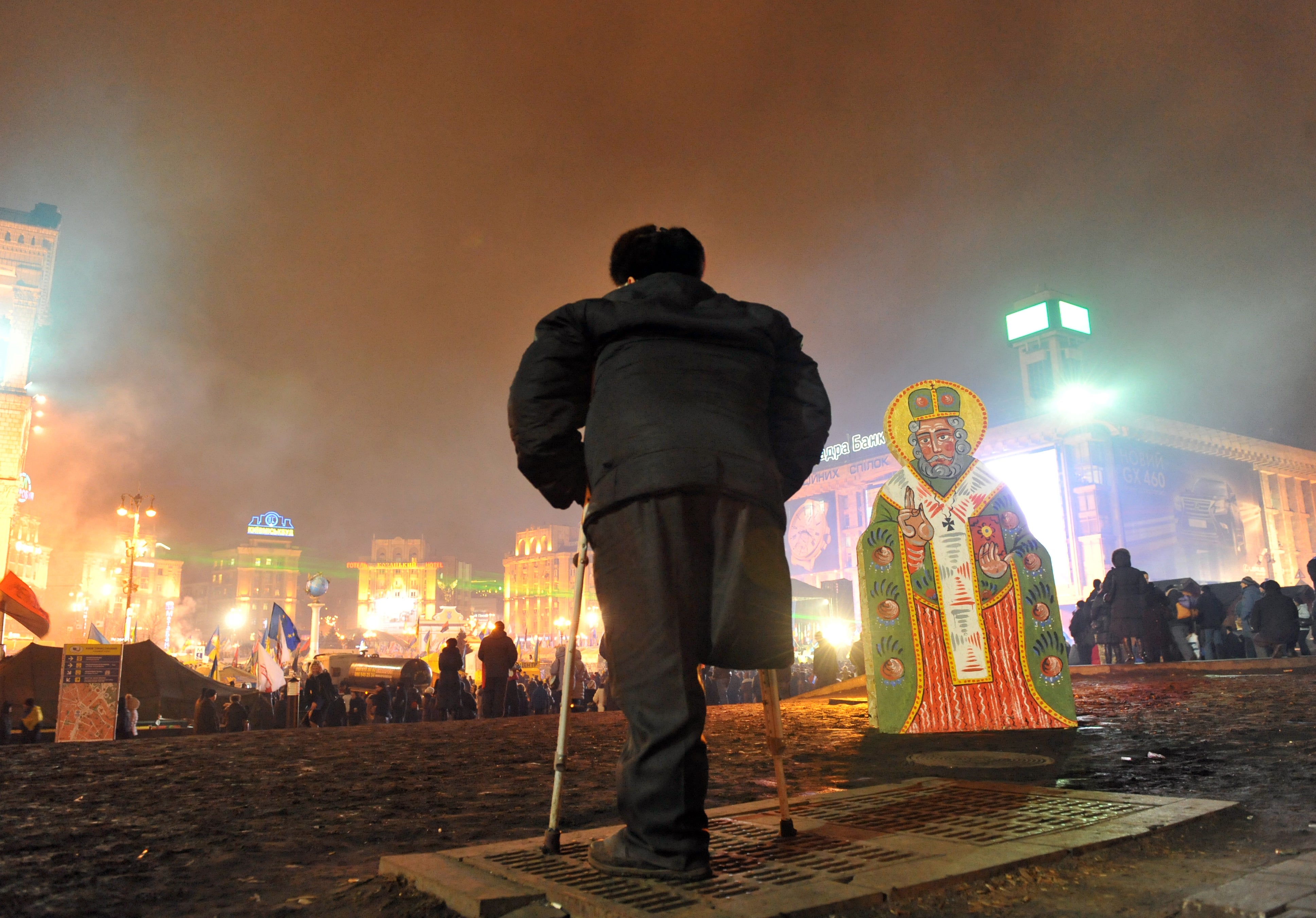 Putin: Russia to buy $15 billion in Ukraine bonds as part of new deal
MOSCOW --Russian President Vladimir Putin upped the stakes Tuesday in the battle over Ukraine's future, saying Moscow will buy $15 billion worth of Ukrainian government bonds and sharply cut the price of natural gas heading to its economically struggling neighbor.
The announcements came after Putin held talks in Moscow with Ukrainian President Viktor Yanukovych, who is facing massive protests at home for his decision to shelve a pact with the European Union in favor of closer ties with Moscow.
Ukrainian demonstrators continue their protests against President Viktor Yanukovich, laying a pumpkin outside the Russian Embassy to symbolize the traditional Ukrainian method of rejecting a marriage, reports Reuters.
"We brought a pumpkin as a symbol of refusal. A refusal to a proposed marriage with Russia. We are refusing that. We, as representatives of the Ukrainian women, have chosen the one we love. But we are being forced to marry somebody we don't love. And we brought a pumpkin to let it be understood that we refuse this marriage proposal," Alina, a protester, told Reuters.
Economic experts say Ukraine desperately needs to get at least $10 billion in the coming months to avoid bankruptcy.
While Putin sought to calm the protesters in Kiev by saying that he and Yanukovych didn't discuss the prospect of Ukraine joining the Russian-dominated Customs Union, the sweeping Kremlin agreements are likely to fuel the anger of demonstrators who want Ukraine to break from Russia's orbit and integrate with the 28-nation EU.
Russian Finance Minister Anton Siluanov said after the Kremlin talks that Russia would purchase $15 billion in Ukraine's Eurobonds starting this month.
Putin emphasized that Russia's decision to buy the Ukrainian bonds wasn't contingent on that government freezing any social payments to its citizens - a clear jab at the International Monetary Fund, which has pushed Ukraine to reduce spending as a condition for providing a bailout loan.
Putin said the Russian state-controlled gas monopoly, Gazprom, will cut the price that Ukraine must pay for Russian gas deliveries to $268 per 1,000 cubic meters from the current level of about $400 per 1,000 cubic meters.
Yanukovych explained his decision to spike a landmark association agreement and free trade pact with the EU last month by his belief that Ukraine needs to improve ties with Russia. His move has sparked massive demonstrations in Kiev demanding his ouster.
Moscow has strongly opposed the Ukraine-EU deal and sought to thwart it with a mixture of economic threats and promises.
Thanks for reading CBS NEWS.
Create your free account or log in
for more features.