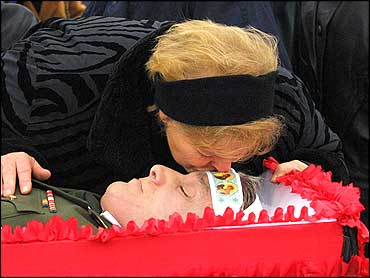 Russia IDs Theater Gas: Fentanyl
Russia's top health official said Wednesday that the gas used in the special forces storming of a Moscow theater held by dozens of gunmen was based on Fentanyl, a fast-acting opiate that has many medical applications, the Interfax and ITAR-Tass news agencies reported.
Health Minister Yuri Shevchenko said that the compound was an anesthetic and could not cause death, the news agencies reported.
"By themselves, these compounds cannot provoke a fatal outcome," Shevchenko was quoted as saying by the Interfax news agency.
The announcement appeared to be an attempt to counter criticism, especially from foreign governments, that Russian officials were being too secretive and that the lack of information about the gas used in the storming on Saturday may have increased the number of fatalities. At least 117 of the hostage-takers' victims were felled by the gas.
Many Russians are angry that no antidote was available near the scene in order to administer urgent assistance to the nearly 800 hostages, reports CBS News Correspondent Bill Gasperini. Doctors were also caught off-guard at city hospitals, where more of the hostages died.
On Tuesday, the U.S. ambassador to Moscow, Alexander Vershbow, said he believed the gas was fentanyl, and that the lack of information provided by Russian authorities "contributed to the confusion after the immediate operation to rescue the hostages was over."
"It's clear that perhaps with a little more information at least a few more of the hostages may have survived," he said.
Shevchenko said that the deaths were caused by the use of the chemical compound on people who had been starved of oxygen, were dehydrated, hungry, unable to move adequately and under severe psychological stress.
"It is precisely these factors that led to a fatal outcome for some of the hostages," Shevchenko said.
The incapacitating gas was intended to prevent the hostage-takers from triggering explosives strapped to their waists and rigged around the theater. It worked but it also knocked out most of the hostages.
The hostage-takers seized the theater, with more than 800 people inside, on Oct. 23. They demanded that Russian President Vladimir Putin withdraw Russian troops from Chechnya, where the most recent war began in 1999.

Thanks for reading CBS NEWS.
Create your free account or log in
for more features.