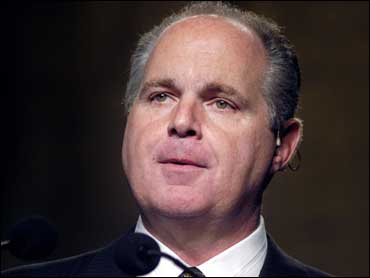 Rush Limbaugh Detained With Viagra
Rush Limbaugh could see a deal with prosecutors in a long-running prescription fraud case collapse after authorities found a bottle of Viagra in his bag at Palm Beach International Airport. The prescription was not in his name.
Limbaugh was detained for more than three hours Monday at the airport after returning from a vacation in the Dominican Republic. Customs officials found the Viagra in his luggage but his name was not on the prescription, said Paul Miller, a spokesman for the Palm Beach County Sheriff's Office.
Miller said the alleged violation could be a second-degree misdemeanor. The sheriff's office was investigating and will soon turn the case over to the state attorney's office, which had no immediate comment Tuesday.
Under the deal reached last month with prosecutors, Limbaugh was not to be arrested for any infraction for 18 months in exchange for authorities deferring a charge of "doctor shopping." Prosecutors had alleged the conservative talk-show host illegally deceived multiple physicians to receive overlapping painkiller prescriptions.
---

Limbaugh Jokes 'How Did I Get Bob Dole's Luggage?'

---
Limbaugh also must submit to random drug tests and continue treatment for his admitted addiction to painkillers.

Limbaugh's doctor had prescribed the Viagra, but it was "labeled as being issued to the physician rather than Mr. Limbaugh for privacy purposes," Roy Black, Limbaugh's attorney, said in a statement.

U.S. Customs and Border Protection examined the 55-year-old radio commentator's luggage after his private plane landed at the airport, Miller said.

Investigators confiscated the drugs, which treat erectile dysfunction. Limbaugh was released without being charged.

For now, Limbaugh is joking about his brush with the law. He joked about the search on his radio show Tuesday, saying Customs officials didn't believe him when he said he got the pills at the Clinton Library and he was told they were blue M&Ms. He later added, chuckling: "I had a great time in the Dominican Republic. Wish I could tell you about it."

He also said today he's "trying to figure out how Bob Dole's luggage got on'' his plane. Former Senator Dole was a pitchman for the erectile dysfunction drug after losing a presidential bid. And Limbaugh says he's worried about "the next election" -- and not what Viagra might bring.

Before his own problems became public, Limbaugh had decried drug use and abuse and mocked President Clinton for saying he had not inhaled when he tried marijuana. He often made the case that drug crimes deserve punishment.

"Drug use, some might say, is destroying this country. And we have laws against selling drugs, pushing drugs, using drugs, importing drugs. ... And so if people are violating the law by doing drugs, they ought to be accused and they ought to be convicted and they ought to be sent up," Limbaugh said on his short-lived television show on Oct. 5, 1995.

Thanks for reading CBS NEWS.
Create your free account or log in
for more features.