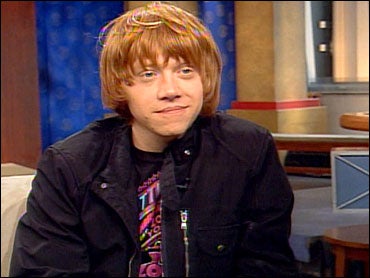 Rupert Grint: Teenage Ice Cream Man
"Harry Potter" star Rupert Grint isn't a little kid anymore, but now that he has some money of his own, he's making his childhood dreams come true.
Grint, who plays Ron, just got his driver's license so he decided to buy an ice cream truck.
"When I was younger I had sort of — always seemed like a really cool job to be an ice cream man," he said. "And I thought, why not? It was really cool as well. Like a freezer and some sinks. It's got a musical tune and all that. We drive it all the time. It's good."
But he doesn't sell ice cream or even give it away. Grint said there are some complicated rules about that sort of thing. So he just drives it around and plays the music.
At 19 years old, Grint is the oldest of the three "Harry Potter" stars and with the last "Potter" book about to hit shelves, he's beginning to see that an end is near.
But with "Harry Potter and the Order of the Phoenix" being only the fifth movie, leaving two left to be made, there is still fun to be had for Grint and his character, Ron.
"I've so enjoyed every moment of it," Grint told The Early Show co-anchor Harry Smith. "It's been — the days are quite long and it can get a little boring doing the same take over and over again. It's just a really good experience. I just really enjoyed it."
Recently he and his cast-mates put their handprints, footprint and wandprint outside Grauman's Chinese Theatre in Hollywood. The experience and the history overwhelmed him.
---

Photos: Harry Potter

---
"We were really surprised we actually got to do that," he said. "I was really nervous about doing that. Before we went on, I was shaking pretty badly ... It was amazing, yeah. I'm 19 years old and I've been in 'Harry Potter' movies and now I'm on the Hollywood Walk of Fame."

If that made him nervous, Grint would never be able to do the nude scene his co-star Daniel Radcliffe did in a London play. For the meantime, Grint will stick to driving his ice cream truck.

Thanks for reading CBS NEWS.
Create your free account or log in
for more features.