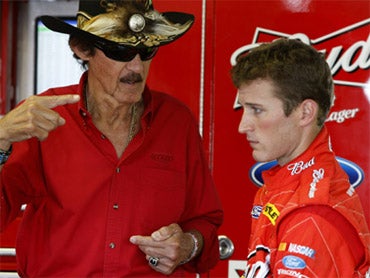 Rumsfeld: Zarqawi Like Hitler
Defense Secretary Donald Rumsfeld is comparing Abu Musab al-Zarqawi to Adolf Hitler in the final days of Nazi Germany.
The comments come amid reports that al-Zarqawi has been wounded.
In a pep talk to thousands of paratroopers Thursday, Rumsfeld likened al Qaeda's reportedly wounded chief in Iraq to a cornered Adolf Hitler during the final days of Nazi Germany.
"Like Hitler in his bunker, this violent extremist, failing to advance his political objectives, now appears committed to destroying everything and everyone around him," Rumsfeld said.
Iraqi ministers said Thursday they have information verifying rumors that reputed terrorist mastermind Abu Musab al-Zarqawi had been wounded. Al-Zarqawi is Iraq's most wanted militant and has claimed responsibility for the country's deadliest attacks.
Rumsfeld addressed the Army's elite 82nd Airborne Division, which has had 42 soldiers killed and 450 wounded in action in Iraq and Afghanistan since 2001. About 1,500 division soldiers are in Afghanistan, and about 400 are in Iraq.
Like the Japanese kamikaze attacks at the end of World War II, the suicide bombings by the followers of al-Zarqawi are a sign of desperation, Rumsfeld said.
"The Zarqawis and the bin Ladens, like the tyrants and fascists before them ... tried to destroy things they could never build, and they tried to kill people they could never persuade," Rumsfeld said.
Iraq's Interior Minister said on Thursday his office believes Abu Musab al-Zarqawi was wounded, but doesn't know if he is dead.
The statement by the Interior Ministry came hours after an Internet statement claimed the so-called "al Qaeda in Iraq" group had appointed a fill-in for al-Zarqawi, its purportedly wounded leader.
But a wound to the leader — or even death — might not cause such leadership mayhem for the terrorist group as some are speculating. CBS News' Aleen Sirgany reports that Army Brig. Gen. Carter Ham, a Pentagon spokesman, said: "While Zarqawi is an important character, his organization is bigger than just one guy."
Thursday's Internet statement, the authenticity of which could not be verified, was quickly denied in another Web site claim disputing Abu Hafs al-Gerni had taken over from al-Zarqawi.
Meanwhile, a host of sometimes-dueling statements posted by militants on Web sites made it clear there could be confusion within the group itself — or perhaps even a leadership struggle — over al-Zarqawi's status.
None of the statements could be independently verified, but many of them were posted on a Web site known as a clearinghouse for al-Zarqawi, thus increasing their chances of being credible.
The latest furor over al-Zarqawi began Tuesday when an Internet statement called on Muslims to pray for his life, followed by competing statements on his health and whereabouts.
A second, on Thursday, signed in the name of Abu Doujanah al-Tunisi of the media committee of al Qaeda in Iraq — an unfamiliar name from past statements — said an interim leader had been appointed to stand in for al-Zarqawi because of his injury.
The statement said the new leader would be Abu Hafs al-Gerni, "deputy of the holy warriors."
Then a third Web posting, later Thursday, disputed the claim that a deputy had been appointed. That statement was posted in the name of the person who usually handles the group's Web site claims, Abu Maysara al-Iraqi.
The authenticity of none of the statements could be verified.
But the back-and-forth on the same Web site, known as a clearinghouse of Islamic militant material, could be a sign of confusion or even political competition within al Qaeda of Iraq.
It follows speculation about al-Zarqawi that has been unusual in size and scope.
On Thursday, Interior Minister Bayan Jabr said during a news conference: "We are not sure whether he is dead or not but we are sure that he is injured."
Iraqi Defense Minister Saadoun al-Duleimi also said al-Zarqawi had been wounded. When asked how he knew, he said: "It is my job."
Al Hayat, a respected pan-Arab newspaper, reported Thursday that several candidates were jockeying to succeed al-Zarqawi, none of whom it identified as al-Gerni. But one candidate the paper did name was Abu Maysara al-Iraqi — the man who issued Thursday's denial that a deputy had been appointed.
Al Hayat quoted multiple unidentified sources, saying that sources in Jordan close to al-Zarqawi, including a former Iraqi officer, told the newspaper that Abu Maysara al-Iraqi and Abu al-Dardaa al-Iraqi, an al Qaeda operative in Baghdad, were two potential successors.
Thursday's first statement said al-Gerni "was known for carrying out the hardest operations, and our sheik would choose him and his group for the tough operations."
CBS News Correspondent Mark Knoller reports that the White House cannot confirm anything about al-Zarqawi's condition or whereabouts.
"We continue to pursue him," said spokesman Scott McClellan.
Middle East experts on Islamic militants told The Associated Press that al-Gerni is a Saudi who has been al-Zarqawi's military adviser and is the emir, or prince — as senior commanders are called — of the military committee of al Qaeda in Iraq.
The two experts spoke on condition they not be further identified.
An aide to Abdul Aziz Al-Hakim, head of Iraq's largest political party, the Supreme Council for the Islamic Revolution in Iraq, said al-Gerni was a non-Iraqi and a key lieutenant to al-Zarqawi.
"We are not sure 100 percent that al-Zarqawi is dead, and we can't consider this step as a confirmation for his killing," said Haitham al-Hussaini, director of al-Hakim's office.
"According to our intelligence, this al-Gerni is well known to us as one of al-Zarqawi's top aides in Iraq who has an Arab nationality," al-Hussaini said without elaborating on which country al-Gerni came from.
Thanks for reading CBS NEWS.
Create your free account or log in
for more features.