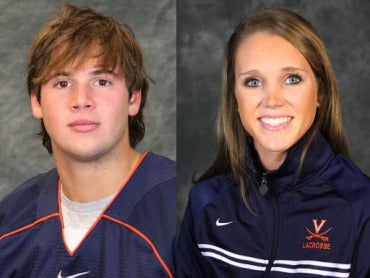 Roommates of Yeardley Love testify at George Huguely murder trial
(CBS/AP) CHARLOTTESVILLE, Va. - Prosecutors will continue their case Thursday in the trial of a former University of Virginia lacrosse player accused of killing his ex-girlfriend.
George Huguely V faces first-degree murder and five other charges in the May 2010 death of Yeardley Love.
Love's two roommates and teammates on the women's lacrosse team were among the prosecution witnesses called on Wednesday.
Pictures: Yeardley Love Murdered; George Huguely Charged
The Daily Progress reports both of Love's roommates at the University of Virginia testified Wednesday. What was seemingly the most dramatic testimony came as Love's roommate and fellow lacrosse player Caity Whiteley recounted finding Love's body.
Whiteley and a men's tennis player had come back to Love's apartment in an attempt to get her to go out again.
Whiteley described Love being in her bed, dressed as she had last seen her. Love was face down in her pillow and her "hair was all messed up and pulled to the side," she said.
She got onto the bed and touched Love in an effort to wake her. When she moved her hair, she noticed the blood on the sheet and pillow.
"There were cuts on her face and it was just messed up," she said.
During the testimony of her other roommate, Kaitlin Duff, it also came out that Love found out in late April that Huguely had been seen with another woman and that Love had seemed "very upset."
Whiteley testified that Huguely and Love's on-again-off-again relationship had been "more rocky than usual" in the months before she died. She also talked about a conversation she had with Huguely after he was reportedly seen choking Love during a party. He told her he didn't remember the incident, she said.
"He was angry that she was telling people that," she said.
The woman who lived in the apartment below Love's testified as well. She recounted hearing a bang from the next floor that was loud enough that she started a computer chat with a friend at the library.
"I thought that maybe like a stereo set had fallen, or a bookshelf," the "ear witness," Anna Lehman said.
That was shortly before midnight, she said. Soon after she saw a man she described as looking "like a male student" walk down from the apartment above. She described attributes including a royal blue t-shirt and dark hair.
However, the defense does not dispute that Huguely was there that night.
Huguely's attorney said during opening statements Wednesday that he was very drunk the night Love died and was incapable of plotting to kill her. Prosecutors said Huguely had a pattern of violence against Love and intended to kill her and steal her laptop to get rid of evidence. Two days before Love's death, Huguely accused Love of having another relationship.
Complete coverage of Yeardley Love on Crimesider
Thanks for reading CBS NEWS.
Create your free account or log in
for more features.