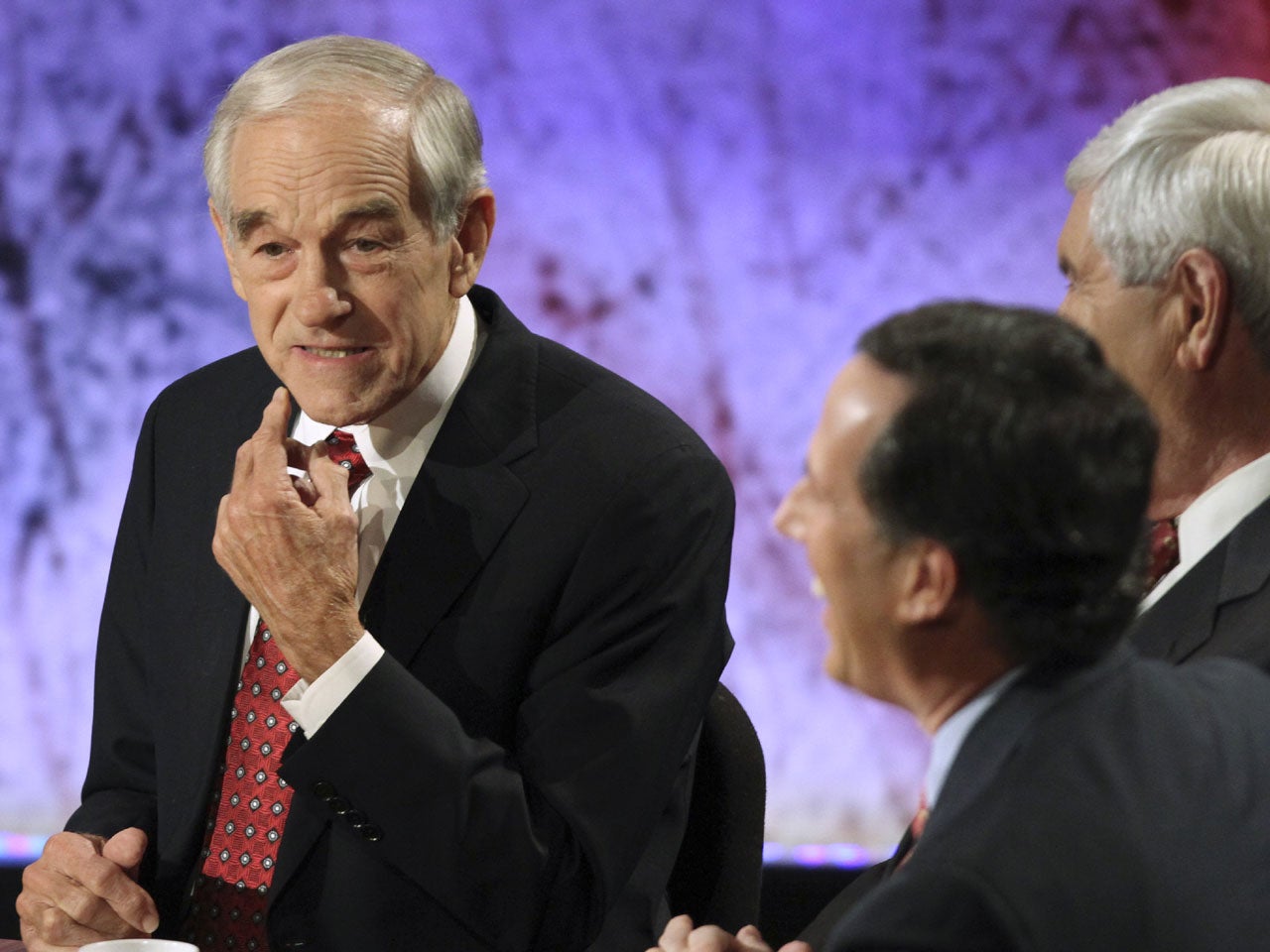 Ron Paul proposes saving $1T by scrapping five federal departments
Republican presidential candidate Ron Paul on Monday unveiled a plan to cut $1 trillion from the federal budget within one year by eliminating a handful of federal departments, including the Energy and Education departments.
Paul's plan would shape the federal government to fit the Texas Republican's small-government, federalist views, slashing remaining department budgets, immediately ending all war spending, eliminating programs viewed as unnecessary, sending control over programs like Medicaid to the states, scrapping significant regulations and cutting taxes.
An executive summary of Paul's plan calls it "bold but achievable" by embracing "the bully pulpit of the presidency" and "the power of the Veto."
Along with the Departments of Energy and Education, Paul also proposes eliminating the Departments of Housing and Urban Development, Commerce, and Interior. Paul would also abolish the Transportation Security Administration, leaving security at airports and other transportation systems up to the private sector.
Paul's plan would set the budget for most other departments at 2006 levels, which for some agencies would mean eliminating certain programs. For instance, Paul says he would cut all funding for the Justice Department's "Community Oriented Policing Services" (COPS) program, which provides grants to state and local law enforcement agencies to hire and train officers.
Paul also proposes reducing the federal workforce by 10 percent, slashing congressional pay and bringing down the president's salary to $39,336 -- "approximately equal to the median personal income of the American worker," his campaign says.
Like most other Republicans, Paul wants to lower the corporate tax rate (he proposes to 15 percent), extend the Bush-era tax cuts and end taxes on capital gains and dividends.
He would repeal President Obama's health care overhaul, as well as his Wall Street regulatory overhaul and conduct a full audit of the Federal Reserve.
Under Paul's plan, states would simply receive block grants for Medicaid, food stamps, the State Children's Health Insurance Program and other welfare programs.
When it comes to Medicare, Social Security, and veterans' benefits, Paul says he his plan "honors" the commitment the nation has to seniors and veterans, but it allows young workers to opt out of those programs.
"Ron Paul's plan is the only one that seriously addresses the economic and budgetary problems our nation faces," Jesse Benton, Paul's campaign chairman and a co-author of the plan, said in a statement. "It's the only plan offered by a presidential candidate that actually balances the budget and begins to pay down the debt."
Thanks for reading CBS NEWS.
Create your free account or log in
for more features.