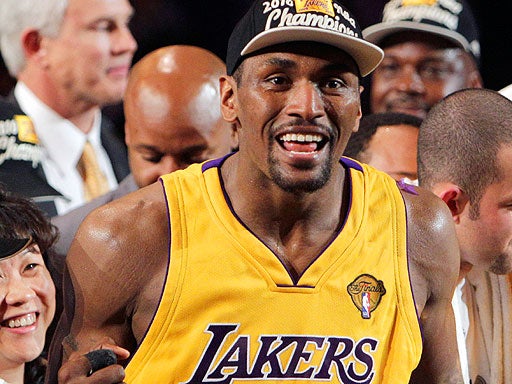 Ron Artest Thanks Psychiatrist After Lakers Win; Is Sports Therapy Going Mainstream?
NEW YORK (CBS) It's been a long road for the Los Angeles Lakers' Ron Artest: from fan-fighting bad boy to game-dominating hero in the Lakers game seven victory over the Boston Celtics to win the NBA finals.
After the game, Artest had a very usual person to thank on live television - his psychiatrist.
Artest thanked "everybody in my hood," "my doctor" and "my psychiatrist."
"Thank you so much," he gushed to the ABC reporter. "There's so much commotion going in the playoffs. She helped me relax."
Is this the same Ron Artest who just six years ago jumped into the stands and pummeled a fan who had antagonized him?
Apparently so, and Dr. Nicole Miller, a sports psychology consultant with the United States Olympic team, says sports therapists of all stripes (there are several types) are increasingly helping athletes.
"There is a huge change of mentality," she told CBS News. "I think the public is learning more about this because athletes like Ron Artest are brave enough to come forward and say this person really helped me and I want to thank him."
Miller said she couldn't speculate on what treatment Artest received. But aside from treating underlying anger issues, players are often taught how to calm their emotions on and off the court, she said.

"Breathing, talking to yourself, and having key words - some word you train your mind and body to stay under control," all help, she said.
"Athletes come to us to increase performance. It's one of the last legal drugs," she said, tongue in cheek.
Miller said the biggest change in her practice has been in high school sports, where increasingly young athletes and coaches are open to using sports therapy techniques to help young players.
"I work with a lot of high school kids," she said. "That's where this is really starting. Just like we are teaching physical fundamentals at younger ages you can teach mental fundamentals at an early age too."
Maybe Ron Artest is onto something.
Thanks for reading CBS NEWS.
Create your free account or log in
for more features.