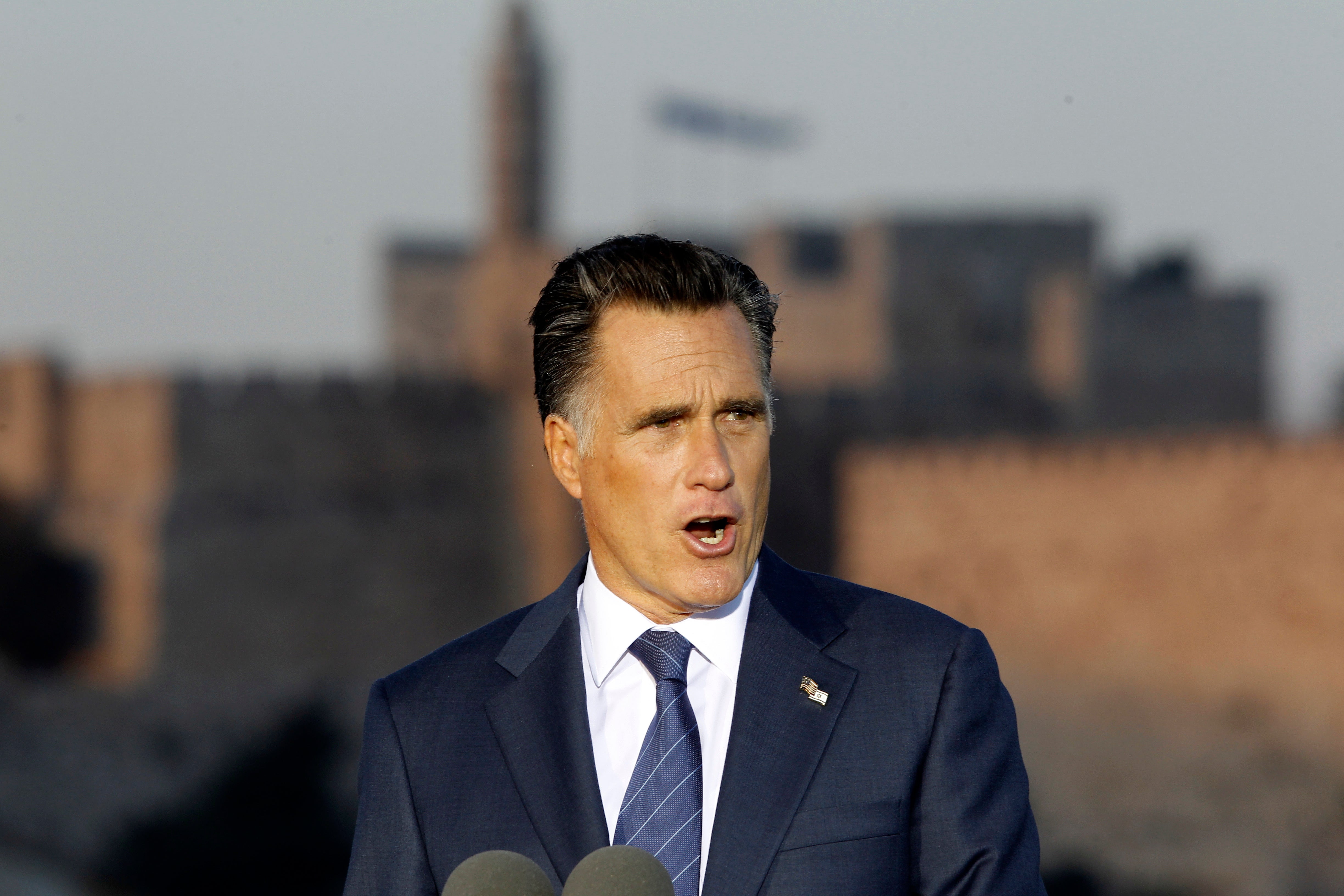 Romney's foreign trip takes another contentious turn
This article originally appeared on RealClearPolitics.

(CBS News) A three-nation foreign expedition envisioned as a relatively low-key endeavor took its second major turn toward controversy Monday when Mitt Romney spoke at a Jerusalem fundraiser about the role culture plays in the relative strengths of the economies of Israel and the Palestinian territories.

Addressing a small crowd of American citizens at the King David Hotel, Romney noted that during his business career he had been interested in the economic disparities among nations.

"As you come here and you see the GDP per capita for instance in Israel, which is about $21,000, and you compare that with the GDP per capita just across the areas managed by the Palestinian Authority, which is more like $10,000 per capita, you notice a dramatic, stark difference in economic vitality," he said. "And that is also between other countries that are near or next to each other."

First of all, Romney underestimated Israel's annual per capita GDP -- which a U.N. website lists as $27,060 for 2009 (the most recent data available) -- and he grossly overestimated the figure for the Palestinian-controlled West Bank and Gaza Strip, which the U.N. shows as $1,367 (also as of 2009).

(Watch a clip of CBS News' Jan Crawford's recent interview with Romney.)

But the portion of Romney's remarks that drew the biggest reaction came when he noted that he had read several books related to economic disparity among nations, including "Guns, Germs, and Steel" (which attributes such differences largely to geographical circumstances) and "The Wealth and Poverty of Nations" (which credits differences in culture for these disparities).

Romney left no doubt where he stands on this question: "Culture makes all the difference. And as I come here and I look out over this city and consider the accomplishments of the people of this nation, I recognize the power of at least culture and a few other things."

This is a topic Romney addressed in his 2011 book, "No Apology," and one that was a major point of emphasis in the stump speech he delivered many dozens of times during his 2008 presidential run. Yet his decision while in Jerusalem to apply this broad concept to the complicated and sensitive dynamics of the Israeli-Palestinian relationship led him into another thicket.

Romney's comments drew a stinging rebuke from Saeb Erekat, a top aide to Palestinian President Mahmoud Abbas, who unloaded on the presumptive Republican presidential nominee in an interview with the Associated Press.

"It is a racist statement, and this man doesn't realize that the Palestinian economy cannot reach its potential because there is an Israeli occupation," Erekat said. "It seems to me this man lacks information, knowledge, vision, and understanding of this region and its people."

(Romney delivers a speech in Jerusalem on Sunday.)

Romney met with Palestinian Prime Minister Salam Fayyad on Sunday night but did not convene with Abbas during his trip to the region.

Romney campaign spokesperson Andrea Saul said that the candidate's remarks had been "grossly mischaracterized," and aides to the former Massachusetts governor noted that his description of disparities among other neighboring countries showed that his comments were part of a broader point he was making.

Just days after Romney drew scorn from the British media and some public officials for echoing widespread concerns about preparations for London Olympic Games, his characterization of a touchy economic matter served as another reminder that every utterance a potential commander-in-chief makes while on foreign soil will be carefully examined.

At the White House, deputy White House press secretary Josh Earnest called on Romney to "further explain what he meant."

"One of the challenges of being an actor on the international stage, particularly when you're traveling to such a sensitive part of the world, is that your comments are very closely scrutinized, for meaning, for nuance, for motivation," Earnest said, "and it is clear that there are some people who have taken a look at those comments and are scratching their heads a little bit."

Prominent conservatives were just as quick to jump to Romney's defense.

(Watch a clip of CBS News' Jan Crawford's recent interview with Romney.)

At a campaign event in Virginia, former GOP presidential candidate Newt Gingrich said it was appropriate to explore the kinds of questions that Romney had raised.

"I think it's fair to say, 'Why are some places poor?' " Gingrich said. "And maybe it's not just because they've been deprived. Maybe it's also because they don't have maybe the right habits, the right legal structure, or the right system of encouragement."

Max Boot, a senior fellow for national security studies at the Council on Foreign Relations, told RCP that Romney deserves credit for his candor.

"I think Gov. Romney made an important point: Palestinians need to stop blaming all their troubles on Israel and look within for the sources of their trouble," Boot said in an email. "Israel has flourished under extremely difficult circumstances -- a small nation with no mineral wealth and surrounded by enemies bent on its destruction. Palestinians could have flourished as well if they had chosen to concentrate on peaceful economic development in cooperation with Israel rather than allowing thuggish leaders such as Yasser Arafat to funnel their resources into terrorism and corruption."

On Monday, Romney touched down in Poland for the third and final leg of his weeklong international excursion.

He was greeted warmly by crowds in the Baltic city of Gdansk, where the Polish Solidarity movement -- which helped bring about the collapse of communism within the former Warsaw Pact nation -- was founded in 1980.

Romney met with Solidarity's founder, Nobel Peace Prize winner and former Polish President Lech Walesa, who had invited him to visit the country and appeared to give the Republican his backing. Romney also held talks with Polish Prime Minister Donald Tusk and visited monuments that memorialized Solidarity and Poland's role in World War II.

On Tuesday, Romney is slated to meet with other leaders and visit additional memorial sites before delivering the second major foreign policy address of his trip. That speech will be watched for the extent to which he maintains his hard line against Russia, whom he has previously described as America's "No. 1 geopolitical foe."
Thanks for reading CBS NEWS.
Create your free account or log in
for more features.