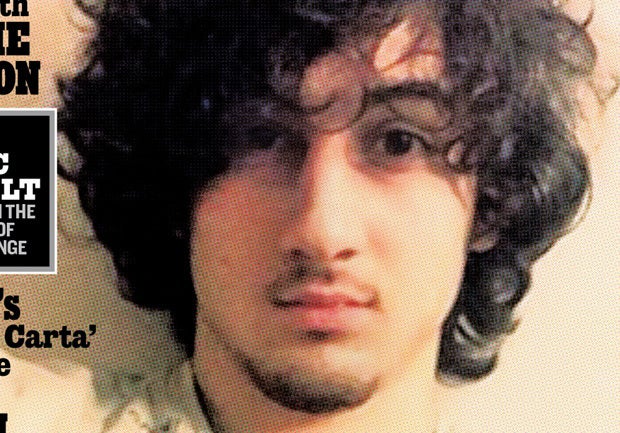 Rolling Stone defends cover featuring Boston Marathon bombing suspect
Updated 3:44 p.m. ET
Rolling Stone has defended its controversial new cover featuring Boston Marathon bombings suspect Dzhokhar Tsarnaev after triggering a firestorm of comments.
The August issue of the music magazine features a story and photo of Tsarnaev and is titled: "The Bomber: How a popular, promising student was failed by his family, fell into radical Islam and became a monster."
After a flurry of negative comments online -- and some commercial stores vowing to refuse to sell this month's issue -- Rolling Stone released a statement defending the cover.
"Our hearts go out to the victims of the Boston Marathon bombing, and our thoughts are always with them and their families," Rolling Stone said. "The cover story we are publishing this week falls within the traditions of journalism and Rolling Stone's long-standing commitment to serious and thoughtful coverage of the most important political and cultural issues of our day."

The magazine added that "the fact that Dzhokhar Tsarnaev is young, and in the same age group as many of our readers, makes it all the more important for us to examine the complexities of this issue and gain a more complete understanding of how a tragedy like this happens."
As soon as Rolling Stone released the cover image Tuesday night, Rolling Stone's Facebook page attracted much criticism. One commenter accusing the magazine of "glamorizing terrorism" and another called it a "slap in the face to the great city of Boston."
Among the comments:
"Is this for real?! Why don't the VICTIMS get the cover instead? It's sick that no one cares that people died, real people with lives and families, they just care about whatever will sell."
"Maybe a pic of the little 8 year old boy that was killed by this piece of garbage would have made a better cover. Cancel my subscription to you publication."
"I will NEVER buy a Rolling Stone ever again. Disgraceful."
A separate Facebook page was created overnight -- Boycott Rolling Stone Magazine For Their Latest Cover. It had generated more than 40,000 "likes" by late Wednesday morning.
"This is unacceptable and a slap in the face for those he killed and maimed," the Facebook page reads.
In solidarity with those angered by the cover, Massachusetts-based convenience store chain Tedeschi Food Shops, Walgreens and CVS Pharmacy vowed not to carry this month's issue of Rolling Stone in their stores.
"As a company with deep roots in New England and a strong presence in Boston, we believe this is the right decision out of respect for the victims of the attack and their loved ones," CVS said in a statement on Facebook.
The mayor of Boston, Thomas M. Menino, penned a letter to Rolling Stone publisher Jann Wenner, calling the cover "ill-conceived, at best."
"The cover "re-affirms a terrible message that destruction gains fame for killers and their causes," he wrote.
MBTA Transit Officer Dic Donohue, who was gravely injured during a shootout with the Tsarnaev brothers, also weighed in, calling the image a "sensationalized depiction" of one of the suspected bombers.
"I cannot and do not condone the cover of the magazine, which is thoughtless at best. However, I appreciate our country's protection of free speech afforded to us by the Constitution. I am confident that our Boston Strong community will remain intrepid and unshaken by the cover of this magazine."
Rolling Stone says the story was drawn from interviews with Tsarnaev's friends, teachers, neighbors and law enforcement officials. According to Rolling Stone, the story, written by contributing editor Janet Reitman, delivers "a riveting and heartbreaking account of how a charming kid with a bright future became a monster."
After the cover story came out, "Rolling Stone" began to trend on Twitter in the New England area.
The reaction to Rolling Stone's August issue is similar to the time the publication put convicted serial killer Charles Manson on the cover of the June 25, 1970 issue.
Dzhokhar, and his brother Tamerlan, allegedly put two bombs near the finish line of the Boston Marathon in April. Three people were killed and hundreds were injured when the bombs detonated seconds apart.
Authorities also say the Tsarnaevs killed MIT police officer Sean Collier days after the bombings. Tamerlan died after a gunfight with police officers in Watertown.
Tsarnaev has pleaded not guilty to 30 federal charges including using a weapon of mass destruction to kill.
He could face the death penalty if prosecutors choose to pursue it.
Thanks for reading CBS NEWS.
Create your free account or log in
for more features.