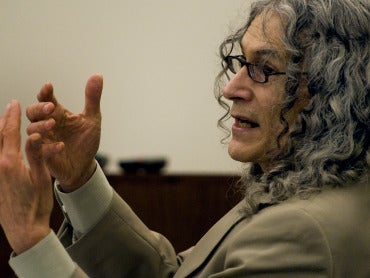 Rodney Alcala Saga: Serial Killer Defiant as Death Sentence Looms; He's Dodged Death Row Before
LOS ANGELES (CBS) Being sentenced to death for committing murder has become old hat for 66-year-old convicted serial killer Rodney Alcala. Earlier this month, and for the third time in three decades, an Orange County jury convicted and sentenced Alcala to die for the kidnapping and rape of 12-year-old Robin Samsoe in 1979.
PICTURES: Serial Killer's Secret Photos: New Victims?
This time, prosecutors also tried and convicted Alcala for the rape, torture, and killing of four Los Angeles women murdered between 1977 and 1979. But the saga doesn't end there. Investigators are now trying to identify women in photos taken by the amateur photographer, and as more potential victims crop up, Alcala is gaining greater infamy and comparisons to Ted Bundy.
All the fuss doesn't seem to faze Alcala. In an administrative hearing Wednesday leading up to his upcoming sentencing on Tuesday, March 30, the defendant, who also acted as his own attorney at trial, seemed downright blase about the prospect of returning to death row.
Dressed in his courtroom casual uniform of denim jacket and plaid shirt - a tip-off that he hasn't seen the light of day since the late '70s - he laughed and talked jovially, every so often flipping the long wiry steel-gray curls that draped him from the courtroom gallery throughout the trial. Alcala even good-naturedly pointed out spelling errors in the court reporters' trial transcripts to help the judge perfect the court record.
To understand the serial killer's resignation, we don't have to look any further than his tacit warning to the jury right before they handed him his latest death sentence. In a move that drew the ire of Judge Francisco Briseno, who displayed the patience of an oak throughout the five-month proceedings, Alcala told the jury during his closing argument in essence that a vote for the death penalty would just force him to put his victim's families through more grief while he exercised every last right afforded to him in appealing a death penalty conviction.
Alcala has reason to be cocky. After both of his prior convictions he was thrown lifelines by the higher courts. The first verdict was overruled by the California State Supreme Court on grounds that Alcala's prior sexual crimes - namely the rape of an 8-yr-old girl - were allowed into the case in chief, and unduly prejudiced the jury.

PICTURES: Serial Killer's Secret Photos: New Victims?

The second conviction looked like it was going to stick. Samsoe's mother, Maryanne Connelly, says she even received a call asking how many in her family would be attending Alcala's execution. But it was soon after that the 9th Circuit Federal Court of Appeals overturned that conviction too, this time citing what were essentially technicalities.

Orange County prosecutor Matt Murphy likens Alcala to a video game villain that keeps coming to life and says that the appellate courts have hit restart on this real-life murderous villain's rampage through the system. The families of the victims as well as those close to the investigation criticize the decisions as misguided political statements by justices who opposed the death penalty and ignored the facts of the case. For Murphy, who tried the latest Samsoe case, each decision to overturn stripped away more evidence from his arsenal against Alcala. And for Robin Samsoe's family, the legal setbacks have altered the course of their lives, ripping through like aftershock upon aftershock following a devastating earthquake.

In an exclusive interview with 48 HOURS | MYSTERY, Correspondent Harold Dow, Samsoe's mother spoke eloquently about the hardships she has endured in the 31 years since her daughter's murder, waiting for justice that never came. She admits she succumbed to drugs and faced financial hardships.

Meanwhile, her daughter's killer has spent most of his life in prison, and has perfected the art of working the system to his advantage, filing lawsuit upon lawsuit when he felt his rights were violated while in custody - such as a civil suit against an investigator who did not respond to a request for discovery within 10 days. In fact, a contempt case against the Orange County Jail is still pending.
But what is telling is that at trial Alcala fixated on the Samsoe case to the exclusion of all the other charges.
PICTURES: Serial Killer's Secret Photos: New Victims?
As Robin's family says, that's the one that brought him down. It is also the one in which no DNA was recovered, because all that was found of the 12-year-old were her skeletal remains. Maryanne Connelly wonders where her rights were, while the man who killed her daughter became comfortably institutionalized. This inequity has become the rallying cry of all the victims' families, as well as victim's rights advocates, who say the system has coddled a vicious killer while failing victims' loved ones.
Since the latest verdict for the death penalty was handed down, Huntington Beach Police investigators have released photos taken by Alcala - who was an amateur photographer at the time of his crimes - of more than a hundred unidentified women. Some of the photos were presented by Alcala as part of his defense, contending he was an avid portrait photographer and not a sexual predator who used the lure of his lens to prey on young women.
Detectives investigating the Samsoe case found thousands of images - many pornographic -- in a storage facility Alcala rented in Seattle when Alcala was arrested in July 1979 for the 12-year-old's murder. She was listed as a missing person when she failed to show up to her ballet class on June 20, less than an hour after being approached by Alcala at the beach. Her remains were found 12 days later in the San Gabriel mountains more than 40 miles away. At trial, prosecutors placed Alcala at both the Huntington Beach location where Samsoe was last seen, as well as the area where her skeletal remains were recovered in the foothills of the San Gabriel mountains, just minutes from Alcala's Monterrey Park family residence.
The Samsoes, who have long felt alone in ongoing legal saga against Alcala, have found support in a new extended family - the surviving brothers and sisters of the four other Los Angeles victims.
PICTURES: Serial Killer's Secret Photos: New Victims?
The murders of 18-year-old Jill Barcomb, 27-year-old Georgia Wixted, 32-year-old Charlotte Lamb, and 21-year-old Jill Parenteau, which span between November 1977 and June 1979, remained cold for nearly thirty years, until science caught up with the killer. Alcala did not present a defense in these four murders, which were linked to him by DNA and blood evidence.
The cases were joined together in an unusual move that establishes new case law. Matt Murphy and his boss, Orange County District Attorney Tony Rackauckus, convinced Los Angeles DA Steve Cooley to allow Murphy to combine the LA cases with the Samsoe prosecution. Cooley agreed and sent one of his own, Deputy District Attorney Gina Satriano, to be Murphy's co-counsel in Orange County.
The cross-county prosecution establishes a precedent and forever links the five murders. Through witness testimony, Murphy and Satriano were able to show a pattern in the killings and a distinct M.O. Alcala used in the way he approached and lured his victims. But there's a more surprising link, one that sat on the evidence shelf for 27 years, as if it was waiting for DNA science to catch up. An earring containing L.A. victim Charlotte Lamb's DNA was found in a jewelry pouch that also contained a pair of gold ball earrings that Robin Samsoe's mother had identified as being hers, earrings she says were worn by Robin the day she disappeared. Huntington Beach detectives believe the jewelry pouch, stashed in the same storage facility in Seattle where they found the thousands of photos, is Alcala's trophy case, a trait he shares in common with other serial killers. And detectives are now learning that these five victims might only skim the surface of Alcala's depravity.
With the release of the latest photos, Huntington Beach investigators have received calls from as far away as Denmark and Paris, France.
PICTURES: Serial Killer's Secret Photos: New Victims?
While all the women identified so far are alive, the revelation suggests that Alcala operated across borders, and could very easily have left victims everywhere he went. Law enforcement officials are already looking at four other cold cases outside California they believe have strong ties to Alcala.
With each new victim, what becomes even more astounding and frustrating for the surviving families is that Alcala was caught red-handed during the brutal rape and attempted murder of an 8-year-old girl named Tali, whom Alcala abducted on her way to school back in 1968, before he had the chance to commit any of the other crimes for which he was convicted. He was prosecuted and convicted then, but served a scant 34-month sentence. The sentencing guidelines at the time allowed for indeterminate sentencing, which meant the parole board could decide to release him if they deemed him rehabilitated and no longer a threat to society. And, sadly for his future victims, they did. It begs the question: Wasn't one brutality against a helpless child enough to realize this man could never go unchecked in society? What's not in question is that the misdiagnosis sealed the fate of the five other innocent victims, and however many others remain to be found. Alcala apologized to Tali during her recent testimony, 42 years after he left her for dead.
For Robin Samsoe's mother Maryanne Connelly, imagining a reality in which her daughter hasn't been torn from her life is nearly impossible. She tells 48 HOURS MYSTERY her daughter died a hero and her purpose was to put an end to Rodney Alcala's killing spree. She has no doubt Alcala has other victims in farflung places, but says she wants him to be put to death right here in California, where he took her little girl. "If I live one day longer than Rodney Alcala," Connelly said, "I will die a happy woman."
---
48 HOURS | MYSTERY producer Gayane Keshishyan has followed the Rodney Alcala case for several years and covered the latest trial. The complete coverage will be featured in an upcoming episode of 48 HOURS | MYSTERY.
Thanks for reading CBS NEWS.
Create your free account or log in
for more features.