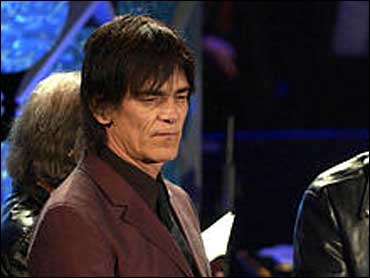 Rocker Dee Dee Ramone Dies
Dee Dee Ramone, a founding member of the pioneer punk band the Ramones, was found dead of a possible drug overdose in his Hollywood home, the coroner's office said Thursday. He was 50.
Ramone, whose real name was Douglas Glenn Colvin, was found dead on the couch by his wife when she returned home at 8:25 p.m. Wednesday, said Craig Harvey, operations chief for the coroner's office. Paramedics were called and he was declared dead at 8:40 p.m.
"The investigator noted drug paraphernalia, including a single syringe on the kitchen counter, and we are handing it as a possible accidental overdose" Harvey said.
The coroner's office did not say what drug was suspected of causing Ramone's death. An autopsy was planned later Thursday. In his autobiography, "Lobotomy: Surviving the Ramones," he had written of his struggle with drug and alcohol abuse.
The official Ramones Web site said simply: "Our brother Dee Dee died last night, June 5, 2002, at his home in Los Angeles, California."
The death came 11 weeks after the band was inducted into the Rock and Roll Hall of Fame.
"I'd like to congratulate myself, and thank myself, and give myself a big pat on the back," Ramone, the band's bassist, joked at the time. "Thank you, Dee Dee, you're very wonderful."
He had often feuded with fellow band members, eventually quiting the group in the late '80s to launch a career as a rapper under the name Dee Dee King.
Lead singer Joey Ramone, born Jeffrey Hyman, died in April 2001 of lymphoma, a form of cancer. He was 49. The other two members are Johnny and Tommy Ramone; the four adopted the common last name after forming the band in 1974 in the Queens area of New York City. Their first album, "Ramones," was released in 1976.
The Ramones' best-known songs were "Beat on the Brat," "I Wanna Be Sedated," "Now I Wanna Sniff Some Glue," "Teenage Lobotomy," "Sheena Is a Punk Rocker."
Dee Dee Ramone was one of the band's major songwriters, and among his better known songs was "Chinese Rock" a tale of going on the street to score heroin, co-written with Johnny Thunders, a punk rock icon who became an overdose victim.
The Ramones were critically acclaimed but never cracked the Top 40.
While British bands such as the Sex Pistols and Clash received the media attention once punk rock exploded, both were schooled by the Ramones' tour of England that began on the U.S. Bicentennial July 4, 1976.
The Ramones recorded their first album in February 1976. The band then earned a loyal cult following by constant tours.
The Ramones disbanded in 1996 after a tour that followed their final studio album, "Adios Amigos." A live farewell tour album, "We're Outta Here!", was released in 1997.
Thanks for reading CBS NEWS.
Create your free account or log in
for more features.