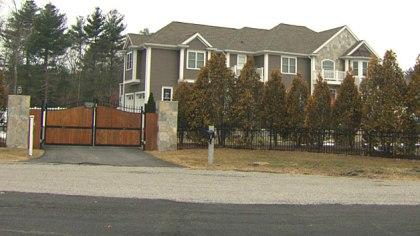 Rob Gronkowski on 911 call: "My whole house got robbed" while at Super Bowl
FOXBORO – Police are investigating a burglary at New England Patriots star Rob Gronkowski's house in Foxboro. Sources tell CBS Boston that three guns were taken and a window was broken. Officers were called to his home around 6:18 p.m. Monday, which is shortly after Gronkowski and the New England Patriots returned to Foxboro following their Super Bowl loss in Minnesota.
"This is Rob Gronkowski calling and while I was gone, my whole house got robbed, while on the Super Bowl trip, and I just got back," he said on the 911 call released by Foxboro Police.
On police scanner traffic there's talk about firearms CBS Boston sources say that three guns were stolen from Gronkowski's house. Sources say Gronkowski does not have a license to carry a firearm, but his assistant, friend and roommate Robert Goon, does have a state issued license. That license was issued in October of 2017.
Police say Gronk locked his bedroom before he left town and it was still locked when he got home. Police say the door to Goon's room in the home was broken down. A second roommate says his room was unlocked and thieves took his property as well.
"There were items stolen," Foxboro Police Chief William Baker told reporters Tuesday morning. "We're not going to release the nature of the items stolen."
"Obviously the people who committed the theft know what was stolen. It's an investigative advantage for us to know that as well and not share it with the public, so I won't have any further comment on that," he said.
Baker confirmed the break-in happened while Gronkowski was away at the Super Bowl, but the chief did not say what day or time it occurred.
The State Police crime scene unit spent several hours at the home looking for fingerprints, shoe prints or tire tracks. Anything that could lead investigators to who may have broken into Gronk's home while he was away.
CBS Boston has learned detectives are also checking security video at the home to see if it captured images of the thieves.
There were no other burglaries in the neighborhood at that time.
No other information is available at this point in the investigation.
"We hope to comment more on this case when we bring somebody to justice for having committed this burglary," Baker said.
"I think it's kind of a tough combination to have suffered this unfortunate (Super Bowl) loss and then to get home and be a victim of this kind of crime which is, as I say, really has a profound affect on everybody who's a victim of this crime when your personal space is breached like that."
Thanks for reading CBS NEWS.
Create your free account or log in
for more features.