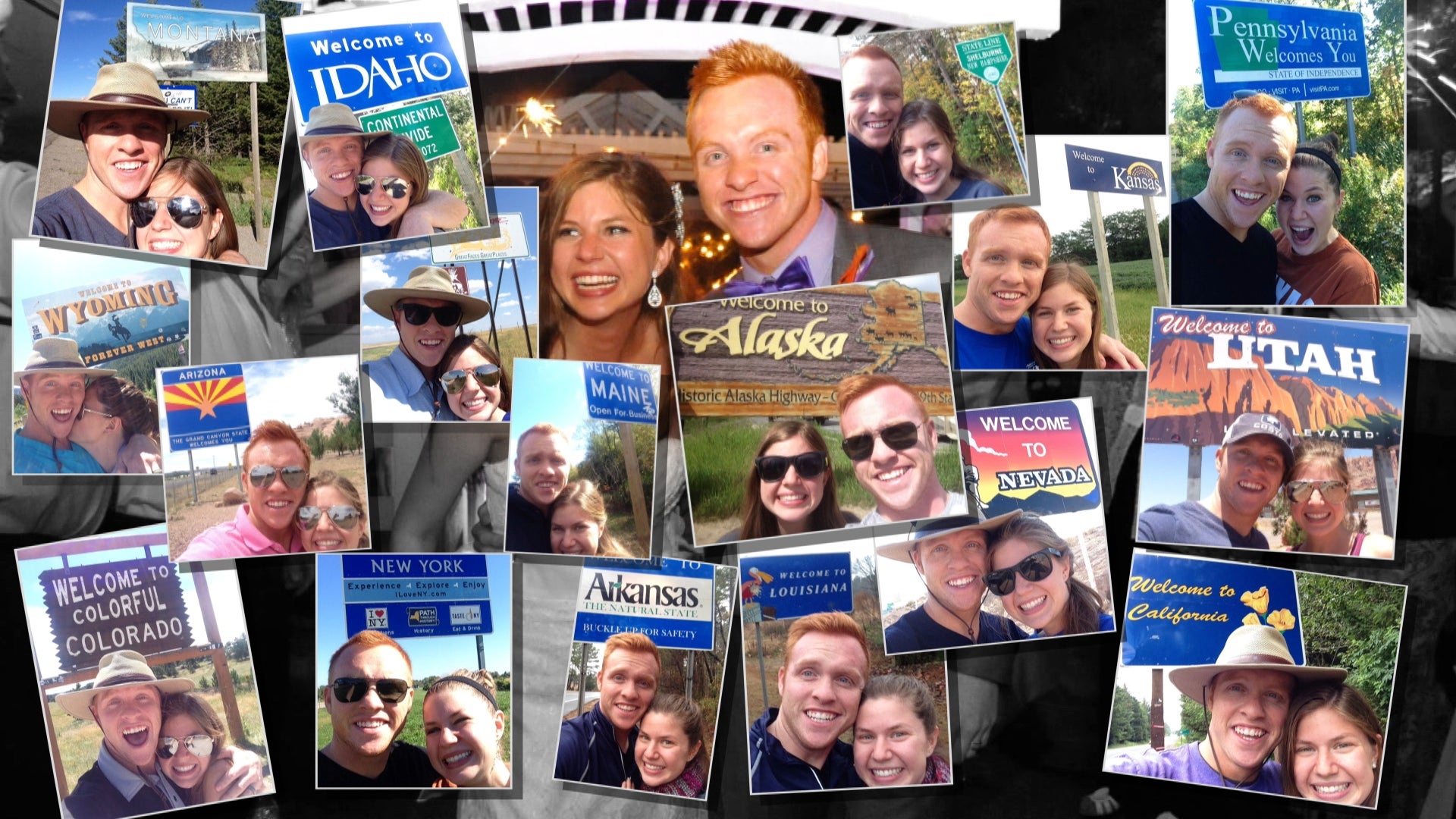 Road trip to find 50 jobs in 50 states
Like most college graduates, Heath Padgett and his wife Alyssa spent their time online, looking for jobs and answering emails. But how and where they found work, makes their story quite the unusual one.
"I decided to err on the side of being a little bit reckless with the hope that I could have the experience and the adventure of a lifetime," said Heath.
"My husband is a little bit crazy," said Alyssa. "He has some out-there ideas, and some of them are terrible... but this one was brilliant!"
As their wedding date approached last year in May, the couple quit their full-time jobs to explore the world of hourly work with quite an ambitious goal - complete 50 jobs in 50 states.
"It was crazy to leave my secure job on a whim to go and travel the country... and work random hourly jobs. But at the same time, I knew there's never a good time to travel."
So it began in their hometown of Austin, Texas - a remarkable cross-country trip and quite an epic honeymoon in a used RV they found on Craigslist. "Franklin," as they named the 21-year-old RV, would become their home for the next several months.
But 10 days into their trip, the Padgetts found the first big hurdle, as chronicled in their upcoming documentary, Hourly America.
"Our RV totally crapped out on us, and died in the middle of parking lot."
And there were more...
"Our fridge just stopped working for no apparent reason."
"Terrible screeching noise that sounds like it's coming from our brakes..."
Finding local businesses that would hire Heath for a day wasn't easy either. He eventually landed jobs, and most of them unpaid. So, the couple raised money online, found a sponsor, used some of their savings, and took up freelance writing on the side to help finance the trip.
Heath's first job was martial arts instructor in Albuquerque, New Mexico.
"I was terrified," Heath recalled. "I don't know who was nervous if it was me or the people who I was working for that day."
Scooter mechanic in Florida... fudge-maker in Mississippi... fish-fryer in Maine... dairy-farmer in Wisconsin...
"The guy that I shadowed on the farm that day wakes up at 3. He feeds his pigs, and then he goes and tends cows. People our age really just don't know that kind of work anymore," Heath said.
Stadium cleaning crew in California... zombie at Six-flags, Maryland... the list goes on. Read all about it here.
13 months and more than 20,000 miles later... the Padgetts completed their mission - crossing off Heath's 50th job in 50th state... in Alaska, working as a park ranger.
"All of these things that I went and did that I never would have considered as careers and I would be happy just doing any of them," said Heath.
"We met this couple who run a non-profit martial arts dojo to help keep kids off the street and teach them discipline, and incidentally we kind of realized, America is an amazing place," said Alyssa.
Discoveries the Padgetts will cherish, and hope to share with a whole new generation of young RV explorers.
Thanks for reading CBS NEWS.
Create your free account or log in
for more features.