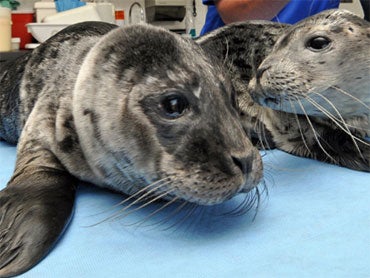 Last month, the AAA Foundation for Traffic Safety released a study on vehicle-related road debris. The study revealed that it caused 25,000 accidents - and nearly 100 deaths - each year.
In the last two weeks, three small children were killed in New York and a woman died in Missouri, both accidents caused by road debris. Todd McDermott, of New York CBS affiliate, WCBS, reports the story of one young woman from the Seattle, Wash. area, who survived a road-debris accident.
It was late at night, almost five months ago, when Robin Abel got the call that as she says, "no parent wants to get."
Her only daughter, 24-year-old Maria Federici, had been in a car accident; she was in critical condition.
Doctors told Abel to get to the hospital fast.
"I was petrified," Abel says. "When I got in there, two doctors came in. And they stood above me. And I just looked at them. And they said,'It's hopeless, we can't save her.'"
All doctors could do for Federici was honor the request she made on her license to donate her organs.
Abel says, "I couldn't leave without saying goodbye to her. I went in and held her hand. She was ice cold. It was very frightening."
Abel left the hospital believing she had lost her daughter. But four hours later, she was called back to the hospital. Doctors thought Federici had a chance to survive, but her future was bleak.
Abel says, "They kept telling me that they thought she'd be a vegetable, that she would never hear, that she would not see. They didn't know if she would ever speak again. The board had hit her on the diagonal across her face, and pretty much obliviated a lot of her face.
It was a clear night, Feb. 22; Federici was heading home from her job about 11 p.m. on interstate 405. She was seconds away from her exit when a piece of furniture fell off a trailer right in front of her Jeep. The impact caused a large chunk of wood to break off and shoot like a missile through her windshield.
"How could it happen?" Abel says, crying. "I just kept thinking how can this happen? It breaks my heart that something that would've taken someone seconds to do or just a quick look at, could take away such independence and her eyesight."
To hear the story of Federici's accident is frightening. To see the result: the shattered windshield of her Jeep, the 60-pound piece of pressboard wedged in her car, is stunning. That she survived at all is considered something of a miracle.
Doctors spent 15 hours reconstructing Federici's face - using bone and sometimes using titanium plates.
Federici will never see again. She will not smell or taste. She has some brain damage and now must relearn what she did easily before the accident.
Occupational therapy is a necessity as well as special rehabilitation therapy for the blind and psychological therapy, to help Federici recover mentally as well as physically.
For now, she says she does not remember what happened to her in February.
"And that's good for me, I guess," Federici says. "Probably be too hard on my brain if I remembered. "
But she is angry at what happened, saying, "I mean I think why wasn't it just made sure? Like who doesn't think about that at all?"
That person, a 29-year-old man, will be given a traffic ticket, and fined somewhere between $82 to $197, for failing to properly secure the piece of furniture that caused Federicci's accident.
Peter Kissinger says "In most states the fines for littering are higher than the fines for unsafe loads or improperly secured loads." He is the president of the AAA Foundation For Traffic Safety.
Kissinger adds, "When we carry something on the roof of our car, or in the trunk, or in the back of a pickup, it is absolutely essential that we properly and safely secure that load so that it doesn't come loose in transit."
The study conducted by AAA found that 25,000 accidents a year, like Federici's, are caused by road debris.
Kissinger notes, "I think the saddest part about that case is that instance was completely preventable. It came loose and a piece came through the car and results were catastrophic."
Federici survived her catastrophic crash and defies the odds every day.
Abel says, "She's turned everything that they said she'll never, or it's impossible, I don't believe in those words anymore, not when it comes to Federici. She showed me that her will and her drive and her independent spirit are just shining."
Federici plans to learn Braille, and then go back to college for a masters' degree.
Here is what drivers should do

Secure your load and re-check while driving

If you're behind a vehicle that's suspicious looking, drop back

Move into different lane

Look around you to see what your options are in case the worst happens

Sometimes, it's better to drive over small debris than swerve to avoid it, which can cause you to lose control of car
Thanks for reading CBS NEWS.
Create your free account or log in
for more features.