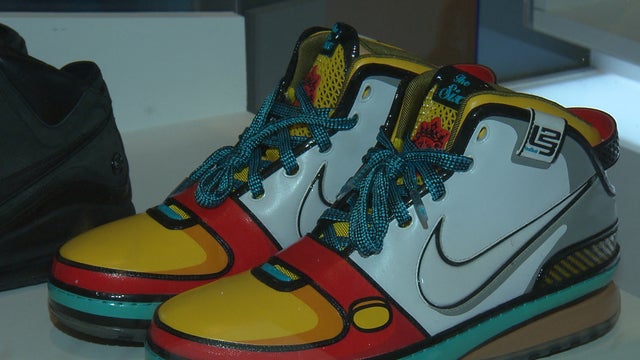 The rise of sneaker culture
Footwear as works of art? That's the premise of an exhibition at the Brooklyn Museum called "The Rise of Sneaker Culture," reports CBS News' Vladimir Duthiers.
"Sneaker culture is sort of this all-encompassing universe for sneaker collectors -- their connections to sports, to music, and I think most especially the drive and the mania to collect the next new release," said Lisa Small, curator of the exhibition.
Sneakers got their name because their rubber soles let the wearer "sneak" around quietly. These days, sneakers of all types, from basketball shoes to running shoes, are also high-priced status symbols and a multi-billion-dollar industry in the U.S.
Sneaker enthusiasts, better known as "sneakerheads," will spend thousands of dollars on their vast collections of must-have shoes and special limited-editions.
Designer and proud sneakerhead Jeff Staple said some are like art pieces. "When you think about the artistic design process, a lot of these shoe designers are ex-car designers or architects or industrial designers," he said.
Staple collaborated with Nike to create the limited edition Pigeon Dunk SB sneaker in 2005. It is now a centerpiece of the exhibition, which Staple never imagined could happen.
"It's sneakers!" he said. "We were the outcasts. We were the nerds."
Staple has been a sneaker junkie since he was 12 years old, owning 2,000 pairs. He traced back his love for sneakers to the Air Jordan 3:
"I remember walking into my 6th grade social studies class. I walked in with these shoes and everyone looked at me because I was late and they looked down at my feet. Afterwards kids were like, 'What are those? Where are those?' I was like, 'This feeling I'm going to replicate for the rest of my life.' And I just knew that I was ahead from that point on."
David Friendly, the filmmaker behind the documentary "Sneakerheadz," credits NBA legend Michael Jordan with setting off the sneaker craze.
"When you look back, he's made more money last year selling sneakers in one year then he did in his entire NBA career," Friendly said. He points to the 1984 debut of the Jordan 1: "I think that's when the whole thing exploded."
From sports to music to Hollywood, sneakers became a status symbol. Run-D.M.C.'s iconic song "My Adidas," which blended hip-hop with sportswear, forged a style that remains popular today.
But as the demand for sneakers grew, they also became more exclusive and harder to get. That's when things started to run afoul.
"I certainly was surprised that there was significant violence attached to some of these releases," Friendly said.
The first of those releases was Staple's creation, the Nike Pigeon Dunk SB, which was dedicated to New York City. Even before the release date was made public, people started forming lines outside his store.
"We were just thinking, 'Yeah, this will be cool, we'll release this, and they'll sell hopefully,'" Staple said.
But it was a frenzy. "There were people that came, they were waiting across the street and on the corners and they knew they weren't going to get a shoe; they were waiting for the kids who got a shoe, to get it from them," Staple said. "They had baseball bats tucked under their jacket."
Ten years later, the asking price for that shoe is up to $8,000 -- evidence that the sneaker culture continues to march on.
"It is a $42 billion-a-year business. It's hard to imagine it growing much bigger, but it's definitely something that has not hit the top yet," Friendly said.
The exhibition"The Rise of Sneaker Culture" runs at the Brooklyn Museum through October 4. It will next run at the Toledo Museum of Art (Dec. 3, 2015-Feb. 28, 2016); the High Museum of Art in Atlanta (June 12-Aug. 14, 2016); and the Speed Art Museum in Louisville, Ky. (Sept. 5-Dec. 1, 2016).
To watch a trailer for "Sneakerheadz," click on the video player below.
Thanks for reading CBS NEWS.
Create your free account or log in
for more features.