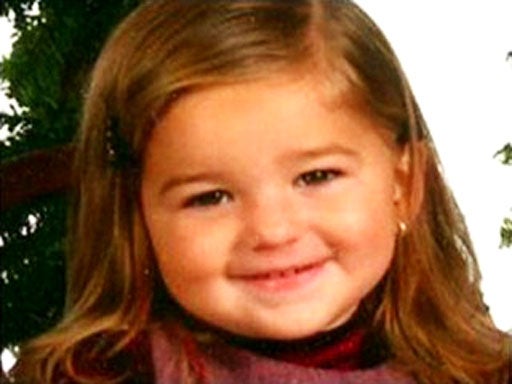 Riley Fox Killer Scott Eby Pleads Guilty to Murdering Ill. 3-Year-Old, Avoids Death Penalty
JOLIET, Illinois (CBS/AP) In a emotion-drenched courtroom, a convicted sex offender pleaded guilty Wednesday in the 2004 sexual assault and murder of a 3-year-old Illinois girl Riley Fox, whose father was wrongly accused of the crime.
In exchange for the guilty plea by 39-year-old Scott Eby, prosecutors agreed not to seek the death penalty.
Eby is accused of abducting the girl from the family home in June 2004, sexually assaulting her, and then holding her under water in a nearby creek until she drowned.
The Joliet courtroom was packed with family and friends of Riley, many wearing pins with her picture on it. Many of them sobbed openly when prosecutors read a statement outlining the crime, including Eby's own statement in which he said he was doing cocaine and drinking the day of the murder and in which he described killing the girl.
Riley's parents, who prosecutors say agreed to the plea deal, also read statements in the courtroom.
Her mother, Melissa Fox, said one of the reasons she didn't want the death penalty was because she didn't want Eby to take the easy way out.
"I'm opposed to you getting the death penalty and dying a quick, painless death," she said.
"I hope he rots in hell," said Kevin Fox, as he left the courtroom.
Authorities first accused Kevin Fox of murdering his daughter, and he spent eight months in jail before he was exonerated by DNA evidence gathered from her body and from duct tape that had been placed over her mouth.
Fox and his wife were awarded $12.2 million in damages after they accused Will County investigators of fabricating evidence. A federal appeals court in April upheld Kevin Fox's claim that he was falsely arrested but reduced the award to $8.6 million.
Eby was an inmate at the medium security Lawrence Correctional Center in Sumner, serving time for a Dec. 2005 sexual assault conviction filed in connection with an attack on a relative.
According to the Illinois Department of Corrections, he will be eligible for parole on that conviction in mid-2017.
Eby also has served prison time for burglary and forgery.
More on Crimesider
June 11, 2010 - Justice for Riley Fox? Sex Offender Charged with 3-Year-Old's Rape and Murder
Thanks for reading CBS NEWS.
Create your free account or log in
for more features.