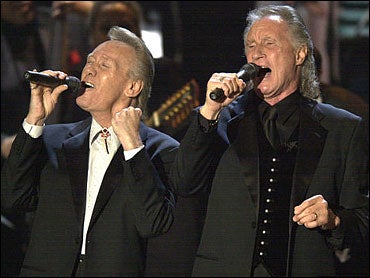 Righteous Brother Hatfield Dies
Righteous Brother Bobby Hatfield, who with partner Bill Medley pioneered "blue-eyed soul" with hits including "Unchained Melody" and "You've Lost That Lovin' Feeling," has died of undetermined causes at a hotel in Kalamazoo, Michigan. Hatfield was 63.
David Cohen, manager of the duo, says Hatfield's body was discovered in his bed at 7 p.m., a half hour before the rock and roll legends were to perform at Miller Auditorium on the Western Michigan University campus.
"It's a shock, a real shock," says Cohen, adding that Medley, who teamed up with Hatfield over 40 years ago, is "broken up. He's not even coherent."
The Kalamazoo Gazette reports Hatfield's body was taken from the Radisson Plaza Hotel directly to Lansing, where an autopsy will be done.
Miller Auditorium executive director Bill Biddle told the audience at 7:05 p.m. that the 7:30 p.m. show had been canceled because of "a personal emergency of an unspecified nature."
A hotel executive says Hatfield had been sleeping most of the day in his room. When he didn't answer a wakeup call at about 6 p.m., hotel staff and authorities entered the room and found Hatfield's body.
Robert Lee Hatfield was born Aug. 10, 1940 in Beaver Dam, Wisconsin. His family moved to Anaheim, California, when he was 4.
Hatfield organized singing and instrumental groups in high school while helping his parents with their dry cleaning business.
An avid athlete, Hatfield considered a career in professional baseball, but found his true calling in music - a love he pursued while attending Long Beach State University, where he formed a band and performed at bars and proms.
In 1962, he met Bill Medley, with whom he later formed the group The Righteous Brothers, whose lasting popularity and strong impact on music was recognized last spring with the duo's induction into the Rock and Roll Hall of Fame.
Their signature 1964 single, "You've Lost That Lovin' Feeling" - produced by Phil Spector - has been cited by numerous sources as the most-programmed song in radio history: played at least 8 million times - so far. Later 1960s hits included "Soul and Inspiration" and "Unchained Melody," which found a new audience in 1990 and earned a Grammy nomination as part of the soundtrack of the hit movie "Ghost."
After splitting up in 1968, they reunited in 1974 and returned to the top of the charts with "Rock and Roll Heaven."
Medley and Hatfield's songs resonated among other entertainers, as well as the public, and both "Unchained Melody" and "You've Lost That Lovin' Feeling" were Elvis Presley favorites during his last concerts in the 1970s.
Like Elvis, Medley and Hatfield owed a musical debt to black music.
The name of the Righteous Brothers dates back to Medley and Hatfield's very earliest performances, when they were part of a group called the Paramours. As the story goes, the guys were doing a gig in a bar when a black Marine in the audience shouted out his approval, saying: "That was righteous, brothers!"
In the past 20 years, the Brothers picked up new fans who heard their songs for the first time on the soundtracks of "Top Gun," "Naked Gun," and "Dirty Dancing."
"Movies," Hatfield once said, "introduced our music to a whole new generation of fans, for whom we are truly grateful."
Thanks for reading CBS NEWS.
Create your free account or log in
for more features.