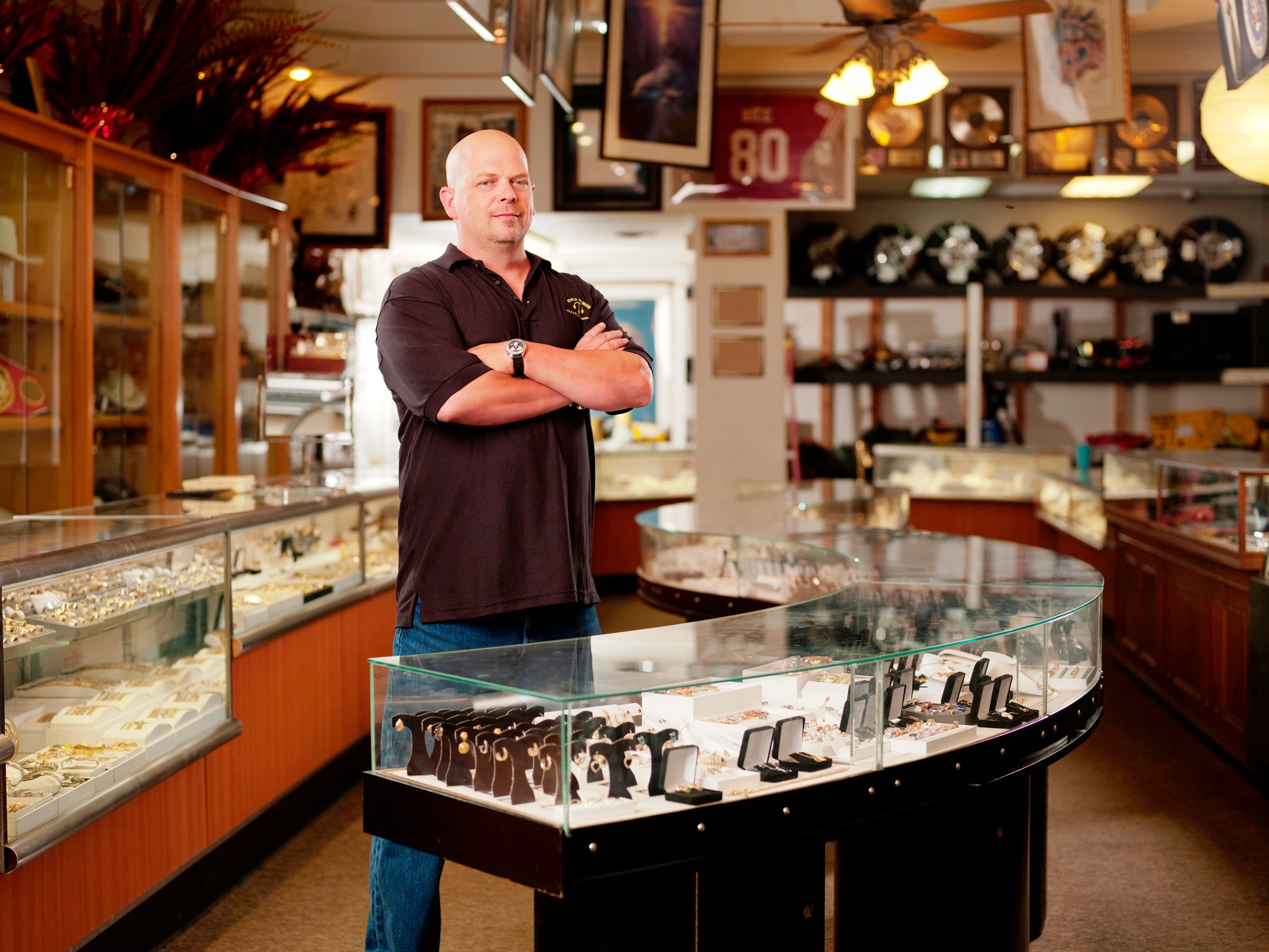 Rick Harrison: How much longer I plan to do "Pawn Stars"
Rick Harrison's interest in business started at a young age -- and it's never waned.
"When I was 8 years old my mom came home with a series of books called 'The Great Brain' about an 8-year-old kid growing up in Utah the 1890s and he was always looking for ways to make money. He had little business plans. I fell in love with [the books]," he said, adding, "My older brother used to punch me all the time because I was a nerd."
That "nerd" factor came in handy.
By the time he was 13, Harrison started training in the pawn business alongside his father, Richard, who in 1988 opened the Gold & Silver Pawn Shop in Las Vegas. Harrison soon starting making a living selling fake Gucci bags and by the age of 23, he officially joined his father's business, which now includes son Corey and childhood pal Austin "Chumlee" Russell.
Their lives completely changed in 2009 after inking a deal with the History Channel for a reality series about their bustling shop. Harrison says he never could imagined how successful the series would become.
"I was hoping to get a season or two to help our business. I never thought we'd be in 152 countries and 38 languages," Harrison told CBS News.
Now six years later, Harrison is still in Vegas fielding a lot of business. A lot.
"I get the 4,000 people a day in pawn shop...They're lined up all day long," he said, noting a big uptick in business after "Pawn Stars" became a hit. With that, the items that he sees every day have increasingly become...well, weirder.
"I've got everything from seven human skulls in a duffel bag; the guys bought those from a devil school actually...I just looked at that guy and said, 'You gotta be nuts.' I have 200-year-old Japanese porn. I have maps of the island of California. It just never ends," he said.
Harrison is the guy to count on to sort through all "the stuff." He decides what's really worth grabbing and loves to learn the history of each piece, too.
"That's the beautiful thing about my show...It's truly different every week," he said, adding, "We get to pick and choose. Every morning the girl from production comes to me with 100 different items and I go, 'Fake, fake, fake, fake...that's cool.'"
Does he ever get it wrong? You betcha.
"I've been wrong before. I've been burned really badly," he said, adding that it "rarely happens."
Not only does he have to weed through items, he now also has to keep a close watch on the agenda of the people who visit his shop.
"People come in and they want to be on the show and everything's great -- and then you ask them the price," he said. "And they don't want to sell. They just want to be on TV."
"There's only so much stuff you can buy," he added. "I have to retail the stuff. Stuff that's really really weird -- it's cool, but who are you going to sell it to? I do collect some stuff. In the end, I have to run a business."
Harrison says the show's mainstream success has increased general interest in the pawn business.
"Everybody absolutely loves it. I speak with other pawn brokers all the time," he said. "Most people don't realize that up until the 1950s it was the No. 1 form of consumer credit in the United States. Before there were ATMs, credit cards and everything like that if you needed a little money that's where you went."
To coincide with his business, Harrison recently launched Rick Harrison's Trivia Challenge, a new speed trivia game available on Facebook, the Apple App Store and Google Play Store.
Throughout the game players will encounter thousands of questions in 15 different categories -- ranging from history to pop culture.
"Some are hard, some are easy," Harrison said, noting that players also get the chance to win prizes. "I really want people when they're playing the trivia game and they get an answer wrong and they're going, 'No way!' -- I hope they just pick up their phone, start Googling answers and maybe learn a little bit."
"We're always tweaking the game and changing it around. It's been really really fun," he continued. "We wrote well over 1,000 of our own questions. You know the hard part about writing a question for a trivia app is? It's writing the wrong answers."
Looking ahead, Harrison expects to continue with "Pawn Stars" and the spinoff "Pawnography" for another two years.
"I promised my wife that after two years I'm massively going to slow down," he revealed. "I can't work 12 hours a day, every day for too long before it burns out. So two more years and then I'm going to really slow down...The shop will still be around. The beautiful thing about my shop is that I get all my weird stuff."
"Pawn Stars" airs Thursdays at 9 p.m. ET on History.
Thanks for reading CBS NEWS.
Create your free account or log in
for more features.