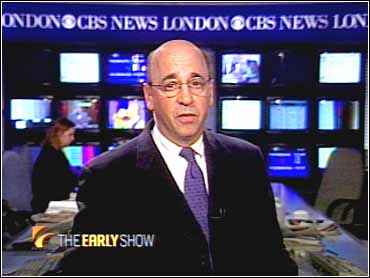 Award-winning journalist Richard Roth rejoined CBS News as a correspondent based in London in November 1998.
Roth spent the first 22 years of his professional career at CBS News before joining NBC News in its London bureau in 1994. He served as one of NBC's lead correspondents on a number of major recent stories, including the war in Bosnia and the death of Princess Diana. Roth has collected most of the major broadcast journalism awards including an RTNDA Edward R. Murrow Award while at NBC and, during his CBS News tenure, a George Foster Peabody Award, an Alfred I. DuPont-Columbia University Silver Baton, an Overseas Press Club 2005 award for best spot news reporting from abroad and three Emmy Awards.
Roth was a CBS News correspondent based in Los Angeles (1990-94), where he reported for the CBS Evening News and was a regular contributor to 48 Hours. He also was a staff correspondent for the news magazine Street Stories.
Roth was based in New York (1986-90) and reported for the CBS Evening News. He was one of the correspondents on 48 Hours on Crack Street, the 1986 documentary which spawned the current weekly CBS News magazine. Roth covered major domestic and international stories, including U.S. visits by Pope John Paul II and Soviet leader Mikhail Gorbachev and the student uprising in Tiananmen Square, during which he was assaulted at gunpoint by Chinese troops, apprehended and held for 20 hours. He also substitute-anchored the CBS Evening News weekend editions and the CBS Morning News.
Roth served as a CBS News correspondent in Rome (1981-86), covering the Vatican and the war in the Middle East, and in Washington (1976-81), where he reported on the Reagan-Bush campaign and established a beat covering the federal regulatory agencies. He also was CBS News' Moscow Bureau chief and correspondent (1974-76). Roth joined CBS News originally in 1972.
He was born on April 27, 1949 in New York City. Roth was graduated with honors from Union College in Schenectady, N.Y. in 1970 with a degree in English and from Columbia University in 1972 with a master's degree in journalism. He has one daughter and lives in London.
Thanks for reading CBS NEWS.
Create your free account or log in
for more features.