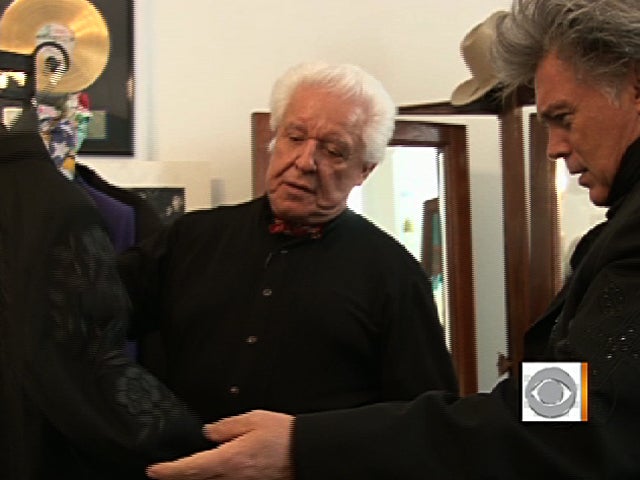 "Rhinestone Rembrandt": Tailor to country stars
A Nashville tailor who goes only by the name Manuel knows a thing or two about rhinestone cowboys. So much so that his nickname is the "Rhinestone Rembrandt."

His signature style -- cowboy couture -- is worn by many of music's biggest stars, from Kid Rock to Glenn Campbell and Johnny Cash.

"Anything concerning the entertainment industry, you can pretty well find in Nashville, (but) there's only one tailor that has ever been here and that's Manuel," country musician and historian Marty Stuart said.
John Rumble, senior historian at the Country Music Hall of Fame and Museum, said Manuel is a living part of country music history.
"You can come to this museum and see examples of his work, (and) then you can go right over to his shop and meet the man himself," Rumble said.
But, according to Rumble, Manuel will not always following his customers' specifications.
Manuel told CBS News it's true: He said, "I don't deal with other people's ideas, because they just don't work for me. What I want to do for you is something that that you always thought that you could have, but you didn't know how to identify it."
Manuel has made clothing for legends for years. He made several outfits for Cash and showed "The Early Show" one of his jackets.
Manuel recalled Cash saying, "'Brother, I finally think I'm going to go on the road. I have 52 shows to make. I would like to have, like nine outfits.'"
"I made them," Manuel said. "And he gets on the phone (and said,) 'I got these suits.' I said, 'Good, how come they are all black?' Three months (later), he gets on the phone again says, 'Brother, I want many suits now from now on.' I said, 'Well just tell me what you want.' (Then Cash said,) 'I will never tell you what I want.'"
Stuart said of musicians, "They put on those costumes and they become the characters that you know they've invented, we've invented for ourselves. ... I see kids upstairs learning how to sew and cut and stencil and design. I've never met Mr. Ralph Lauren when I went to his store in New York City. I've never met Tommy Hilfiger in Los Angeles, but when you come to Nashville, you can meet Manuel."
Manuel told Stuart, "Nashville is going to be the fashion center of the Unites States, I promise you that."
"And he's always right," Stuart said.
Manuel replied, "Well, yeah most of the time I am right. I'm just a tailor, you know."
Thanks for reading CBS NEWS.
Create your free account or log in
for more features.